By sanju on 16 November, 2011
I am back in hong Kong for a quick business trip and some R&R with the family.  I arrived a few days earlier than the rest, so I decided to take advantage of the situation and check out two Michelin star restaurant Cuisine Cuisine.
Cuisine Cuisine is located at the Mira Hotel in busy Tsim Sha Tsui.  It is billed as a classic Cantonese Restaurant with a 21st century  twist.  I have to admit though as I looked through my list of restaurants and their tasting menus, Cuisine Cuisine was not my first choice.  I really wanted to go to Amber at the Landmark Mandarin and sample their eleven course autumn degustacion. However, I was denied entry by Amber's reservation deities.  So, I went with my Plan B so to speak, and there I was entering the Mira Hotel promptly at 1 pm.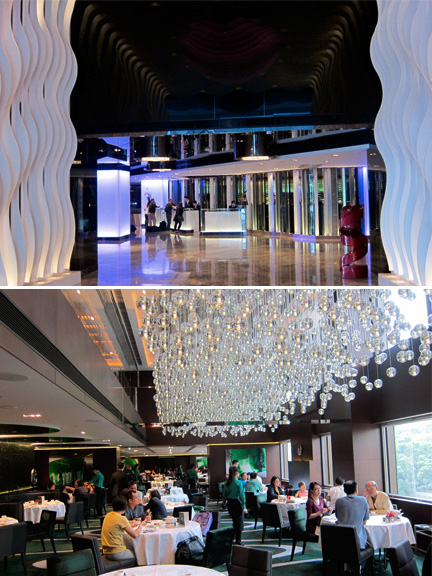 The Mira is a story in itself.  The hotel's previous incarnation was The Miramar.  A drab, four star tourist hotel.  After undergoing a multimillion dollar renovation, it transformed itself into the hip, ultra modern The Mira.
Cuisine Cuisine is located at the third floor of the hotel. I decided to order the 5 course set lunch(HK$320).  In keeping with the Man Meal theme and autumn being Hairy Crab season, I decided to add a Steamed Minced Pork Dumpling with Hairy Crab Roe(HK$30/pc) to my order. Making my set lunch a heftier six courses.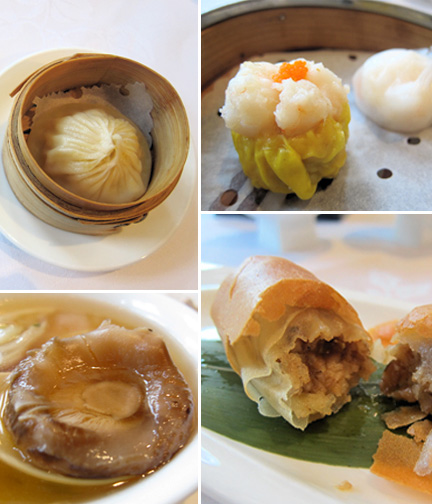 I started with the Cuisine Cuisine Dimsum Combination.  This was my favorite part of the meal.  I was served individual portions of delicately made, classic Dimsum dishes, all of which were an absolute delight.  I sampled a Deep Fried Mushroom Spring Roll that was crisp and flakey, a decadent Foie Gras Xia long Bao, a creative Pork Shiu Mai topped with Prawn pieces and Crab Roe, and an exquisite Shrimp Dumpling "Har Gaw".  Although I was hoping for a higher degree of creativity in keeping with the restaurant's twenty first century twist, I was very impressed with this course.  The standout for me was the Shui Mai.  The prawn topping added another flavor layer that took it over the top. After finishing, nay, inhaling all that was put in front of me, I was hoping that this would be a precursor of good things to come.
My next appetizer was a piece of Roasted Pork Belly and Jellyfish.  The pork belly had just the right proportion of  lean meat, fat and crispy skin. It came with a spicy mustard that added a nice kick.  The Jellyfish had a crunch to it that I liked, and it was served at a cool temperature, as it should be.
I wanted my soup course, Double-Boiled Fish Maw and Black Mushroom Soup with Dried Scallops, to be replaced.  I have always had a problem with Black Mushrooms.  Its overwhelming earthy flavor is something that I have always associated with eating Chinese food, especially in the mainland.  For some reason, this particular flavor, lingers in my system longer than it should if you know what I mean.  However, there was nothing interesting in the restaurant's soup line up, so I soldiered on in the name of research. Fish Maw is the swim/air bladder that is found in most fish. It is colorless and has no flavor. Its main purpose is to add a textural dimension to the dish. This soup had very strong flavors and a slight viscosity that did not illicit any plus points at all.  In hindsight, I should have just ordered one of the less interesting soup dishes offered on the menu.  Well, lesson learned.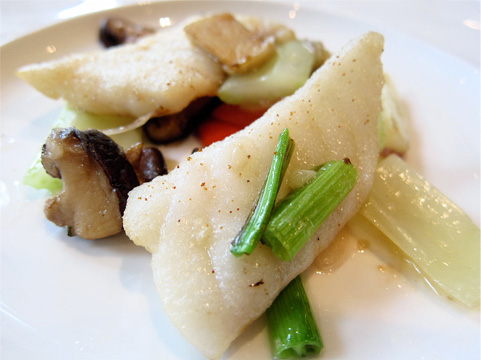 In contrast, the two main courses were more a study in subtlety. Sauteed Fillet of Garoupa with Assorted Mushrooms and Shrimp Roe Sauce, and Sauteed Pork and Courgettes(Zucchini) with Seven Flavored Chili Peppers were both refined. Too refined that it bordered on uninteresting. I was not too impressed with these two dishes as I was expecting a little more creativity.  Tasting menus normally highlight a restaurant's signature dishes. These two dishes did not seem like they belong in that category.  I hope that Cuisine Cuisine revises its menu soon to include more interesting dishes.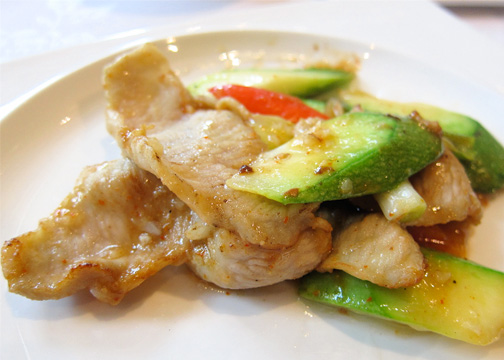 The Pork with Hairy Crab Roe Dumpling had a good balance of flavors.  The prized female roe with its amber hue, suited its pork counterpart very well.  I was glad I ordered this dish as it made up for the unsatisfying main courses that I had.  I would have ordered another one but I was quite full at that point.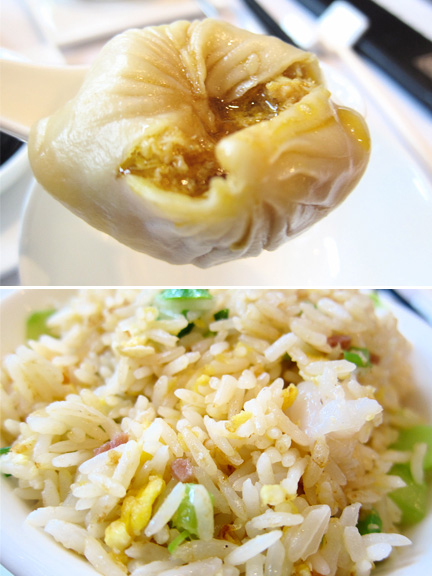 My last course was Fried Rice with Shrimp and Yunnan Ham. Unfortunately I never tried this dish as I found a hair in it.  When I showed this to a member of the wait staff, he quickly summoned the hotel's Food and Beverage Manager who apologized profusely and offered to replace the dish or perhaps, some free dessert. However, I had lost my appetite completely by that time and just asked for my bill. I understand that these things can happen in all restaurants but I guess things get magnified when you are awarded two Michelin stars. A restaurant that has these stars is supposed to be above this sort of thing.
I would still like to go back to Cuisine Cuisine on another occasion. But this time with a bigger group to try their more creative dishes like the Chicken Stewed with Goji Berries, Black Porcini, Onion and Ginger; the Tempura Lobster With Cucumber in a Balsamic Reduction and the Fried Rice with Diced Chicken and Octopus in Abalone Sauce.  I also would like to try their Dessert Sampler:  Purple Rice Glutinous Dumpling filled with Blueberry Puree; Baked Portuguese Egg Tart with Bird's Nest; Glutinous Rice Dumpling with Dragon Fruit and Mangoes.
Cuisine Cuisine
3/F The Mira
118 Nathan Road
T.S.T., Kowloon, HK
Tel: +852 23155222
LABELS: Cuisine Cuisine, Hairy Crab, Hong Kong, man meals, Michelin Stars, Mira, Sanju, The Travelling Table