By Anonymous Paul on 7 November, 2011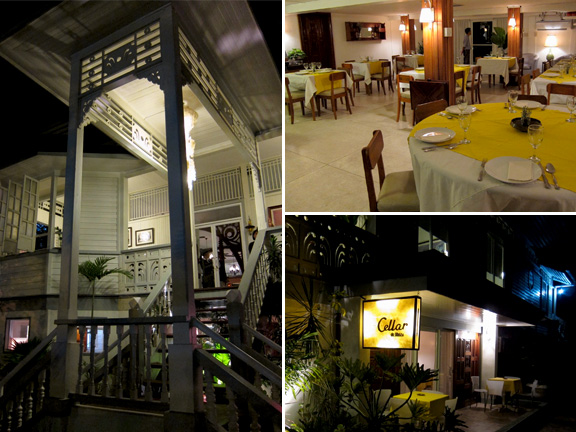 The Oboza ancestral house was built around 1929; these days it is (sadly) considered unusual to see a structure of this age maintained in pristine condition, much less even standing. It may even be the last ancestral home along Davao's Rizal St. Original Art deco wooden arcs and beams, pictures and keepsakes; even the garden looks as it might have been back in the day. The house has since been converted into a restaurant. Two restaurants to be more precise. Atop the stairs is a French restaurant and in the converted "silong" below lies Cellar de Oboza; run by couple Vince Arcenas and Tricie Pengson-Arcenas. Cellar has been sort-of reincarnated from the previous well-loved Italian bistro called Salutti; with this current effort now focusing on serving polished Filipino home-style dishes.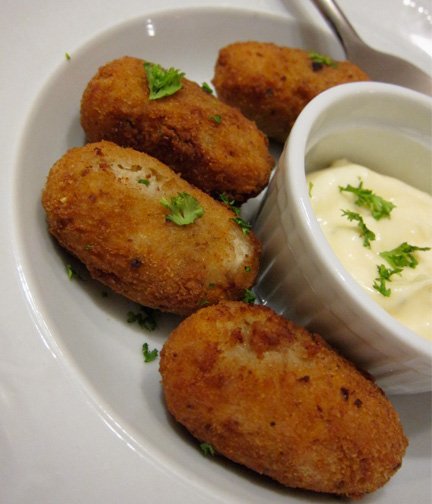 The menu is a manageable two pages (handful of appetizers, handful of mains and merienda items) and gives the impression that they put emphasis on featuring a few exceptional dishes rather than trying to do everything. It was a shaky start with the appetizers though. We had some cheese sticks made from processed cheese and spring roll wrappers with a garlic mayo dip that was pretty average. Also some chicken croquetas; which I liked because it was densely packed with meat but was a tad dry. Their strength lies in their mains as I thoroughly enjoyed all of them; or at least all that we ordered.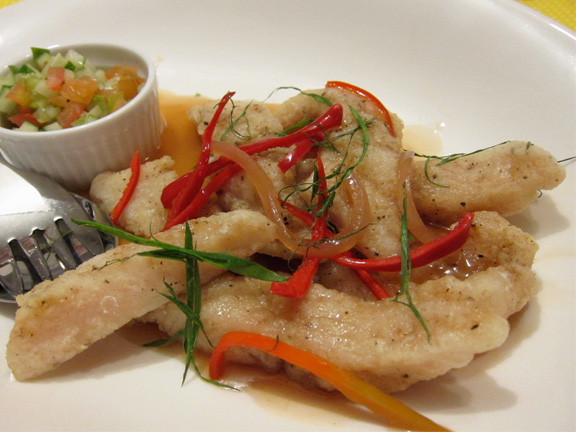 We had the Fish Sticks in Guava Tamarind Sauce, which was made of strips of breaded and deep fried dory tossed in this fruity-savory-tangy sauce. I imagine this dish working with other types of white fish though as a whole deep fried tilapia or lapu-lapu. (Sometimes you just long for other kinds of fish besides dory, really.)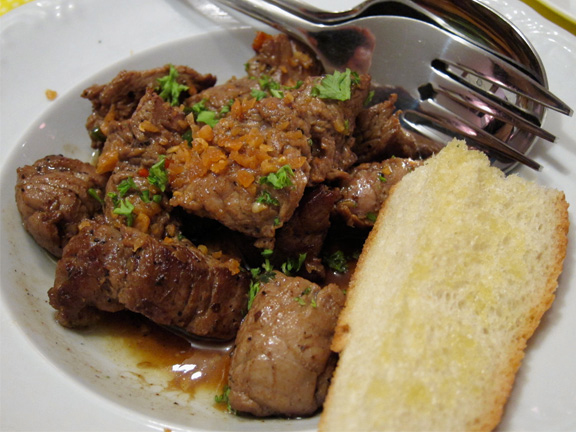 A cornerstone dish of Cellar is the Steak a la Pobre. A friend, and host for the night, mentioned that the chef owners decided to keep this on the menu due to its popularity in Salutti. And I now understand why. Like ordering a regular steak, one is asked how you want the beef cooked (of which the logical answer would be medium rare). And it comes as requested. The tenderloin cubes have a good sear on the outsides but remain a nice and soft pink on the inside. It's bathed in this toasted garlic infused oil and this punctuation of heat just comes at the very end. It is delicious in its simplicity. The secret ingredient of this dish is technique.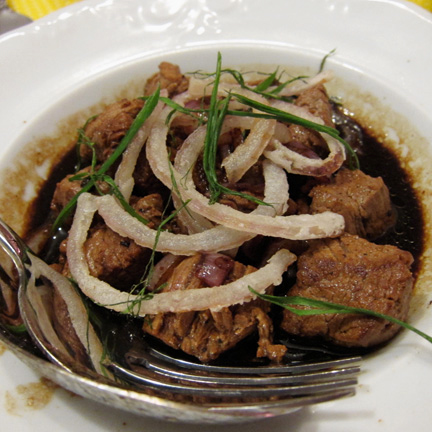 The Beefsteak Tagalog Tenderloin makes use of the same beef cut but comes with a sauce made of calamansi and soy and is topped with deep fried onions. This saltiness of this dish just screams for a bowl of steaming white rice.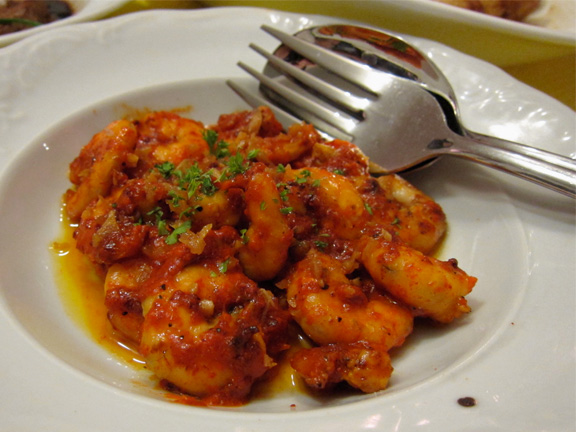 I thought the Shrimps in Crab Fat Sauce would be too overwhelming but it was actually pretty balanced. It's like a modified gambas in that rich orange roe is mixed in with the garlic infused oil to create this velvety sauce. The shrimp, obviously fresh, were plump and sweet. Every spoonful elicits sighs across the table.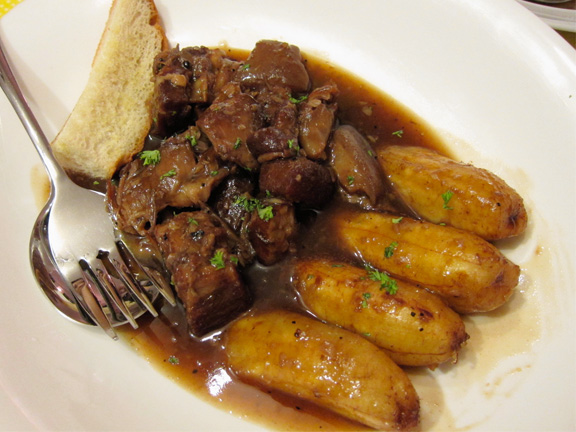 The Caramelized Pork Belly in Red Wine Estofado was definitely simmered for hours as you could literally pull the meat apart with a fork. I didn't really sense the red wine flavor that much but the sweetness was very pronounced; both from the complex, almost honey-like caramelization and from the plantains.
Again, no more room in our bellies for dessert. Of which they curiously only have a couple on the menu. But I hear that owner Tricie makes a killer trifle-like strawberry shortcake which has to be ordered in advance. Maybe next time. There's also their version of batchoy that's supposedly very good as well. It's been a while since I've eaten in a Filipino restaurant that imparts such finesse and thought in its executions (yes, even compared to "Nuevo Filipino" cuisine). The flavors and concepts are all familiar but its the subtle twists that they give to the dishes that makes things more engaging. Along with the beautiful, laid-back background that they have for the food, I only wish that Davao was close enough to Manila to have more frequent visits.
Cellar de Oboza
Rizal Street corner Ponciano Street,
Davao City
Tel. (+6382) 303.5183
*Many thanks to Emvisi for the heads-up.
LABELS: Anonymous Paul, cellar de oboza, Davao, Filipino Foood