By Anonymous Paul on 11 November, 2011
I don't particularly go to Nomama for the ramen. There I said it. I'm just not a fan of their Tonkotsu style broth in general (which they use in most of their ramens). I know it's pretty laborious to make the milky soup base but I just can't seem to get myself into it. Well, maybe save for the Ox Tongue and Chili Tofu Ramen; tender cubes of tongue and tofu in a thick spicy sauce topped over fresh egg noodles in the house stock. I really liked the tongue topping but kept thinking the whole thing could actually be better as a "dry" noodle dish sans the soup. But more on that later.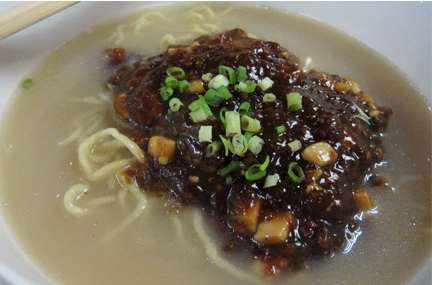 Not to say that I've crossed out Nomama as just another new restaurant on the block. I really do think this place has promise. In fact I have been back a few times because of the other items on the menu; and that's not just obligatory visits to try everything, which we at the Table for Three Please tend to do, but more because of the good experiences prior and the real excitement of trying out more innovative creations of Chef Him Uy de Baron.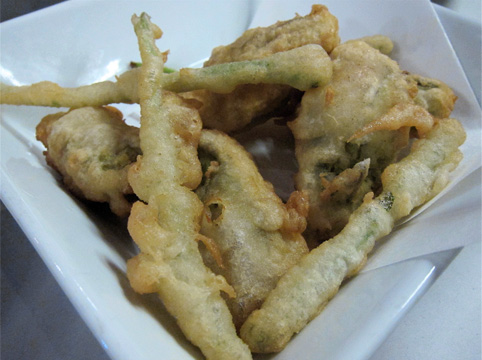 I love fried stuff and I'm pretty much a sucker for the Squash Blossoms; deep fried flowers filled with shrimp and pork mousse. They use a light tempura batter which really crisps up and the insides are beautifully moist and meaty.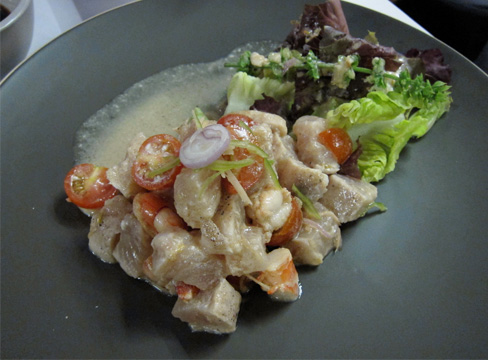 The Seafood Kilawin ala Japonaise is also a good starter; fresh chunks of super fresh spanish mackerel tossed in this sweetish citrus and coconut dressing. It's very delicate, with an unaggressive hint of ginger. It's the fish that still comes through.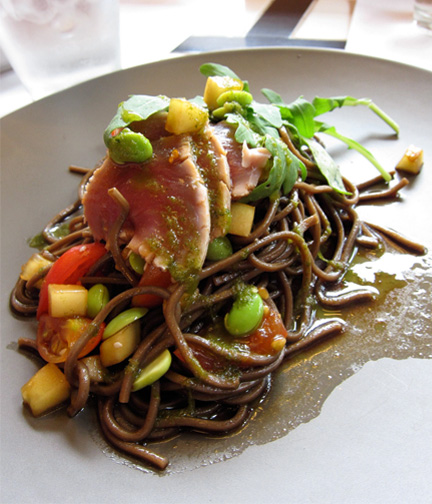 The Tuna Tataki and Soba Salad makes a good light lunch for one or as an appetizer for maybe three. Sushi grade tuna loins are seared, slivered and served atop toothy soba noodles tossed with edamame, tomatoes and mizuna in a sweet soy dressing. Again, great fresh ingredients.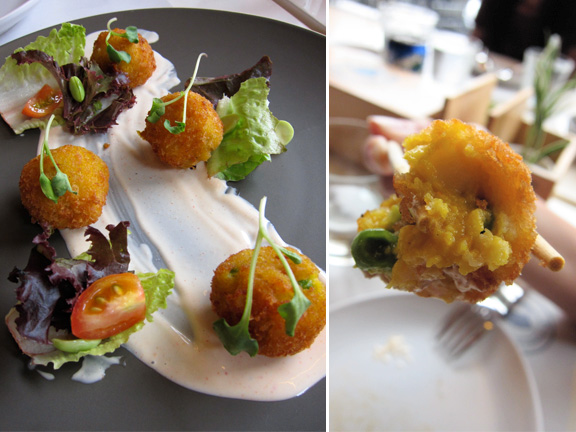 A newly introduced dish is an instant classic for me. It's their version of the Korokke, or potato croquettes. The difference being theirs uses mashed Japanese roasted pumpkin stuffed with peas and white cheese. It's beautifully plated atop brushings of a Japanese mayo based sambal ponzu aioli, greens and pea sprouts. In one bite you get the crunch of the panko crust and then that surprisingly sweet, velvety caramelized pumpkin center. The aioli is surprisingly tart and tangy and just balances the oiliness out.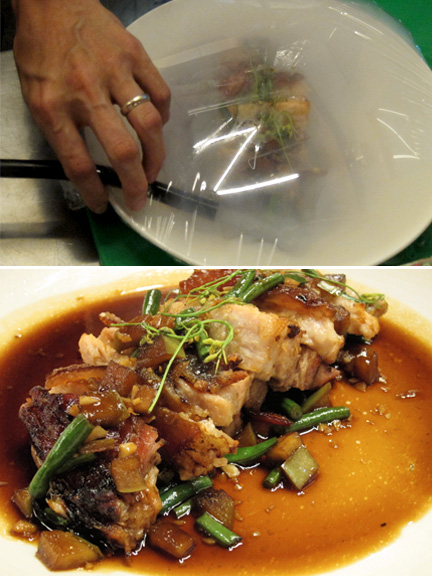 For the mains, I must say I love the Twice Cooked Pork Belly Teriyaki. There's a bit of drama involved in the presentation; a platter is served on the table wrapped in cling film and filled with piped-in billowing smoke. As you unwrap the package, you get a whiff of the white applewood cloud and the dish slowly reveals itself. You then see the quivering fat of the super tender free-range pork belly, first braised then probably baked or broiled till the skin just blisters into crackling. It is sweet and salty and impossible to pass on the boiled white rice with this one.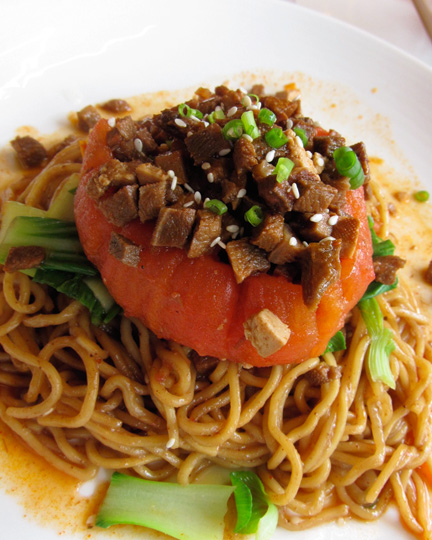 Chef Him read my mind on the Spicy Tongue Dry Noodle. As I was mentioning at the top of the post, I felt the tongue would go better as a dry noodle dish and here he comes out with it in the new menu. In this updated version the tofu/tongue cubes are stuffed inside a blanched and peeled beefsteak tomato and placed atop stir fried noodles. I like the ingenious use of the tomato as it also helps to cut through the richness of the spicy sauce and the starchiness of the noodles.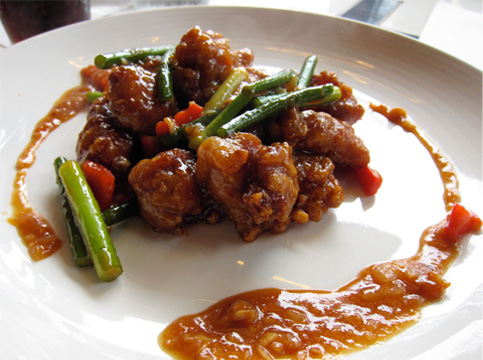 The Sticky Tori Karaage with Orange Miso and Young Garlic is also pretty good. Succulent nuggets of battered chicken thighs in this wonderfully sweet, salty sauce reminiscent of a General Tso's.
The Chili Garlic Glazed Chicken with Soy Caramel's also a sight to behold. Golden, glistening, sweet roasted chicken atop roasted squash mash and fresh shiitake. The chicken is understandably more lean and firm, as it is free-range, but has that noticeably deeper flavor of, well.. chicken.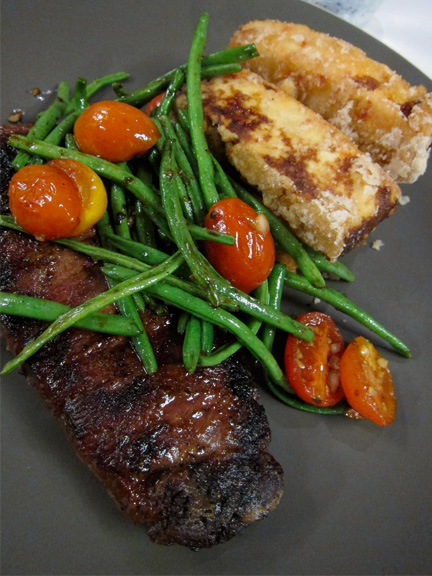 Everybody seems to be serving steak nowadays and Nomama has their own versions. I haven't brought myself to ordering the P2500+ Kitayama Ribeye for a regular meal just yet but they do an excellent Kitayama Flank Steak. The flank is generally a tougher beef cut and is usually used for long braises and stews. But my goodness, this steak is so tender and full-flavored; it's so marbled you can actually feel the fat oozing in the mouth as you chew. The sides are these wonderfully stir fried haricot vert, grape tomatoes and tofu fries. It's a protein-packed plate fit for probably one hungry truck driver but it's always best to share. Great taste, great value. Chef Him sources this fantastic organic wagyu beef locally from Bukidnon.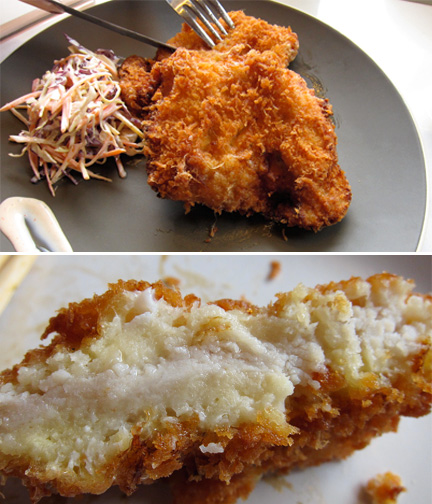 If you're with kids I think they'll love the Pork Tonkatsu with Japanese Slaw. They prepare the pork by first brining it in a buttermilk mixture. The buttermilk tenderizes the meat and the brine gives the flesh that added extra moisture. The pork scallops are fried to perfection; when you cut inside you see that it's mostly plump, juicy meat and not breading. It is thick but your teeth just sinks in. This dish is awesome, like a southern fried chicken crossed with a schnitzel.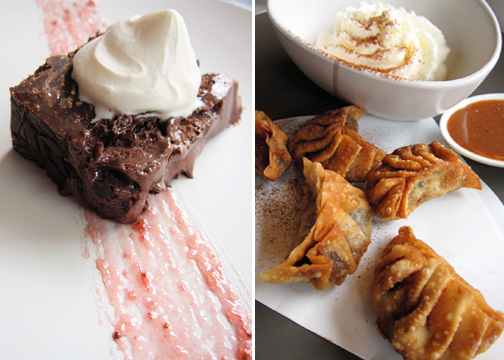 For desserts, I think the Kitkat bar has earned it's place as a favorite; though I like the mousse layer on top better than the hard, Chocnut-ty base. And the Apple Gyoza are also interesting. Small packets of apples you drizzle with a sweet/salty miso caramel sauce and top with whipped cream. Which goes well with their good coffee.
Chef Him is clearly on top of all the details of Nomama; from the concept, the music played, the service, the choice of magazines laid out on the bar, to that teeny-tiny edible flower on top of that beautiful pork teriyaki. It's the whole experience. He aims for perfection and succeeds in creating delicious, unpretentious food. From the last time we talked to him On The Table, it's obvious now that his patience has paid off with this new venture.
Nomama Artisanal Ramen
G/F FSS Bldg 2, Sct Tuason cor Sct Castor Streets,
Quezon City
Tel: 9214913
Mobile: (+63917) 522.8272 / 542.2558
LABELS: Anonymous Paul, Him Uy De Baron, nomama artisanal ramen