By Kitchyart on 4 October, 2011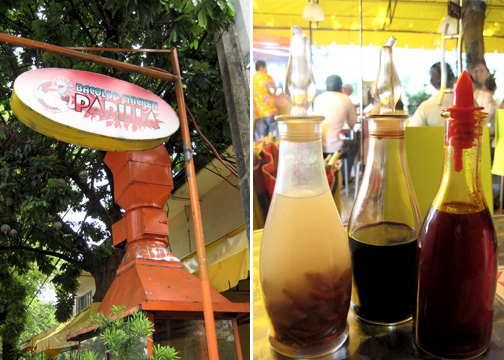 The month of October is a very memorable month in my food diary.  In 2009, it was my first time to visit Bacolod City during the Masskara festival.  People who have been there before try to warn new visitors that gracious hosts are going to overfeed their guests til they burst at the seams.  I seriously thought it was not possible since I have a big appetite but was I wrong.  A week of nonstop eating and partying did take its toll, it even involved a trip to the hospital and diagnosed with "Masskara Syndrome" — too much of everything.
Bacolod City offers many dishes to try, but the one dish that I still dream about to this day is the Chicken Inasal.  It seems simple enough: succulent grilled chicken marinated overnight in vinegar, garlic and spices, and slathered with an orange achuete-colored oil.  It goes well with garlic rice (topped with more of the achuete oil) and your own concoction of vinegar, soy sauce, chili and calamansi to dip your chicken pieces.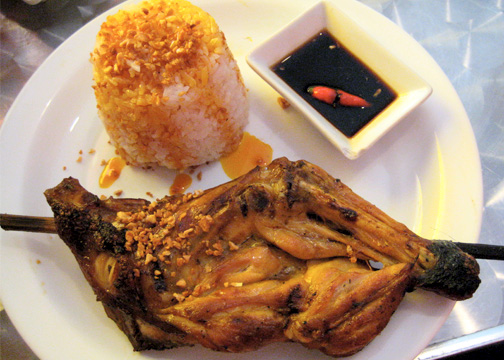 In the past year or so, many places in Manila have started offering inasal on the menu. I've tried a few but nothing comes close to the real deal. Not even some of the popular chains that specialize in this dish. I usually take a bite and end up a little disappointed. It's not that they tasted bad, it just wasn't the taste I was looking for.
Funnily enough, I was telling a close friend about my "dilemma" and he took me to this small grill place called Bacolod Chicken Parilla which he said is the closest to the original dish. Boy oh boy, was he spot on!!!  For the next two weeks, I brought family and friends to share this wonderful discovery and even took solo trips just to satisfy my craving.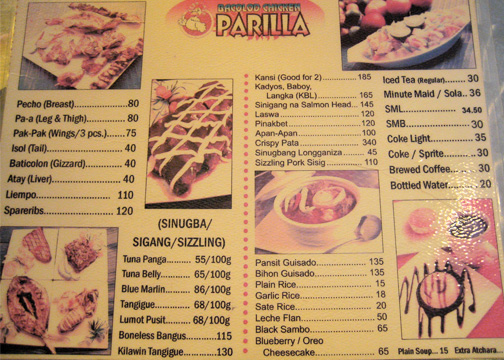 It became SOP to order the following:  inasal paa (chicken thigh and drumstick), atay (liver), isol (bottom) and garlic rice.  There are other dishes on the menu but it's unanimous that there's something magical about their marinade. Another great thing about Parilla is that most of their diners and even the staff are from Bacolod so that's a good sign that this place is like a piece of home.
Bacolod Chicken Parilla
Scout Gandia corner Scout Reyes
Quezon City
LABELS: bacolod, Chicken Inasal, Kitchyart, parilla