By Anonymous Paul on 10 October, 2011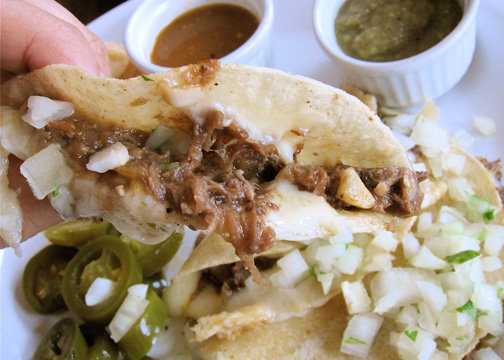 Street style taco up close
The odds are pretty high that every Filipino has relatives based in LA. I've spent a few summers there visiting aunts and uncles when I was younger. And when not in Disneyland mode a cousin of mine would usually take me along his favorite food haunts; most of it being Mexican joints or hole-in-the-wall cantinas and taquerias serving straight up meat in soft corn tortillas. The restaurants usually had this general "cafeteria" aesthetic, in which commercial catering dishes with the viands under sneeze guards are de rigueur. However the food definitely spoke for itself. I was only a teen when I probably had my first tear duct inducing taco and up till now when I get the chance to go back to LA, first stop after arriving at the airport would be a taqueria; even before dropping off our luggage. I had gotten addicted to the bold spiciness of carne asadas, al pastors and carnitas that for the longest time I'd have to face taco withdrawals, given the sad dearth of even remotely passable Mexican places in Manila, upon coming home.
But things have surely changed over the years; with a few Mexican "inspired" restaurants putting up shop. Each one ballsy enough to be more authentic than the other. Pretty good efforts though, considering I still know people today who actually detest Mexican food; with the spices being too musky for their tastes, the use of dried and fresh chilies being too spicy and the cilantro reminding them too much of soap. I suppose the Filipino palate of late is sort of expanding and accepting more ethnic flavors (however similar some Mexican cooking is compared to Filipino food).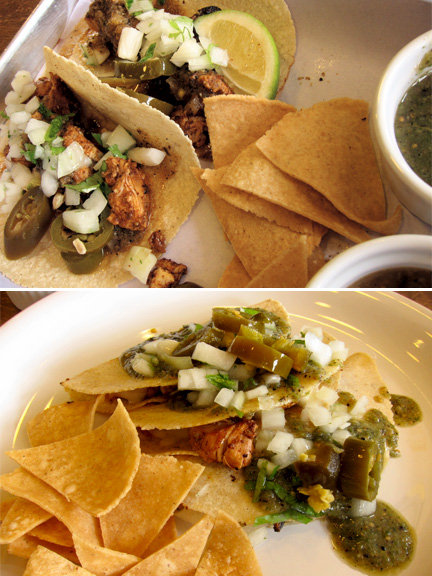 Never had chicken tacos before but these were pretty good. Grilled but still moist and juicy. Regular and street style, top and bottom.
For me, Orale pretty much comes close to the traditional-leaning Mexican taco experience I sorely miss. I'm not a burrito guy. I only crave enchiladas on occasion. But I'll have a soft corn taco any given day. I never can seem to leave the place not being completely stuffed; eating at least four or five tacos in one sitting. Or six.
The format of ordering is pretty much standard: you select a meat of choice then decide if you want that rolled with rice in a burrito, slathered with cheese in a quesadilla, etc.. But ordering tacos here at Orale you either have the more authentic style option of just the meat with onions and cilantro folded in a soft corn tortilla (which they make on premises). Then there's the street style, which is like a quesadilla of sorts in that melty Monterey Jack cheese is added to the meat filling and then topped off with salsa; also using corn tortillas. Sliced pickled jalapenos is not really very traditional; if one had to be a stickler for detail, in more traditional tacos the meat would be spicy in itself and a piquant red sauce or salsa is added to amp things up even further. The heat levels are a little toned down for local tastes I suppose but the depth of flavors are pretty much there. Monterey Jack cheese is used here in place of the more traditional Chihuahua, queso blanco and queso fresco but then again…still tastes pretty good. Of the two taco styles, which would I be more partial to? If you want to highlight the meat more then go for the original version. If you like things cheesy and a little more messy get street style. I usually shamelessly order both.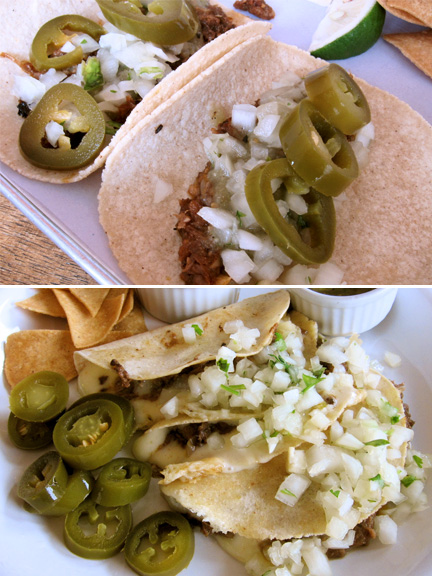 On top: lengua tacos regular style. Below: lengua tacos street style.
I like the carnitas here but it has to be said that my favorite meat filling at Orale would be the lengua. Their version is undoubtedly stewed and simmered till super tender that it's actually broken down into shreds (as opposed to sliced chunks, which doesn't sound half bad either, does it?). Hearty, stick-to-your-ribs goodness that's perfectly seasoned and spiced. (I wonder if they'll ever serve tripe and other sweet mystery meats in the future.)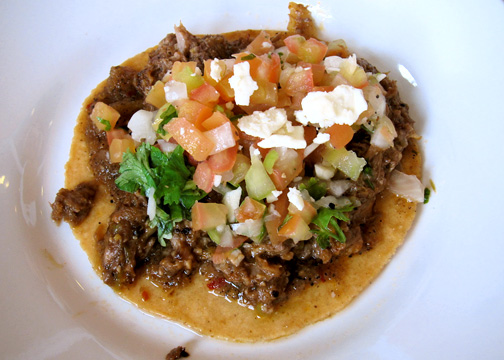 Lengua tostada
There are no U-shaped hard taco with ground beef aberrations at Orale but the closest thing to that would be their tostada. In which a corn tortilla is fried crisp and made into a base on which the meats and other toppings are piled over. I like how the textures play out in this dish.
Another (Tex-Mex) permutation of the taco would be their carne asada nachos. Not exactly the biggest nacho fan but this was sort of different; wherein smoky grilled beef morsels along with tomaoes, guacamole, onions, jalapenos are topped on fresh fried totopos and then drizzled with sour cream. They make the totopos by cutting their home-made tortillas in triangles and then frying them till crisp. They're a little bit more firm/harder than store bought chips but I honestly prefer these fresh made ones. They do a good job keeping sogginess at bay while scooping up the salsa.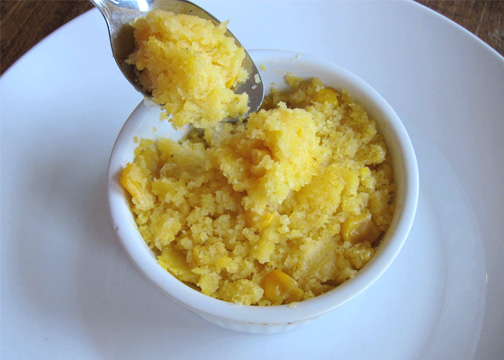 For a sweet corny ending they also serve tomalitos. Like a cornmeal pudding with a crumbly spoonbread consistency. Not too crazy about this one but one does welcome something a little sweet after a spicy meal. A spoon or two was enough.
Orale decidedly goes the more traditional Mexican route with its food; with inspirations of Cal-Mex here and bits of Tex-Mex there. It's noticeable that a lot of key ingredients are imported to create that authentic flavor. If you would allude to rating a singer with let's say a karaoke-grade singing voice on the low end and professional pipes on the top end, they would probably be on the American Idol level. Wherein there's enough talent, enough magnetism and a ton of potential to hook you as a fan. You just want to see them off making it big(ger). Not to say Orale isn't worth a visit. In fact I find it the most kosher Mexican taqueria in Manila right now.
Orale! Taqueria Mexicana
G/F The Fort Strip,
Fort Bonifacio, Taguig
Tel. +632.552.2660
LABELS: Anonymous Paul, lengua taco, mexican, orale taqueria mexicana