By sanju on 21 October, 2011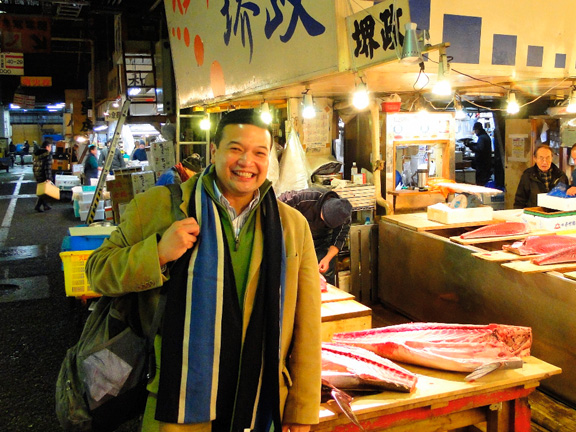 Stevie in Tsukiji
Many have written about Stevie Villacin's Hainanese Chicken.  Rightly so as it has earned accolades among bloggers, food writers and foodies in general.  Some have even said that it is one of the best versions of Hainanese Chicken available in Manila at present.  However not much has been said about Stevie himself.  I have had the pleasure of knowing Stevie and the rest of the Villacin Family through younger brother Mark, who is one of my best friends. Through the years, the whole family has always made C and I feel very, very welcome every time we are invited into their home. We always treasure and marvel at the spirit of openness and generosity that has constantly fostered our visits.
Stevie's career path has taken him from managing sugar plantations in Bacolod, to investment banking in New York, to culinary school in Manila and finally starting his home based venture.  Aside from Hainanese Chicken, Stevie also offers platters of Chicken Oriental Salad, Black Pepper Crusted Tuna Salad, Fresh Vietnamese Spring Rolls and my favorite,  Fried Shrimp Lumpia with Bacon.
Let's look closely into Stevie's World:
What made you decide to enter the culinary scene after being an investment banker for a few years?
Ever since I started working right after college, I told myself that I wanted to end up with a career that I love, so that work won't feel like work.  While I was job hunting in Singapore, after coming back from New York in 2007, my exposure to the culinary spectrum over there made me realize that cooking was something I enjoyed.  And, it perfectly fit my definition of work.
Who in your life has influenced your cooking the most?
I believe that would be my family and friends.  They were eager and willing to eat the dishes I prepared and it proved to be an encouraging factor.  Plus we have the bodies to prove it. (Disclaimer:  Not everyone). Ha ha ha!
What made you decide to have Hainanese Chicken as your flagship product?
The whole Hainanese Chicken business came to me by chance.  My cousin, Claudette Vitug, knew that I made Hainanese Chicken since I always serve it during birthday dinners at home. During the Christmas season of 2009, she requested me to prepare a set to give as a gift to our friend, The Bag Hag, Ingrid Chua-Go. Ingrid enjoyed it son much that she blogged about it the following day.  The rest is history. You can actually say that luckily, there really was no decision process involved.
What is your favorite food blog, cookbook, food-related television show and food magazine?
Food blogs that I regularly follow are:  Dessert Comes First, Market Manila and Table for Three, Please.
Favorite Cookbooks:  Tyler Florence's Tyler's Ultimate, David Chang's Momofuko and my latest acquisition, The Family Meal – Home Cooking with Ferran Adria.
Food Related Television Show:  Without a doubt, Anthony Bourdain's No Reservations.
Food Magazines Saveur, Food & Wine and Gourmet.
Which Restaurant meal (foreign or local) do you remember the most?
At present it would be the lunch I had at Robuchon a Galera in Macau.  I had a meal there a few months ago.  I am not a big fan of fine dining restaurants since I always gravitate towards home-cooked dishes and street food.  However, I appreciated Robuchon's attention to detail that made the whole experience memorable, from the bread cart to dessert.  And, it tasted damn good!
What is your favorite restaurant in Manila?
I don't have  a single favorite restaurant since I eat what I am in the mood for.  But, at the top of my list are:  Benjarong Restaurant at the Dusit Hotel; Chelsea Market; Cafe Via Mare, Inagiku's Saturday lunch buffet  and Ukkokei Ramen Ron.
What Junk food do you love?
Tostitos with a hint of lime paired with salsa.
Is there a food that you just can't seem to enjoy?
Right off the bat I would say durian but I can't say that I won't enjoy it in the future.  I will always try anything once before I make a decision as to whether I like it or not.  Lastly, no bizarre food though…i.e. rats, snakes, etc…I am not that adventurous.
Just between us, What are your future plans?
Currently, I am happy where I am at as I am able to indulge in my love of travel and cooking.  Since I am a novice to the cooking profession, frequent travel (I travel every couple of months; my customers can attest to that) really helps educate my palate in a short period of time.  When I am finally tired of traveling, I will probably start a restaurant of some sort.
Stevie's Hainanese Chicken
21 Libra Street, Bel-Air 3
Makati
Tel +63906 5084155
Please call a day ahead for orders.
LABELS: Hainanese Chicken Rice, On The Table, Sanju, stevie villacin