By Anonymous Paul on 17 October, 2011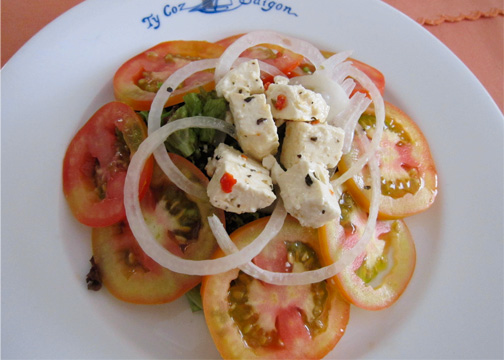 Greek style salad.
It was a rainy afternoon when we decided to call Ty Coz for a dinner booking. But after several failed attempts to get somebody to pickup we decided to just walk a few blocks up Pasteur Street from our hotel. It wasn't the easiest place to find, though, so when we got there and found it was closed, being a Monday, it was hard not to whine and snivel in the rain while looking for an alternative dinner place.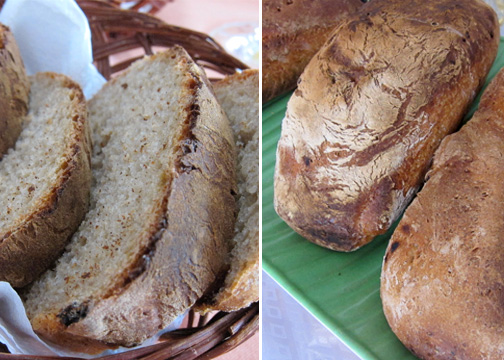 Fresh baked, crusty country loaves.
The following morning a friend called the restaurant to book us for lunch, and after a few tries someone finally picked up. She asked if they were open for the day and the man on the other end of the line just nonchalantly said …"We can".
Ty Coz is unusually located inside a narrow alley and on the third floor of a residential building. You actually have to pass through the apartment of the proprietors before you get to the dining area. The place is pretty relaxed, unpretentious and casual and was the perfect setting for a lunch get-together.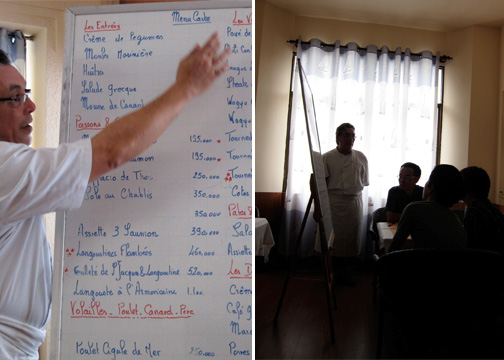 After going through each item on the board with our table, he then goes to each and every table and does the same thing.
One gentleman was buttoning up his chef's whites as we were sitting down while another was behind his laptop, going back and forth between each other on what items they probably had, and didn't, for the day. I couldn't decipher the French. Man behind computer then slips away to the kitchen and then man in chef's whites literally drags this huge whiteboard across the room beside our table. On it was scrawled the menu, some he changed up last minute with a marker. I swear I could hear him draw a long inhale before he actually went through each and every item. Describing ingredients, details of preparation and even origin/history. It was pretty fascinating for the first fifteen minutes, then my stomach started growling from hunger and focusing on the lecture seemed more of a challenge. But it was pretty cool to know how this place was being run by passionate people and we felt we were in good hands.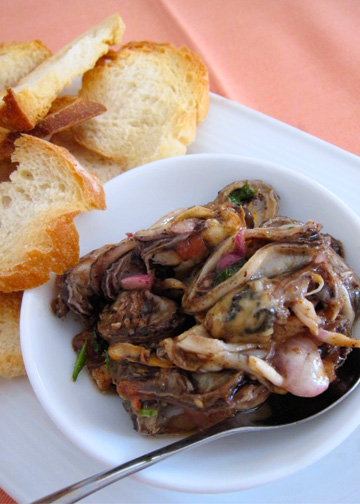 We were given moules en escabeche as an appetizer while waiting for our first courses. A cold dish of mussels marinated in a sweet-sour sauce with origins from Provence. (This I know because, again, an explanation was given.) The mussels were excellent. Plump and meaty and perfect spooned on top of melba toasts.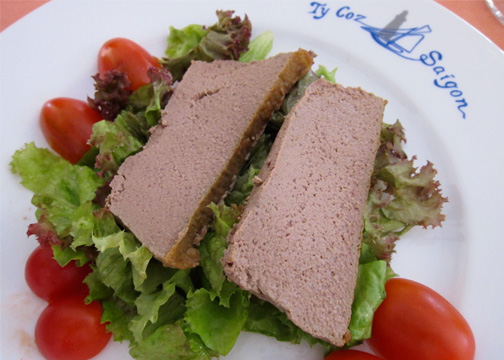 Mousse de canard
I had a salade Grecque for my first course. Pretty much straightforward fresh lettuce, tomatoes, onions and feta with an oregano infused vinaigrette. The wife had the mousse de canard; like a foie gras terrine atop some fresh greens. You can only make chopped liver look so pretty but this tasted pretty good. The rich flavor of smooth foie was there but it was also earthy with the addition of, I suspect, mushrooms and made complex with some booze; probably brandy or cognac. I would've been perfectly happy with this in a banh mi. Or with that wonderfully rustic home-made bread they bake.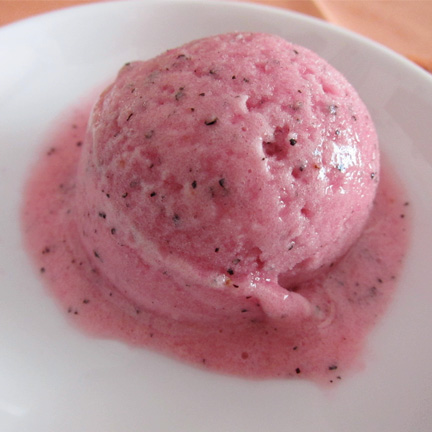 We were served an interesting pink sorbet made of passionfruit and dragonfruit as an entremet. It was refreshing and tasted more fruity than a sugary sweet dessert.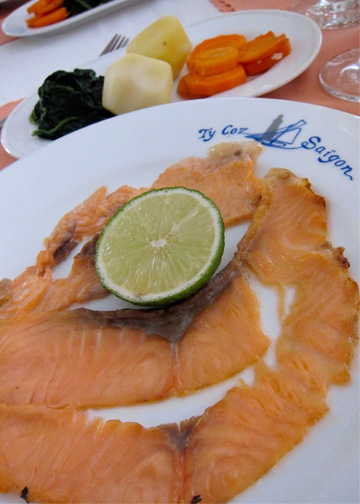 For mains, the women on the table both had the minute de saumon; slivers of rare salmon passed quickly under the broiler till it just turned a pale pink. Silky and fatty with a hint of smokiness. A friend ordered the wagyu contre-filet, or strip steak, cooked a perfect medium rare and served with some classic bearnaise on the side. I had the filet de canard l'orange. Of which the duck breast was also cooked to a perfect pink. Most of the fat was properly rendered and the skin was nice and crisp. The sweetish sauce didn't have that more pronounced orange flavor I was expecting but nonetheless worked.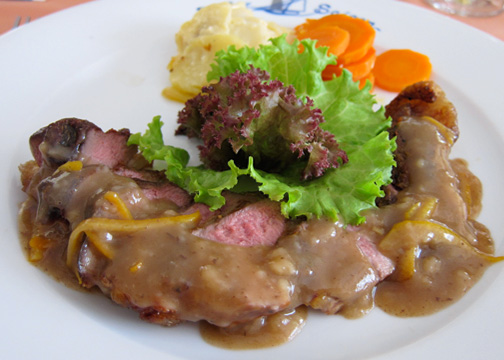 Filet de canard l'orange
Dessert consisted of a brilliant marquise au chocolat, or dark chocolate mousse which vanished too quickly. There was also the peach melba; lightly sugar poached pears served with vanilla ice cream and raspberry gelee. I had the savarin; their version consisting of a yeasty bun soaked in liqueur infused syrup and served with more liqueur infused chantilly cream. I never thought I'd enjoy having cold, wet, boozy bread for dessert but this really served as a perfect ending to probably our best lunch in Ho Chi Minh.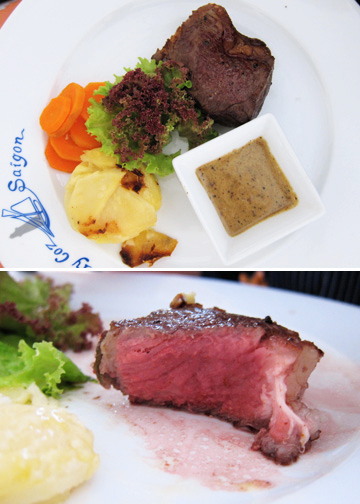 Wagyu strip steak
On this trip, I never really sensed I was on a true holiday till this meal. With no worries about time or appointments thereafter, it was a pretty good feeling to be living in the moment (even temporarily, at least). Ty Coz is more classic bistro than brasserie; serving more grounded, home-style dishes at moderate prices. If ever you do get yourself to this place, allot for a bottle or two of wine and at least a few hours for a meal. And bring good company. I would say it's the whole leisurely experience that made it for me.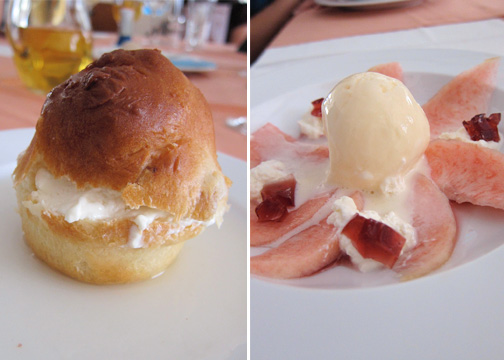 Savarin on left, sitting on a plate of sweet syrup and peach melba on right.
Ty Coz
178/4 Pasteur Street, District 1
Ho Chi Minh, Vietnam
Tel. (848) 822.2457
LABELS: Anonymous Paul, french, ho chi minh, ty coz