By sanju on 9 September, 2011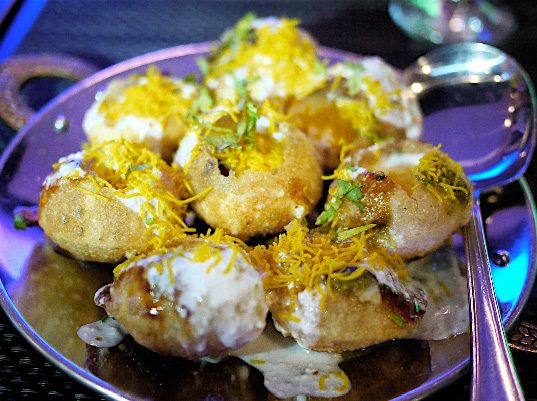 Dahi Puri
For this month, Table for Three, Please will delve in to the world of the vegetarian.  We will bring you a taste of what it is like to go meat less, fish less, egg less, but hopefully not tasteless.
Being of Indian origin, I have had the opportunity to be exposed to Indian food all my life.  From my grandmother's home cooking, to attending catered events and dining in Indian restaurants locally and abroad, I have been able to try various types of Indian food from different regions in India.  My exposure has brought about some constants: beef is never served, as cows are considered to be sacred.  There is a whole myriad of spices and flavors that compliment the cuisine.  And there is a strong element of  lacto vegetarianism, as a large percentage of  Indians practice it. If you are a lacto vegetarian, aside from subsisting on a completely meat and fish free diet, you must also abstain from eggs.  In fact, when one goes to a party hosted by an Indian, there  are normally two buffet lines, one for non- vegetarians and one for vegetarians.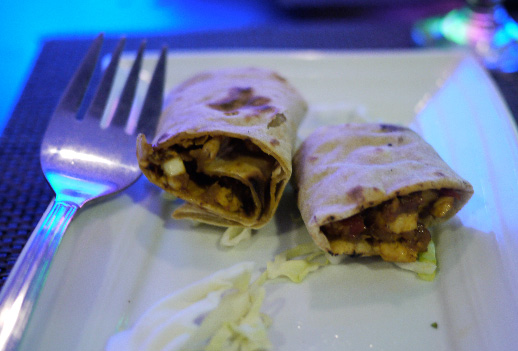 Paneer Kathi
As my previous posts will tell you, I am far from being vegetarian, but I do enjoy having a good veggie meal once in a while.  On this premise, C and I decided to have a completely vegetarian dinner with some of our favorite dining companions Chinkee, Mark V and  fellow Table for Three Please blogger Kitchyart at Legend of India.  Everyone, including myself, was tempted to order some chicken and lamb but we all stood steadfast in the face of temptation and stuck to our original plan.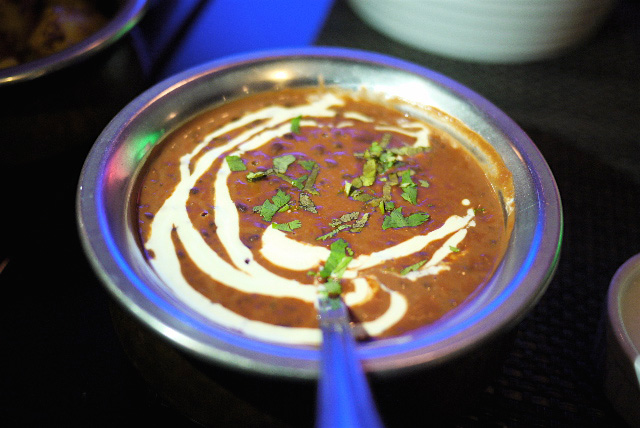 Dhal Makhani
We started out with two appetizers.  First we had an excellent Dahi Puri (P180).  These are mini deep-fried unleavened bread buns stuffed with potatoes, crumbled strings of spiced gram flour, lightly spiced potatoes and topped with yoghurt and a tangy tamarind sauce. Dahi puri and its other many incarnations are an integral part of India's street food landscape.  I must say that these little tasty treats are way up there on my all time favorite list.  I have had them countless times both here and abroad, and I can say that Legend of India's version is very good.  It was so good that Mark V could not resist asking for another order, which we all helped him devour.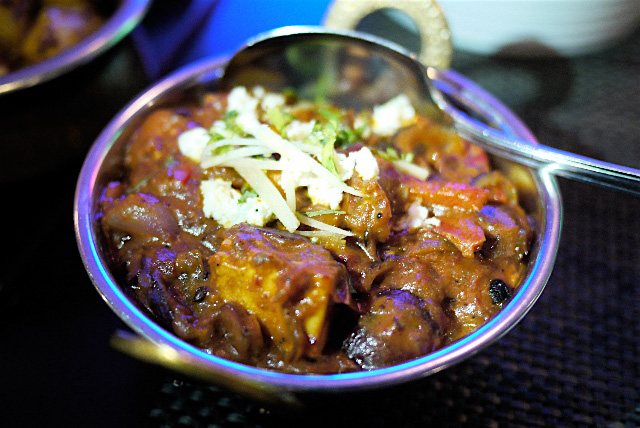 Kadai Paneer
Our second appetizer was an average Paneer Kathi roll (P220).  Paneer is a lacto vegetarian approved cottage cheese.  It is one of the primary sources of protein for vegetarians.  It is normally quite bland if eaten on its own.  This version was sauteed with spices and housed in an unleavened bread roll and served with a mint sauce.  Great concept, but I thought that the execution lacked some oomph.
Our main courses arrived soon after.  Much like other cuisines in Asia, Indian food is best enjoyed family style.  As I was in charge of the ordering, I decided on four courses: first off was a nicely done Dhal Makhani (P260).  Made with a mixture of black lentils and kidney beans in a creamy, buttery sauce, this type of dhal has its origins in the Punjab province of India, and has become one of the most beloved Indian dishes.  Visit any Indian restaurant around the world and chances are you will find this dish available.  One of the world's best Indian restaurants, Bukhara, located at the ITC- Maurya Hotel in New Delhi has raised their rendition of Dhal Makhani to legendary status.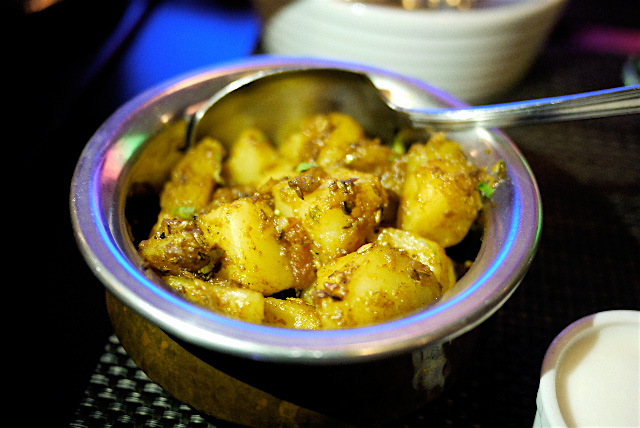 Jeera Aloo
We then had an order of Kadai Paneer (P280).  A Kadai is a distinctively Indian cooking pan that looks like a wok.  It is quite interesting as this veggie dish made me think of lechon kawali.  I found out recently that a kadai is also called a karahi.  Karahi is the origin of the Visayan word karahay.  The first thing that pops into my mind at the mention of the word karahay is Lechon Karahay, which is how Lechon Kawali is known as in the Visayan regions.  Let's leave thoughts of succulent pork with glistening, crackling skin behind and let's return to our paneer dish.  The Kadai Paneer was cooked in an herbed tomato sauce.  It was quite tasty with a complex flavor profile.  My only wish was that there were a few more pieces of paneer to be had so that it would not seem like we were going on a treasure hunt.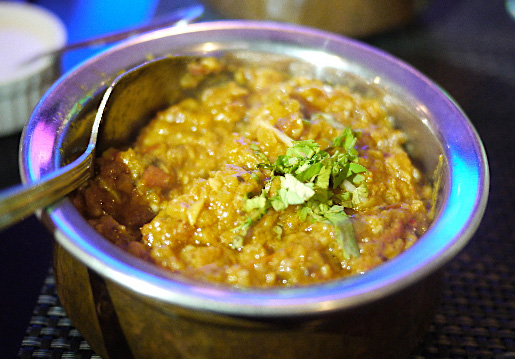 Baingan Bharta
Since our first two courses were of the saucy variety (pun intended), I decided on a couple of "dry" dishes.  First, I asked for an order of Jeera Aloo (P280), cumin flavored potato cubes that are quite commonly served in many Indian households.  Then, we had Baingan Bharta (P260)–mashed eggplant cooked with onions, tomatoes and Indian spices.  The group consensus was that these 2 dishes were just "okay".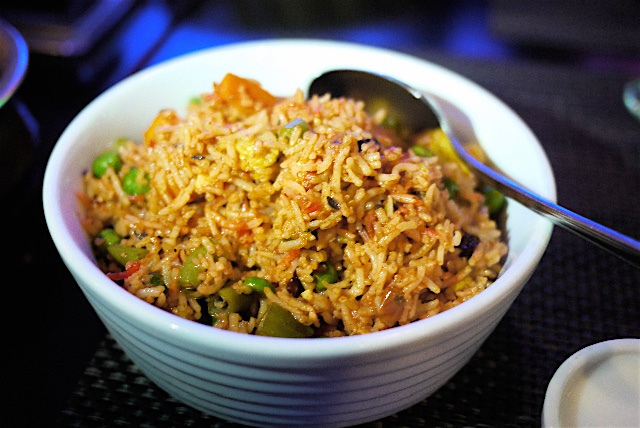 Hyderabadi Biryani
Our starch accompaniments consisted of some Garlic Naan Bread (P120) and a Hyderabadi Biryani (P380).  Biryani or cooked fluffy Basmati rice served either with meat and/or vegetables was brought over to India by Moslem conquerors many centuries ago. Our version of Hyderabadi Biryani, in keeping with our dinner's theme, had vegetables and some fresh dried fruit.  The dried fruit added another dimension as it gave the dish a chewy texture that was quite unique.  The rice went very well with the Baingan Bharta and the Jeera Aloo.  The Naan Bread was a good compliment to both the Dhal and the Paneer.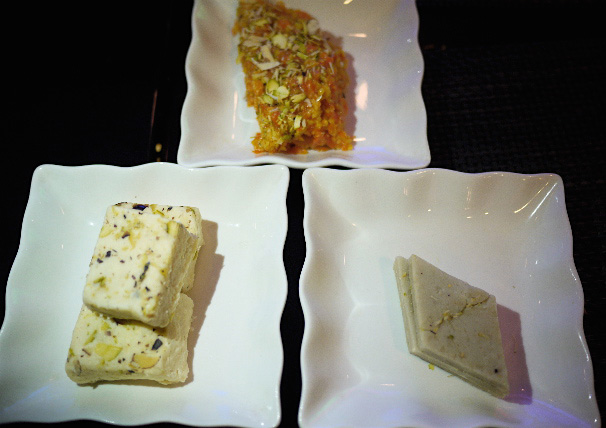 Gajar Ka Halva, topmost.
For dessert, we decided to have my favorite Indian dessert:  Gajar Ka Halva (P80).  Gajar Ka Halva or Carrot Halva is a dessert made with finely shredded carrots some milk, sugar and, in this case, some pistachio nut pieces.  I like it best when it is served warm.  I am not too fond of many of the Indian desserts as I find many of them very sweet.  But I cannot resist a well-made Carrot Halva, and, Legends of India's dessert chef has satisfied my craving, as it was creamy, freshly made and not sickeningly sweet. Well done!
Having this meal showed us what it was like, albeit very briefly, to be vegetarian.  I asked my dining companions if they would be able to make the switch.  None of us could definitely say that we would be able to do it at this point in our lives.  Living in the Philippines makes it even harder as options are very limited, particularly when dining out.  I for one have a new found respect for vegetarians, more so for  those who have embraced the lifestyle midway through life.  To vegetarians the world over, I raise my proverbial glass to you.  Salute!
Legend of India
114-B, Jupiter Street
Bel-Air 2, Makati
Tel: +632 8364232
LABELS: Eating Indian, legend of india, Sanju, vegetarian, where's the beef