By sanju on 24 September, 2011
I owe Jim Araneta a HUGE thank you. I give him credit for reawakening my love for beer. Growing up, beer used to be my drink of choice. However it was slowly overshadowed by wine and single malt scotch. A few months ago, I had opportunity to attend a Vietnamese barbecue and beer pairing dinner hosted by the Wines And Spirits Club of the Philippines. The beers that night were provided by Jim's company Global Beer Exchange. Halfway through the dinner, it suddenly dawned on me that as far as food pairings go, beer, especially craft beers, can be just as good a match as any other alcoholic beverage out there. Since then, I have always considered beer as a pairing option as well. I have found that beer  adds a unique, pleasant dimension to a meal that is totally different from wine or any other alcoholic beverage.  Next time, if you are in the mood for something surprisingly different to go with your meal, do give beer a try.
Let's take a gander at what Jim Araneta has to say about food, life and his love for beer.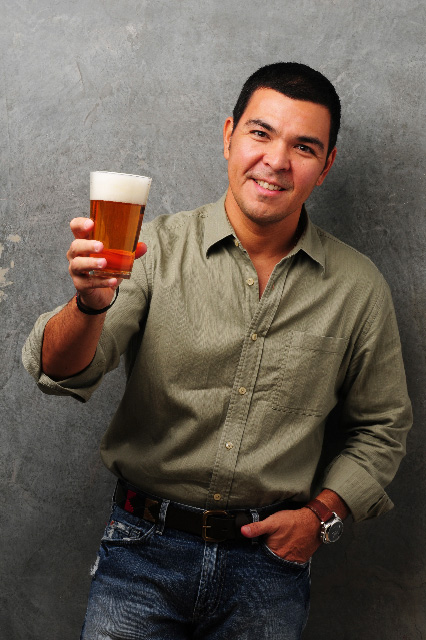 How did Global Beer Exchange and The Tasting Corner come about?  What were you doing previous to this?
My interest for beer started in 1984 in Los Angeles when I lived across the street from my grandfather.  He'd come home from work with a six pack of your regular lawnmower beer and he would call me to join him.  He'd have four and share two with me. There weren't any craft beers then, so to me, beer was more about the good memories with my grandfather rather than the taste. From then on, I'd make it a point to try some local brews during all my travels, buy as many books on beer that I could possibly find and packed my suitcase with as many beers possible.  The problem with this is packing was a hassle.  The beers I took home didn't last too long.  The solution to those two challenges was get into the beer importation business and thus Global Beer Exchange was born.
Since I import close to one hundred different beer variants from Anderson Valley, Ballast Point, Gordon Biersch, Hitachino Nest, Rogue, Stone and Victory brewing companies, It is important that we provide a venue where customers can try everything we bring in all under one roof.  This is how The Tasting Corner inside the Craft Pub at The Fort Strip came about.
I am still involved with Araneta Technologies Inc., a company I started in 1998.  We are into air conditioning with focus on repair and maintenance, as well as the importation of our Aircon Miser energy saving device.  In simple terms, the Aircon Miser provides 30-60% savings in energy consumption by making non-inverter type aircons work like inverter types.
Please tell our readers what an artisanal or craft beer is?
Craft beers are made by breweries whose priority is to make high quality beers.  In any business, numbers are important, but since the owners of craft breweries are primarily artists as well as folks who are passionate about beer, for them, quality supercedes profits. Unlike industrial breweries, craft breweries  will never use fillers like preservatives, chemicals, additives to reduce quality and costs. They will only use the highest quality hops, malted grain, yeast as well as use innovative ingredients like chocolate, coffee, and fruit to create diverse styles. This is why there are more than one hundred styles of craft beer in the world. This is also another reason that craft beer has become even more diverse than wine. There is no reason for someone to say: "I don't drink beer because the taste does not appeal to me."  Friends, there is so much more to beer than just the adjunct lagers that are made by the industrial breweries that 90% of the world has been accustomed to.
What type of beers do you carry and where do they come from?
I carry almost every style of ale and lager brewed in the USA and Japan.  These two countries are new world beer producers.  From what I understand, new world brewing countries are those that are not limited to the styles produced by the old world (Belgium, The UK, Germany etc.), and specialize in innovation.  Essentially, they make both old world styles as well as innovative new  world styles.  This makes for an interesting, diverse and complex craft beer world.
I import close to one hundred beers including lagers like the Pilsner, Marzen, Blond Bock. I also have ales such as the Hefeweizen, Pale, Ale, Amber Ale, India Pale Ale, Porter, Stout, Barley Wine, Strong Ale and many more.
As far as food pairings go,  what types of cuisine would go well with beer?
Since I am into new world beers, I have got a beer style to match all kinds of food.  Basically, I like matching strength versus strength. Thus, I would pair an easier drinking beer with lighter food and more flavorful beers with heartier dishes.
Classic pairings would be a Pilsner with Asian food. A Marzen with baby back ribs, Pale Ale with fried chicken or fish and chips, an Amber Ale with a juicy steak or pork chop, a very hoppy India Pale Ale with spicy cuisine, a Porter with Apple Pie Ala mode, an Imperial Stout or Barley Wine with an aggressive flavored cheese like a Cabrales or even a cigar.  There is a whole bunch of creative stuff that one can do with craft beer.
Please name your top five beers.
Make it six as I have six favorite styles.  I like very aggressive beers.  So, all with exception of the Hitachino White Ale are for the adventurous:
My top IPA would be the Ballast Point's Sculpin India Pale Ale.
My top Imperial IPA would be Russian River's Pliny the Elder.
My top American Strong Ale  would be Stone's Imperial Stout.
My top Strong Ale would be Stone's Arrogant Bastard Ale.
My top Barley Wine would be Rogue's Crustacean Barley wine.
My top Witbier would be Hitachino Nest's White Ale.
What are your favorite restaurants both here and abroad?
There are just so many locally that I like and there are so many that stands out.  Plus many of them serve my beer.
The following stand out in the USA, Canada and Hong Kong (countries that I visit the most):
USA: Peter Luger in Brooklyn for steak; Hokkaido Seafood Buffet in San Mateo; and even Panda Express in San Francisco for their delicious Orange Chicken with Fried Rice.
Canada:  Any restaurant in Vancouver for the best tuna sashimi in the world; any place that serves Halibut fish and chips at Steveston Pier in Richmond BC.; Earls for comfort food.
Hong Kong:  The only place I seek out when in Hong Kong is Morton's at the Sheraton Hotel for the steak and the best Gin Martinis served with huge feta cheese stuffed green olives.
What junk food do you love?
Burgers, hotdogs, pizza. My tastes are so western and probably the reason as to why I am into beer.  So bagay!
Is there a type of food that you just can't seem to enjoy?
I eat dinuguan, balut, kuhol and almost any other exotic fare but refuse to have lengua.
Is there any type of alcoholic beverage that you just can't seem to enjoy?
I don't get dessert wines or liqueurs. Yuck!
What does the future hold for Jim Araneta and Global Beer Exchange?
Well, aside from just moving our entire selection of beer to The Tasting Corner inside The Craft Pub at The Fort Strip, we plan to continue placing our beer in more establishments nationwide. I am also looking forward to the arrival of beers from Victory Brewing. Our first Philadelphia based craft brewery. They make really good Belgian style beers.
Global Beer Exchange
4560 AP Reyes Avenue,
Makati, Philippines
Tel +632 8956173
www.globalbeerexchange.com.ph
(Jim Araneta has extended an invitation to all our interested readers to visit Global Beer Exchange for tasting and retail sales.)
The Tasting Corner
Inside The Craft Pub
The Fort Strip
Taguig, Philippines

LABELS: Beer, Craft Beer, Global Beer Exchange, Jim Araneta, On The Table, Sanju, The Tasting Corner