By Anonymous Paul on 4 August, 2011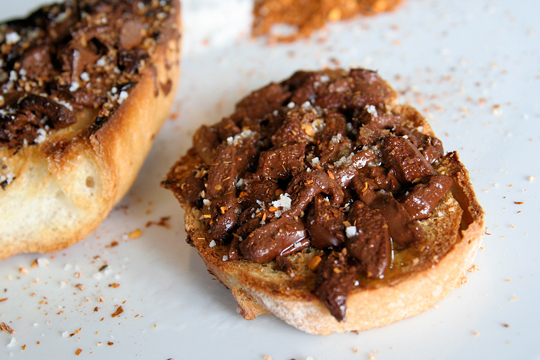 "Baguette. Chocolate. Toast. Sprinkle with sea salt followed with carefree dashes of your best olive oil. Escape to a corner and eat. Remember to keep those moans down."
This was posted by Lori on her Facebook wall a while back. Pretty hard to ignore, isn't it? It was an Inception-like seed planted in my mind. Not too long after I was trolling for bread in the pantry. And then buying several bars of chocolate at a time at the grocery.
Chocolate toast is actually a popular after school snack in Spain. Ferran Adria used to love eating it as a boy and he actually serves a gussied-up version of this, called pan con aceite y chocolate, as a sort-of-dessert in El Bulli. Or at least he used to. This is a riff I take on the original recipe, varying ingredients a bit and adding nutmeg and chilies to the mix.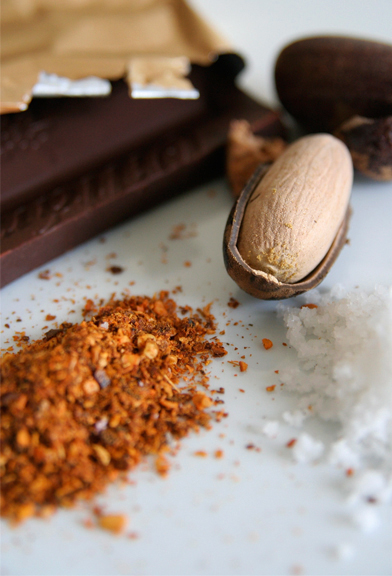 Ingredients:
Thin bread slices. You can use baguettes, but upon trying several types of bread I think I liked rye the best. Or a nice, hefty, crusty country bread. When toasted, the nutty flavors complement the chocolate nicely.
Dark chocolate bar/s. I've went to using as high as 72% dark chocolate for this and it didn't really work. It was too bitter and not a lot of sweetness was left for the salt to counterpoint anything. A Hershey's Dark worked perfectly well. Or probably something similar. The original recipe calls for grating the chocolate but a rough chop works best for me. More forgiving in the broiler/toaster. And more gooey effects.
Extra virgin olive oil.
Sea salt or rock salt.
Grated nutmeg.
Dried chili flakes.
To make:
1. Bake/broil/toast the bread till, er… toasted.
2. Top generously with the dark chocolate.
3. Return to broiler/toaster/oven for about a minute or two. It doesn't take too long. Do not wait for it to turn runny and melt because it won't; you'll end up burning it. Chocolate's a bit tricky like that.
4. Sprinkle with salt. Drizzle with olive oil.
5. As an option you can grate nutmeg and sprinkle on dried chili flakes as well. This provides additional complexity and warmth. And an incredibly sweet, heady aroma.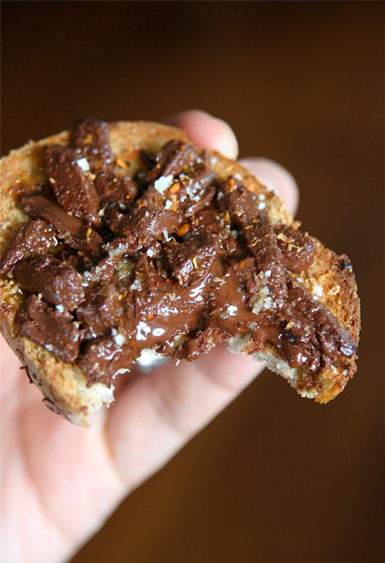 It really doesn't look very much. Very plain and blah. Bordering on unappetizing. Just like truffles. I've gotten the "what-the-hell-is-that-look" from everyone I've offered it to so far. But I can almost guarantee expletives upon first bites.
LABELS: Anonymous Paul, pan con aceite y chocolate, Sweet Surprises, Table Recipes