By Kitchyart on 26 August, 2011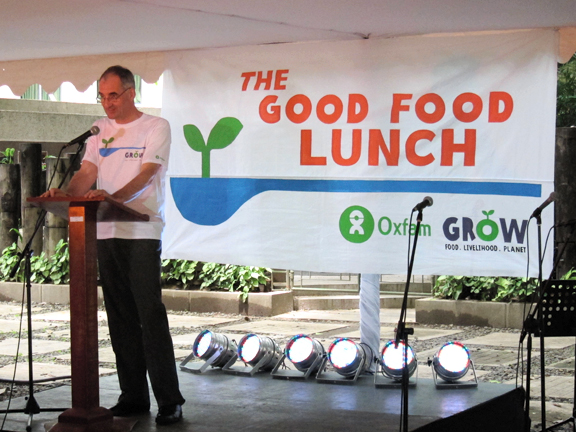 Last June, Anonymous Paul and I attended Oxfam's Good Food Lunch at the Bantayog ng mga Bayani in Quezon City. This was for the launch of the campaign called Grow to ensure underprivileged Filipinos have enough to eat now and in the future. The lunch featured recipes of chefs using mainly local ingredients produced organically by local women farmers and fishers.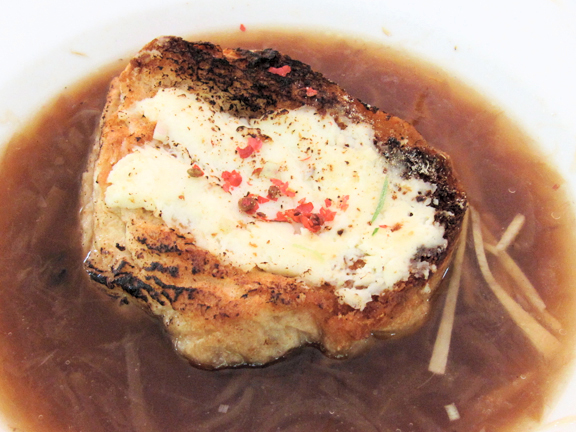 Chef Steph Zubiri's Onion soup with Whole-wheat Pandesal and Blow-torched Kesong Puti
The variety of organic red onions made the soup very tasty, cracked pink peppercorns were added to the soup to give it a little kick. The pandesal was not too heavy and the kesong puti, instead of Gruyere, gave the soup that Pinoy twist to this French soup.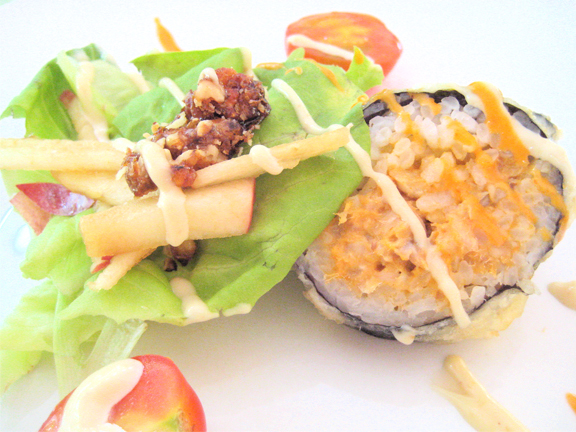 Chef Sau del Rosario's Alumahan Maki with Sriracha and Walnut and Apple Salad with Sesame Dressing.
Alumahan is a small, mackerel-like fish with big eyes and is typically served fried. The flaked alumahan is rolled up into a sushi with some spicy Sriracha to contrast the cool and crisp salad.  Very refreshing on that hot summer day.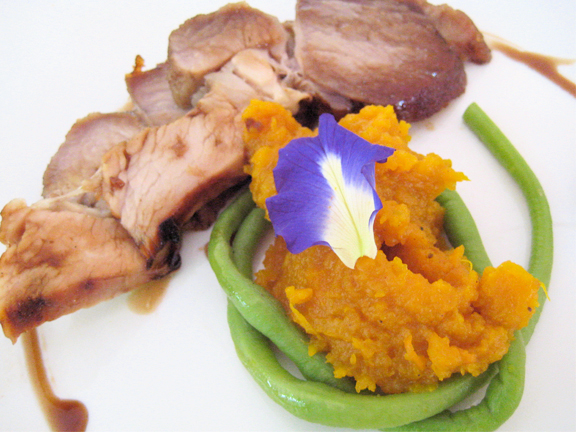 Chef Tatung Sarthou's  Mango Glazed Slow Roasted Pork with Twisted Sitaw and Pureed Kalabasa
The roast pork melted in the mouth as it was cooked for several hours in a pugon (hearth oven). The addition of the sitaw (string beans) and kalabasa (squash) was a match made in heaven.  The dish was made complete with a side of brown rice.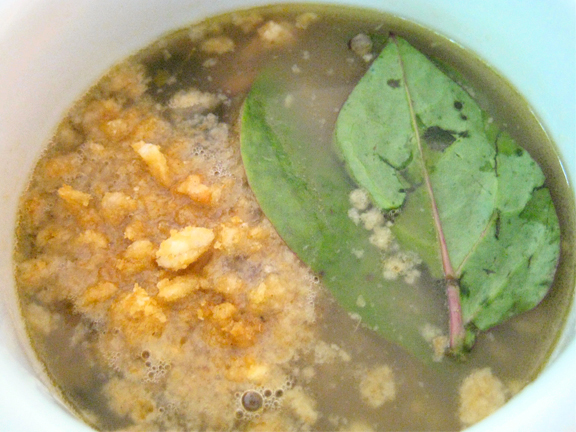 Cherry Pie Picache's Sauteed Monggo Beans with Alugbati (spinach vine)
The alugbati gave the soup a smooth texture; and made interesting with hints of crushed pork chicharron.  It was a classic dish executed with care.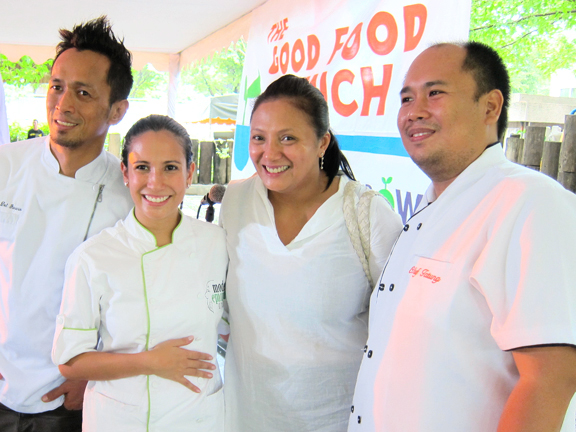 Kudos to the chefs for showcasing that you need not use expensive ingredients to make creative and tasty dishes. It was an eye opener that we should make use of what we readily have around us.
The women farmers and fishers Trinidad Domingo and Ligaya Oria of Nueva Ecija, Rosario Mendoza of Cavite and Nita Oigoan of Rizal each had a story to tell about the hardships of trying to make ends meet, fighting for their own land, the impact of the climate change and even voiced out what the government should do to help them.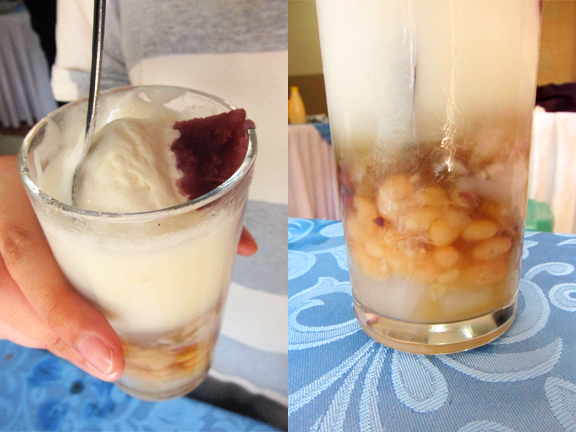 The important lesson learned from this campaign was to buy organically grown local ingredients.  Buying locally grown produce helps small businesses grow. And by buying local, you are assured of where your food comes from. Weekend markets seem to be a growing trend nowadays and we should frequent them to show our support and start a becoming a "suki" (a regular customer). Our seemingly simple choices can make a big difference.
Click here to find more about Oxfam Philippines
LABELS: chef tatung, Kitchyart, Organic, Oxfam, Sau del Rosario, Stephanie Zubiri