By Anonymous Paul on 11 August, 2011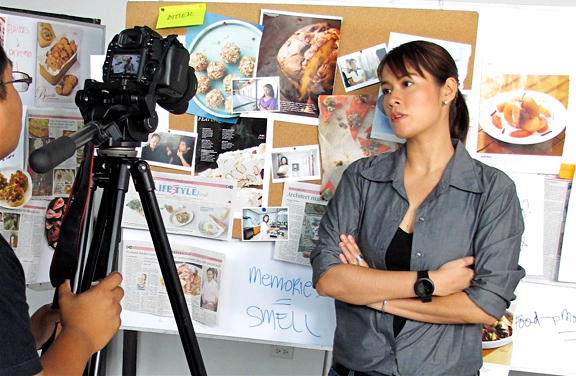 Street Smart is the first Filipino produced mini-series to air on the National Geographic Channel. Interestingly enough, it asks anything and everything about food in the Pinoy perspective over its first three episodes: "Sinisintang Chibog (Food Beloved)", "Chibog Science Investigation: Ang Mysterio ng Panlasa (The Flavor Mystery)" and "Chibog Chismis (Food Rumors)". We're glad to have Mitzi Borromeo, Street Smart writer, producer and host, join us On The Table for a chat.
Being primarily a science and culture show, what made you choose food as a theme for the pilot mini-series? Does the show aim to discuss things in the Filipino context or is it more cross-cultural?
Food is a sure shot way to a Pinoy's heart, right? We (us three ladies behind Creative Cross Border Productions, producer of Street Smart) always believed that Filipinos would resonate well with food as a theme. Every Pinoy is a foodie at heart, but are we even aware of the layers of influence and understanding that make up our seemingly simple relationships with food? We wanted to show people a different way of thinking about food.
But we also went through a rigorous approval process with the National Geographic Channel. We had a massive shopping list of topics that we nitpicked, filtered and narrowed down. At the end of the day, we got a sponsor for the pilot series from the food industry. So food won over the others for the theme of the pilot mini-series.
With science as the thread behind Street Smart topics, the show will be cross-cultural given the universal nature of science. But we use Filipino culture as a hook, or a tool, to engage the audience's attention and help them better understand and appreciate the science being presented. For example, in discussing the mystery of flavor, we brought in the quintessential Pinoy condiment, bagoong, to make the point that smell and taste are the key components of flavor. In fact, flavor is 75% smell. How can anyone appreciate bagoong without smelling it? Even just the whole metaphor of love affairs for our relationships with food. Pinoys can be such hopeless romantics. We used love an an analogy in the pilot episode to draw Pinoys in right away and easily understand the complexity behind our "food love affairs".
I'm sure you've learned a lot from the resource persons you've tapped for the show; ranging from scientists, doctors, writers, food lovers and chefs. Was there anything you found life changing with the knowledge they imparted to you and how has this changed your views on food and eating?
Every encounter was a great learning experience, from the experts and guests to the sound man, assistant cameraman, even the bystanders who shared their own views on food and what they learned listening in on our conversations with experts/guests, or lessons delivered in the presenter's spiels. It's such a treat conversing with and taking in the wisdom of veterans like Claude Tayag, Nancy Reyes-Lumen, Mol Fernando, not to mention tasting their mouth-watering dishes. And I could've gone on forever picking the brains of scientists like neurosurgeon Bong Casis, dietitian Sabrina Batac, surgeon Jeff Inciong, psychiatrists Norieta Balderamma and Ruby Manalastas
The best learning experience for me was working closely with our head writer, Maria Isabel Garcia (Maribel to those who know her well), to flesh out the Street Smart concept, topics and scripts. Maribel is a science writer (and one of my favorite writers). We're also great friends. This project is a dream come true for us. As seen in her weekly column De Rerum Natura (published every Thursday in the Science & Technology section of the Philippine Star), Maribel has a flair for feeding the public with complex scientific findings in the most delicious, tantalizing bite sizes, drizzled with wit and warmth that one would not often associate with science. Her vast breadth of knowledge of science and art kept our vision for Street Smart firmly on track. She helped me make sense of the science so that I really understood the topic before discussing it with the experts and explaining it in the show's spiels. There were so many findings we would've liked to include in the pilot series. We learned a lot throughout this entire project, and we've got a whole lot of other topics for future shows in the backburner.
Two things stand out for me amongst the many things I learned from the experts and others featured on Street Smart. One, the experience of eating and the food we like is also influenced by our childhood, memories, relationships, genetics, and so much more! Know the scientific evidence for comfort food, I appreciate the food I love more because I know why they taste so good to me and what that food actually means to me (Street Smart episode 3 explains how food tied to good memories becomes our "comfort food").
Two, appreciating food and flavor is also about respecting others. Our liking for flavors is influenced by our culture, so we should try to avoid the vomit jokes on food we don't like. Lee Hiang, a flavorist at the International Flavors and Fragrances Inc. (IFF) couldn't have said it better when she explained her work as a flavorist, "It became understanding people a little bit better without judgment. There's no bad flavor or rotten flavor, it's just about relevant flavors. This flavor is more relevant to a group of people and we have to understand that before we create a good flavor." It's a good point to remember when we experience different flavors.
Who was your favorite featured guest and why?
It's difficult to pinpoint a favorite guest. I can certainly say I had favorite moments with each one. Like sitting in Claude Tayag's kitchen as he whipped up a mean tsokolate eh (with carabao's milk and freshly ground spicy peanuts) listening to him recount the story of how chocolate and chili reached the Philippines. Listening to Tania (sweets lover), Corey (raw food vegan) and Alex (meat lover) tell all abut their food love affairs then having dietitian Sabrina Batac, surgeon Jeff inciong and psychiatrist Dr Balderrama dissect their relationships with their beloved food was an eye opener for us all. The flavor game with flavorist Lee Hiang of IFF was lots of fun (guessing the resulting flavor when combining from 6 key notes — burnt sugar, berry, cloves, fresh cut grass, sweet corn, soy sauce). I now have a new respect and appreciation for flavors and flavorists after learning from Lee Hiang. I also had a lot of fun talking to Dr. Casis about whether or not food can affect the way we feel, particularly our discussions on aphrodisiacs (which by the way was more proof to me that it's the men who really need this sort of stuff). Mol Fernando also stands out in my list. He has such interesting insights and the most delicious anecdotes, plus he cooked up an unforgettable dinner for us which included an Asian noodle dish topped with mentaiko fresh from Taiwan. I had loads of laughs with Pinoy foodie and adobo cook Nancy Reyes-Lumen. She is full of wisdom, wackiness, love and just everything delicious you can think of, plus she's got the voice of an angel. And I finally got to taste adobo prepared by the Adobo Queen herself (2 types of adobo at that!). We got on so well, I started calling Nancy my other momma. And I got a special invitation to watch her perform live with her group the Rockin' 60's. How's that for a food love affair? Music adds more spice to the flavor experience.
We also met many interesting characters doing the man-on-the-street interviews. There was this plump vivacious guy (who appears in the third Street Smart episode) who had in-depth answers and anecdotes to share. His experiences as an OFW were clearly evident in his answers, particularly when he talked about aphrodisiac food in Arab countries. He was the epitome of being street smart. And then there was this old woman who, when asked about how she balances her diet, keeping away from the bad stuff, answered, "Sabi nga, 'mamatay daw sa sarap.' Kaya minsan nakakalimutan ko na yung sabi ng masama, eh habang bata, tikman, hahaha!" The smile on her face and that hearty laugh showed a woman who lived and continues to live life to the fullest. 'Yan ang street smart!
In a recent government survey Filipinas ranked food above sex among the main things that make them happy. Being an erstwhile food anthropologist, what would be your comment on this?
That survey was released last year, though I'm sure Pinays will say the same if surveyed again now or in the future. When it comes to sexual urges, females are very emotional while men are more visual. To put it simply, it's much easier to turn guys on than women. (Psychiatrist Dr Ruby Manalastas talks about this in Street Smart's third episode, in the segment on aphrodisiacs.)
The experience of eating is really an emotional one (as we showed in the first Street Smart episode) – every bite, whether we are aware of it or not, carries layers of meaning for the eater. So the survey findings are not surprising at all. Any foodie will attest to the high and immediate satisfaction gained from food, especially food that really hits the spot. Speaking of hitting the spot, there's also that elusive G-spot that only women are privy to and men can't ever find (or find again since it can't seem to stay put). With food, women can easily share and point out what hits the spot for them at a particular time. And when food hits the spot, it's simply orgasmic. Oh and another thing, with food you can change dishes and partners as much as you like and the experience changes each time. That's definitely not recommended when it comes to sex. That last quip on hitting the spot doesn't apply to just women of course. In the "No Reservations" show on food obsessions, Anthoy Bourdain talked to some food bloggers, all male, who referred to their work as "food porn". They admitted the extreme pleasure they got from tasting food and writing about it, and that their sexual repressions were most likely being redirected to their food blogs. When it comes to instant gratification, food wins out over sex.
And don't forget the saying, we eat to live (while some may choose to live to eat). We need food to survive. I've never heard of the saying "we have sex to live", though some may actually live that philosophy. But that's for another topic altogether…maybe for a future Street Smart series.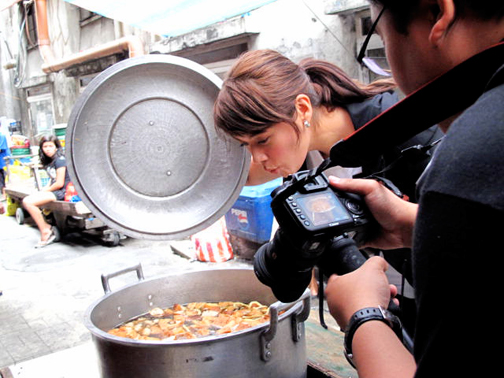 What was the most far-out thing you ate during the production of the show?
There were no exotic or out-of-this-word type dishes featured on the show as we didn't focus on bizarre foods. I did find the bagoong tasting with Mol Fernando a novel experience. I never imagined there could be such a wide variety of bagoong, and never tasted such high levels of umami before. Also, since I haven't been eating meat for over 15 years now, I had to taste some of the meat dishes that were prepared by our special guests (I will try a bit of meat in the name of adventure), and also had to bite into chicken lollipop (which I used to love as a kid) for an on-cam spiel. Another dish people may consider far-out is the raw vegan pasta prepared by Corey Wills' girlfriend Mona, who is a raw food chef (featured in the first episode). The pasta was made of sliced zucchini and the sauce was a blend of tomatoes, sunflower seeds, onion, garlic, basil, and olive oil. I've had vegan dishes but never contemplated a raw pasta dish before. I thought this tasted very good!
Was food a big part of your life growing up?
Most definitely! Every milestone in my life is marked by celebrations with food as the sauce that binds. My mom hails from the food-lovers land of Pampanga and my dad from Cebu. Both regions have rich culinary traditions. Food is one of the more vivid parts of my memories of times gone by. I constantly followed my mom around as a kid. Mom loved to eat and she was an amazing cook. Thanks to her, I had a taste of exotic dishes at a very young age – I loved betute (stuffed frogs) and kamaru (rice field crickets), which I can't even eat now, much less lick. Thanks to Mom, I developed a desire for cooking, not to mention a deadly desire for sweets. During get togethers with my Mom's side of the family, there was always constant munching, even in between meals. We eat to pass the time. Until today. I believe that butong pakwan was invented to keep Kapampangans quiet and busy as they wait for the next meal.
What's your favorite junk food?
Nachos with salsa and cheese. My junk food cravings also include french fries and Shakey's mojos with ketchup.
Is there a food you just can't seem to enjoy?
I just can't get my tongue around century eggs, uni, and liver chunks.
What was your most memorable meal?
About 3 years ago, I was the writer for a television documentary being produced for Conservation International's (CI) project on the Tubbataha Reefs. Given the limits of our shoestring budget, we had the pleasure of sailing out of Puerto Princesa Pier in a 40 meter long, 10-foot wide bangka with outriggers, to make the 18-hour journey to Cagayancillo, the municipality to which Tubbataha belongs. There were 14 of us on board M/V Jokshan– a boat crew of seven, three people from CI assisting us, a dive instructor, a cameraman, an audio man, and myself – one big happy family for the next 4 nights and 5 days. A five-meter or so elevated flat surface, made up our living, dining, and sleeping quarter. From that surface, I watched in awe as our lean muscular cook, Laong (who reminded me very much of Pop-eye) chopped, fried, boiled, and stewed away while the boat rocked vigorously from side to side. As the ingredients jumped out of the boiling pot when the boat rocked one way, Laong would expertly nudge the pot to catch the pot's contents when the boat rocked back the other way. We sat cross-legged on our dining surface for breakfast, lunch and dinner, sometimes a bonus merienda treat – nothing fancy, simple food like scrambled eggs, sinangang, danggit, hot dogs, spaghetti, paksiw na isda, sinigang. Buffet feasts with the open ocean and vast expanse of sky as our backdrop, sometimes fearing for your life when faced with the forces of nature. The meals were even more special when we shared them with the locals, who welcomed us so warmly into their homes and shared the little they had with us. The company, the setting, just the whole adventure of it all made the meals during that trip unforgettable.
Do you follow any food blogs, food related TV shows or food magazines?
No particular one. I read and watch what catches my attention or what people recommend. For food-related shows, I really like those with Anthony Bourdain, Andrew Zimmern, Adam Richman (of Man vs. Food) and Nigella Lawson. I use epicurious.com a lot for recipes and find their tips and references very useful. I also like the new local show "The Pinoy Foodie" with Nancy Reyes-Lumen, where she goes food tripping grassroots style.
Just between us, what can we expect next from Mitzi Borromeo and Street Smart?
Well, we've got a whole range of themes lined up, including technology, beauty, love, sex, health, and shopping. Unfortunately, we are slaves to political economy at this time, until National Geographic Channel in the Philippines can allocate funds for Street Smart. So our next mini-series theme will depend on the company that will come in as a sponsor. But we are planning on having Street Smart "bites" as we work on the next mini-series.
As for me, I'm trying to focus on getting my thesis done for my masters in Media Studies at U.P. so I can finally graduate and earn my master's degree. I'm also working on other projects under Creative Cross Border Productions and will continue to work with The Mind Museum on some of their upcoming exhibits and to organize Cafe Scientifique, conversations with scientists aimed at promoting a public understanding of science.
*Chibog Chismis (Food Rumors), the third episode of Street Smart premiers tonight, Aug. 11, at 10pm on the National Geographic Channel. A marathon broadcast of the Street Smart mini-series airs on Saturday, Aug 20 starting at 10am and on Sunday, Aug 21 starting at 6pm.
For more info and behind the scenes photos check their Facebook page.

LABELS: Anonymous Paul, Mitzi Borromeo, National Geographic, On The Table, Street Smart