By sanju on 30 July, 2011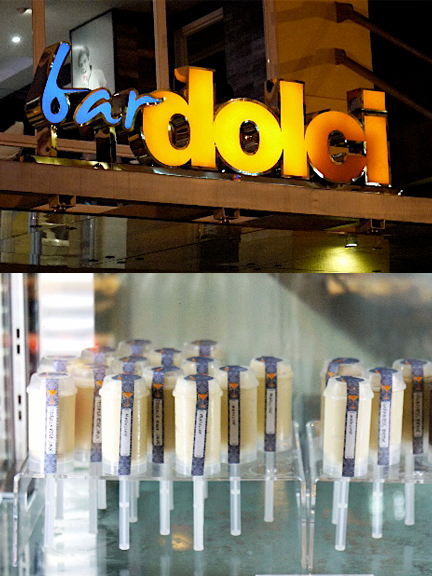 The sign. And Alco-Popsicles.
I am not a fan of gelato or ice cream. It is the one dessert that I do not seem to have a problem resisting. One time, during dinner at a restaurant that specializes in tasting menus, my companions watched with a mixture of horror and surprise as I nonchalantly pushed aside an exquisite scoop of sesame ice cream that was part of a trio of desserts. Of course, this was followed by a mad scramble worthy of a post-apocalypse scenario as to who would claim my share. Nothing could change my mind about ice cream or gelato until I made an acquaintance with Bar Dolci.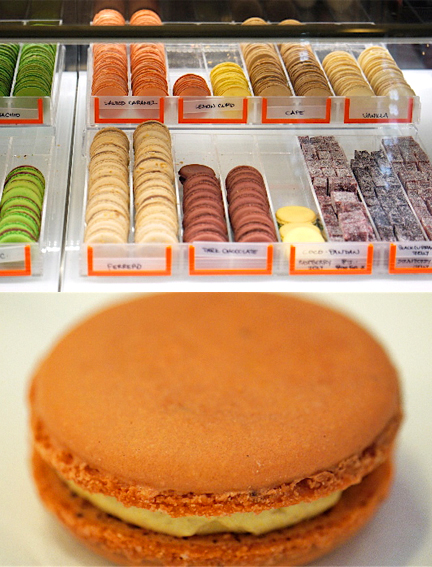 Unlike me, my kids love gelato.  For them, it's the ultimate treat.  One evening, after a particularly heavy seafood dinner, they had a hankering for gelato. I immediately remembered a blog post that I recently read about this gelato place at the Fort area written by Jin Perez. Thank you Jin for the tip. As we walked into Bar Dolci, I had this feeling that we were entering an extraordinary place. Hip, bright, whimsical, creative. These were some of my initial impressions. Aside from gelato, macarons, jellies and some light snacks like bruschetta and scones are available as well.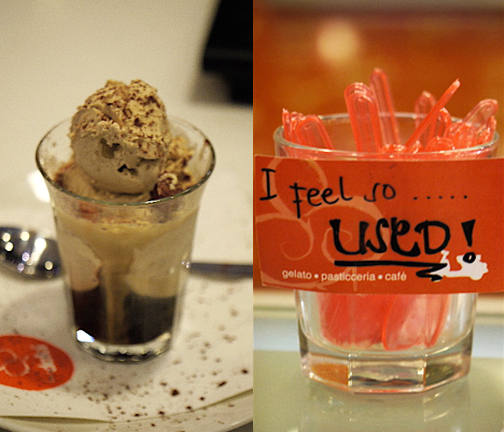 At left: Amazing Affogato
Bar Dolci has  more than eighteen different flavors of Gelato available at one time. These range from the basic strawberry to the more complex White Chocolate Wasabi (P120 for a scoop/cup).  The kids had a ball trying out the different flavors while I struck up a conversation with Peter Chua, Bar Dolci's amiable manager. Apparently, Bar Dolci was conceptualized by nineteen-year-old David Go. David was looking for something he could sink his teeth into while he was in college. Peter was hired to oversee the day-to-day operations. All Gelato is made fresh in-house, while the other items are produced in a nearby commissary. I had no plans to have anything except maybe an espresso as I was quite full, but Peter convinced me to try a few flavors. I first tried the Dark Chocolate. I was completely blown away. It was creamy, had a firm consistency and was bursting with flavor. Next I tried the Salted Caramel.  Again, it was a study in perfect contrasts. Maybe I was not as full as I thought I was after all.  So I decided to have a Hazelnut Affogato (P190);  hazelnut gelato topped with a shot of espresso. My scoop of gelato had a creamy consistency with a distinct hazelnut essence that was never overwhelmed by the strong espresso. S had a scoop of Cookies and Cream. While N had a scoop of The Glacier. I asked them what they thought of their respective gelato flavors. S said that she was ready for round two while showing me her empty cup, while N said that The Glacier was like eating frozen Mentos.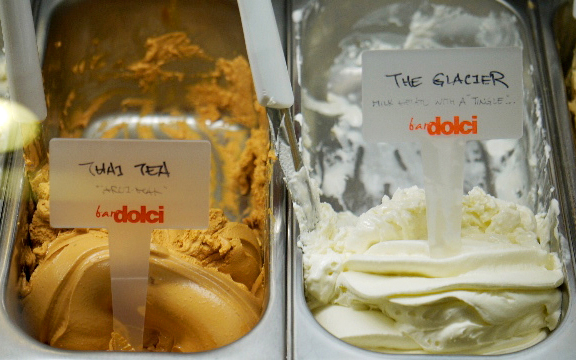 C on the other hand had something different.  She had a Dark Chocolate Cointreau Alco-Popsicle (P130). Alco pops are basically gelato infused with liquor and served in popsicle form.  Mimosa, Guinness Beer and Strawberry Daiquiri  are among the other variants available.  I was not able to try C's but she said that she enjoyed it immensely.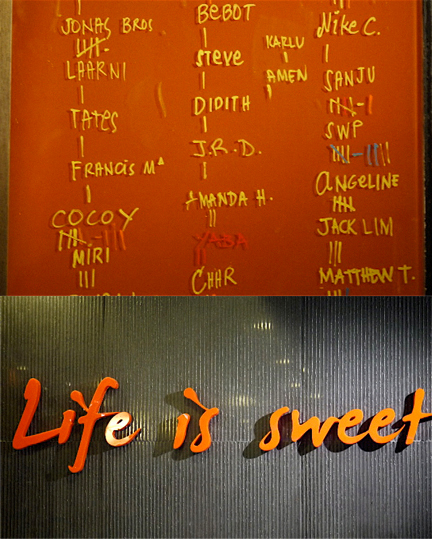 You get a free scoop of gelato after 10 visits. I've got 4 to go!
I am not a fan of gelato or ice cream. However, just like all good things in life, exceptions are always possible. Bar Dolci is one such delightful exception.
Bar Dolci
F133 Forbeswood Heights
Forbestown Road cor Burgos Circle
Bonifacio Global City
Tel: +632 8468245
LABELS: Bar Dolci, Gelato, ice cream, Sanju, Sweet Surprises