By Kitchyart on 6 July, 2011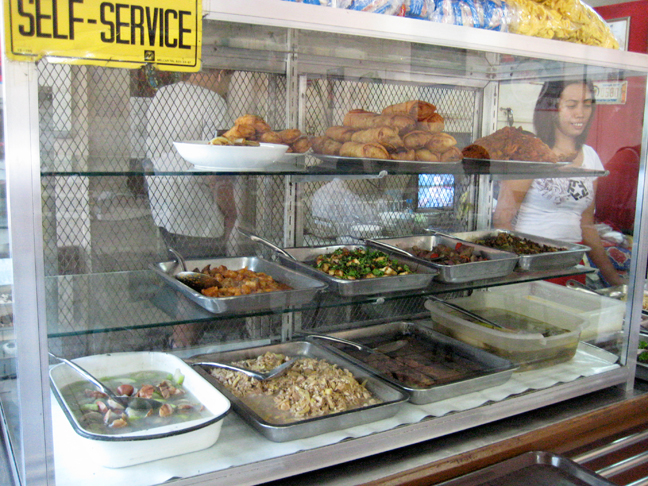 Point and chew.
As far as I can remember, my family and I enjoy driving around Manila when it's a holiday since most people prefer to go out of town.  My parents like to show us kids where they used to work, to go see a movie and of course, to eat.
One of the few places we'd visit after shopping in the old Philtrade Hall of the Department of Trade and Industry (located along Roxas Boulevard, across the Department of Foreign Affairs) was Rosy's Pancit Malabon, which is also conveniently located inside as well.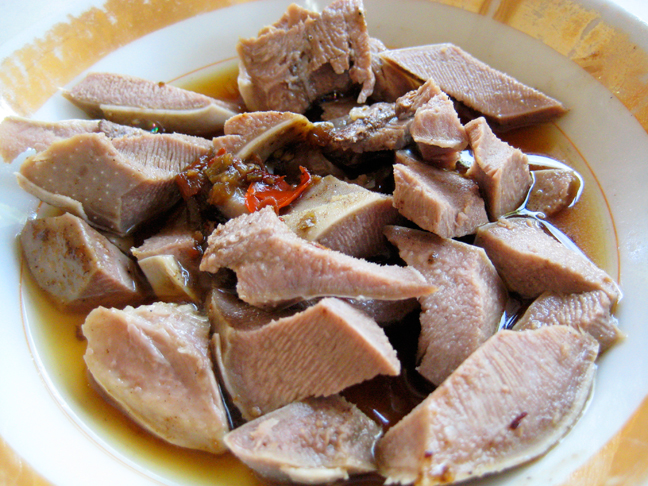 Killer kinilaw na dila.
Rosy's is set up like a cafeteria.  Pick up a tray, choose what to eat and pay.  Of course a visit to Rosy's is not complete without an order of Pancit Malabon (P80).  The perfectly cooked rice noodles, the fresh cooked shrimps, the crunch from the celery and Chinese petchay and the magical orange palabok (sauce).  The secret is in the sauce, I remember when my lola used to make pancit she would use shrimp fat to give it flavor and perhaps Rosy's uses the same technique.  My dad always tells me that authentic pancit Malabon is accompanied by adobong talaba (oysters) or kinilaw na dila (P70 – pork tongue ceviche).
My family likes to order other items on the menu such as bopis (P70 – pork lungs and heart), bistek style atay (P70 – pork liver) and for the less adventurous palates, they also serve tinapang bangus (smoked milkfish) and leche flan.  Their menu varies so best to call ahead of time.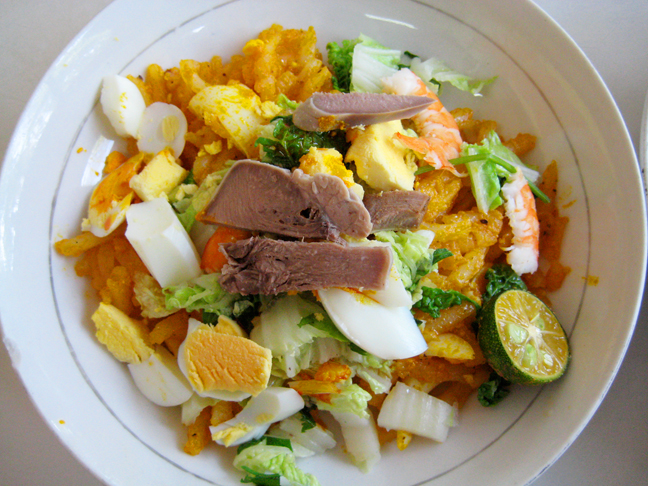 piece de resistance. real pancit malabon
The Rosy's branch in Manila has been around for 30 years or so.  Not much has changed through the years, it's a little run down but the quality of the food they serve has been the same ever since.  It's what keeps my family coming back again.
bistek style atay (liver)
Rosy's Pancit Malabon
Philtrade (Buendia corner Roxas Boulevard)
Telephone: (02) 232 82 11
Opening hours 11.30am – 6pm
*closed Mondays / Sundays
LABELS: Food Nostalgia, Kitchyart, pancit malabon, Rosy's Pancit malabon