By Anonymous Paul on 24 June, 2011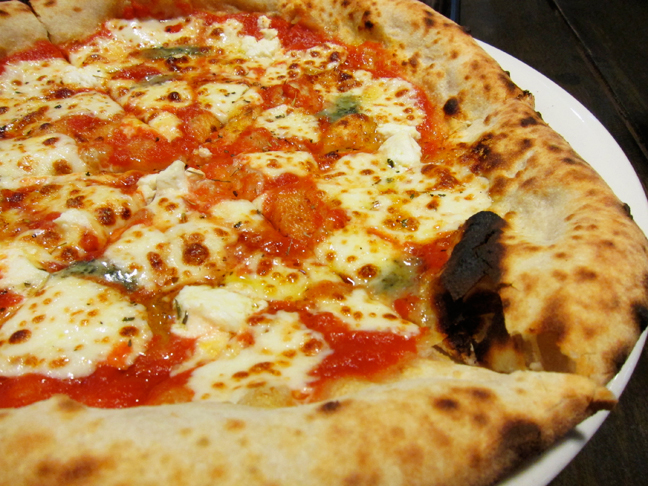 The perfect crust on the four cheese.
Katipunan Ave seems to be a hotbed for all these independent pizza companies. But Gino's, in my opinion, seems to stand out from most of these other places because they serve a serious pie. When you think pizza, you almost immediately think of crust. And I think the people at Gino's has perfected theirs. It's not "thin" nor " thick" but probably an homage to the original artisan dough used in Neapolitan style pizzas which is somewhere in between. They use imported Italian "00" flour which gives it not only this unique silky texture but also flavor. Usually the dough is made a day before and it gives it that slightly fermented, sourdoughy quality that I love. After briefly going into the infernal coal fired brick oven, a beautifully blistered product comes out; slightly puffed and charred at the edges. Outside, a crunchy crust forms but inside its beautifully elastic and chewy. You get just the tiniest hint of smokiness from the charcoal, not really as pronounced as the flavor you get from wood burning ovens (pugon). Mind you, that's just the crust.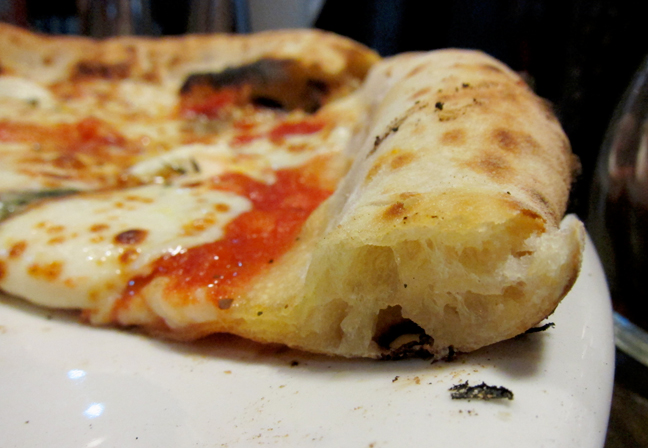 Chewy insides.
What I like about Gino's menu is that it's edited. Only about 8 varieties. With a certain variety not having more than 4 or 5 toppings at a time. Not too often do you get a place that practices the Italian pizza mantra of "limited toppings, quality ingredients". And they're pretty obsessive when it comes to their pizza components. They grow their own basil and arugula, only use quality charcuterie, and they process their own cheese. Which gives the phrase "they make pizza" a completely different meaning. For the record, my favorite is still the Calabrese with paper thin spicy salami and fresh basil topping.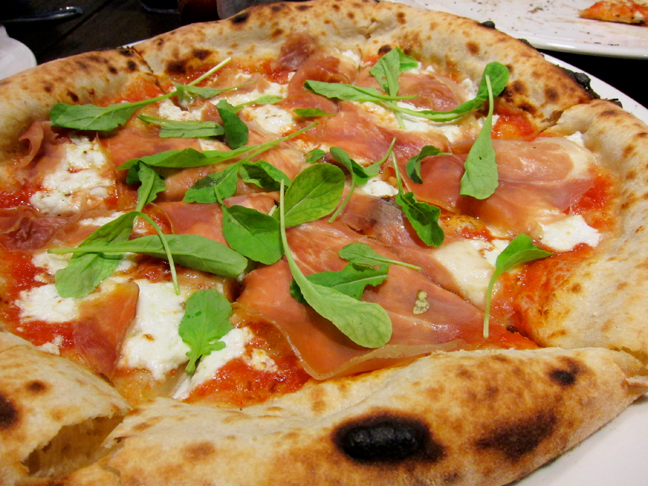 Prosciutto, tomato sauce, kesong puti, parmesan and arugula. With the prosciutto still soft and satiny. Overcooked ones turn unpleasantly leathery. Great skill with the oven.
A Filipino twist Gino's makes is that they use kesong puti on most of their pies. It imparts that creaminess and mild saltiness that still lets the other toppings shine through. However, being a fresh cheese, it contains a lot of moisture. And the brief time in the oven doesn't allow most of the water it contains to evaporate. Which can be a problem if you let your pizza sit out for more than 5 minutes as it tends to saturate the middle part of the pie. And I'm not talking moist, but waterlogged. Which is sort of a shame as they've really got a nice crust going for them. Otherwise, you really can finish one 12 inch pie in minutes, so just eat quickly! Probably the reason why they do not deliver as well.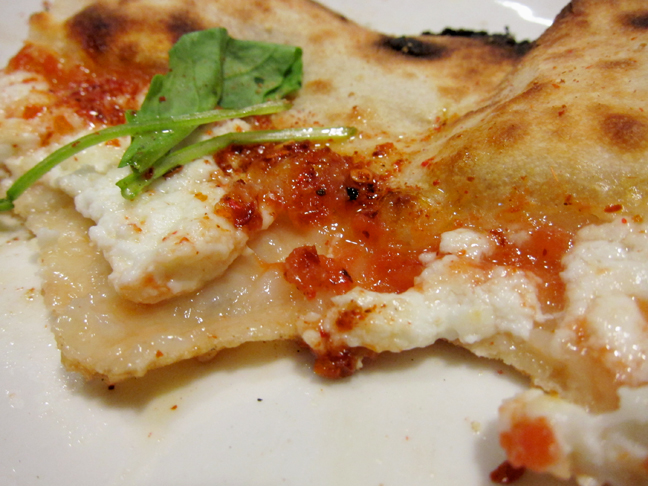 Effects of moisture. But then again, still ate it all.
One thing I don't get is their Nutella pizza, though. Theoretically it should be awesome but I was a bit underwhelmed. They sort of use store bought pita, as opposed to their signature dough, and slather Nutella on it, bake it a couple of minutes and dust with powdered sugar. The spread turns a bit chalky and the base papery dry. If you're looking for dessert in this place I would rather go towards the direction of the Crack Pie. A riff on Momofuku's butterscotch-ey, sweet-salty pastry. Very rich.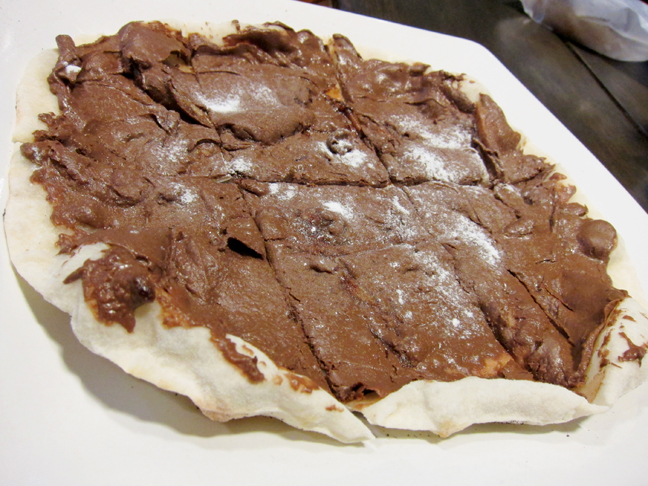 Nutella Pizza.
All-in-all, whenever I get a pizza craving I noticed Gino's still comes top of mind. Above many pies I have tried recently; and yes beyond Katipunan Ave. An archetypal gem in the rough. Of which all praises will be retracted if they start putting pineapples on their pizzas.
Gino's Brick Oven Pizza
2F 341 Katipunan Ave.
Loyola Heights QC (above mercury drug),
Quezon City, Philippines
Mon – Sat: 11:00 am-9:00 pm
Tel. (632) 381 3963
LABELS: Anonymous Paul, gino's brick oven pizza, Katips Kuisine, Pizza