By sanju on 7 June, 2011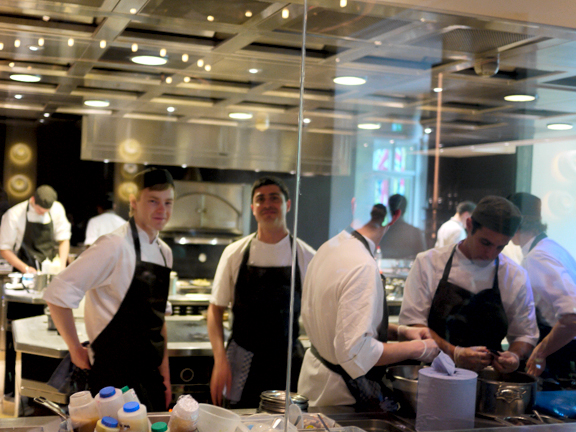 Earlier this year, C and I sat down to plan our family vacation to the United Kingdom. C was in charge of our daily itinerary and I was put to task to look for hotels and of course, where to eat. Normally, I try to look for restaurants that highlight local flavors, not touristy and are of good value. I also get to pick a couple of places that are "splurge" worthy. These are restaurants that are supposed to highlight our trip in the gastronomical sense. So after doing the necessary research and asking around, I decided that we would go to Dinner by Heston Blumethal. Heston Blumenthal is one of Britain's most-awarded and iconic chefs. It has always been a dream of mine to eat at one of his restaurants. Dinner is his latest venture and it is located at the Mandarin Oriental Hyde Park, in Knightsbridge.
Having decided on Dinner, I pick up the phone and call the restaurant  to make a reservation. Apparently things are not always as simple as they seem. I was greeted by a recording that the restaurant had a four-month waiting list and will only be accepting reservations for July 2011. After a drawn out woe-is-me moment that consisted of a combination of hand wringing and foot stomping, I decided to try my luck anyway. I called again and spoke to restaurant host Sandy. Using a tone worthy of Dickens' Oliver Twist, I asked Sandy if there was any way we could get a table.  "Yes", she says. "I can squeeze you in for a late lunch on Maundy Thursday." Will that be suitable for you, sir?".  "Thank you, Sandy; yes that would be suitable." I reply while trying hard not to jump for joy. Well Sandy, if you ever read this, please know that you have my deepest gratitude.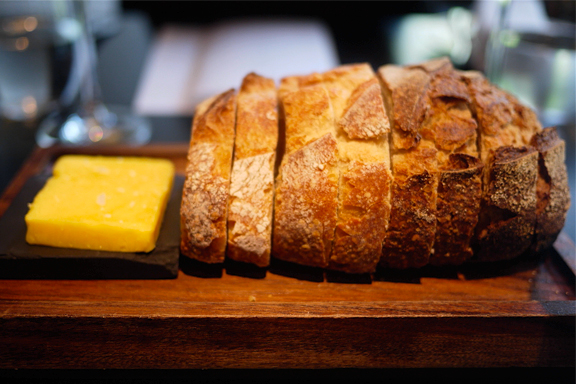 The slated day arrived bright and sunny. We spent the morning building up our appetites by shopping at Harrods's famous Food Hall. We then walked over to the Mandarin Oriental, a beautiful historic building in itself. Dinner is located at the ground floor of the hotel facing Hyde Park. A glass encased, temperature controlled wine room, an open kitchen and picture windows with a view of Hyde Park highlight the restaurants interiors. As always, as in most great restaurants, everything is precisely designed and planned so as to give diners the ultimate experience.
Since we were there for lunch, We decided on taking the special three-course lunch set at £28 (P1960). Not too bad considering London's reputation for high priced restaurants.  What makes Dinner different from other restaurants is its concept. Chef Blumenthal takes inspiration from recipe books dated from the fourteenth till the eighteenth century and adds his own creative touch to these dishes.  All entrees on the menu include the original publication year of the recipe of the dish as well as a Sources of Origin page that lists the complete title, author and publication date of the book that the recipe was taken from.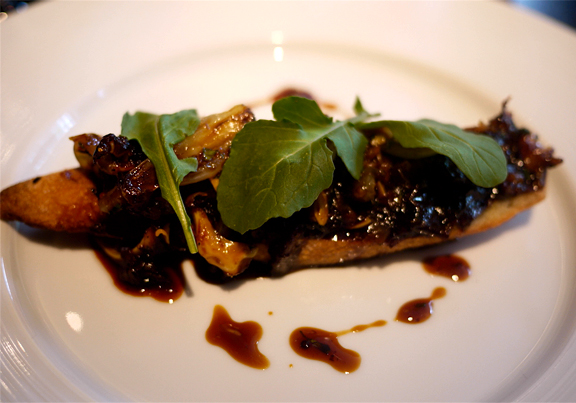 For my first course, I decided on the Ragoo of Pigs Ears with Anchovy, Onions and Parsley. (c.1750).  Served on a piece of bread, this dish had a stew-like consistency. The anchovy provided just the right amount of contrast to the finely chopped pig's ears. The flavor foils were spot on; making this dish one the most memorable ones that I have had.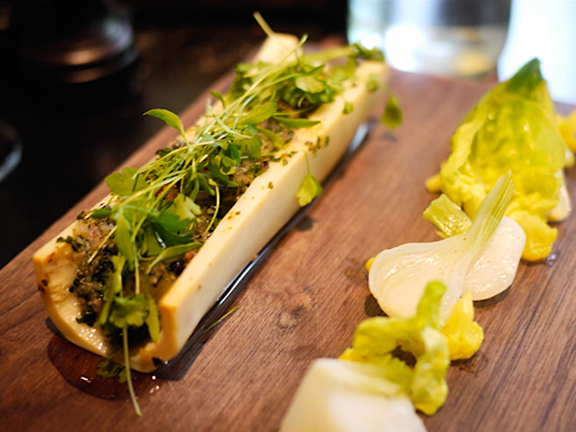 Not satisfied with just one starter, I ordered Roast Marrowbone, Parsley, Anchovy and Mace with Pickled Vegetables. (c.1720) £14 (P980).  I mean who can say no to marrow right? Flavors for this dish were a bit subtle compared to the Ragoo. With the mace adding a slight nutty profile into the mix. Mace is a spice derived from the first layer of the nutmeg seed.  I believe that it was used quite a lot during the medieval times. I enjoyed this course as well, however, I would say that the version that J. Gamboa serves at Cirkulo could give it a run for its money.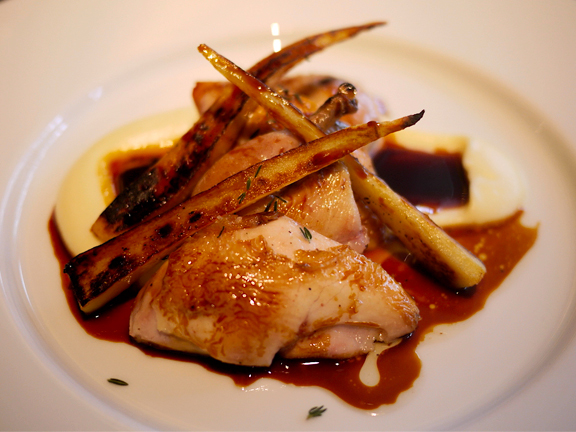 My main course was Roast Quail with Smoked Parsnips and Thyme (c.1590). The Quail was cooked sous vide making it very tender and flavorful.  The parsnips were a welcome change from the usual potato side dish. Parsnips were also used as a staple during medieval times before the Spanish brought in the potato from South America.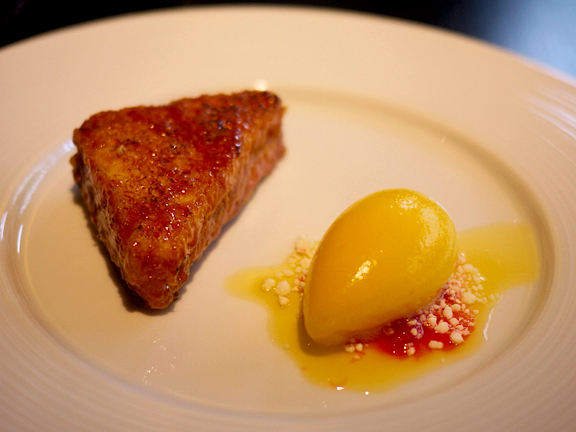 For dessert, I had the Orange Buttered Loaf (c.1630) with a Mandarin and Thyme Sorbet. As I cut into its crisp outer layer, I was rewarded with an elegantly warm , moist and citrusy dessert.  The sorbet was also very well made and you could tell that the kitchen only used the best ingredients for it. Sarap!
I definitely enjoyed my meal at Dinner immensely. I look forward to going back soon to try other things on the menu and, to hopefully eat at Blumenthal's other restaurant, The Fat Duck. I cannot say when I will have the opportunity again but I am hoping that it will be soon.
Dinner by Heston Blumenthal
Mandarin Oriental Hyde Park
66 Knightsbridge, London SW1X7LA
Tel: +44 20 72013833
LABELS: Dinner, heston blumenthal, Sanju, The Travelling Table, UK