By Anonymous Paul on 13 June, 2011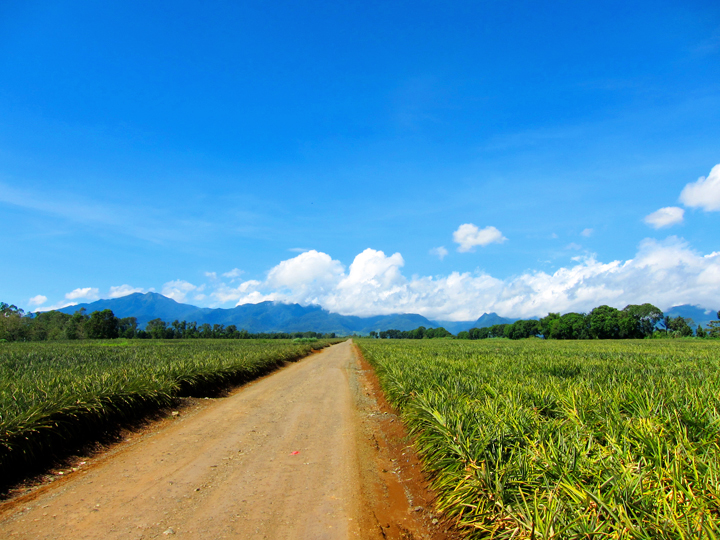 As far as the eye can see.
The wife and I managed to squeeze in a weekend trip to Cagayan de Oro to get some adrenaline in our systems. CDO is quite famous for its eco/adventure oriented activities such as whitewater rafting and caving/spelunking. On this particular day we were out for some ziplining in Dahilayan, Bukidnon; a 1.5 hour trip from CDO. The longest in Asia, I understand, at 840 meters in length. It was a great experience and all, flying above pine trees and bovines. It just took less than a minute from end to end. Needless to say we had extra time on our hands to do other things; therefore deciding to go back towards Camp Phillips, a place you'll hit and definitely won't forget on your way going up Dahilayan because it's situated adjacent to, and part of, the massive Del Monte pineapple plantation; one of the biggest in the world. 23,000 hectares of pineapples; literally as far as the eye can see. Mind boggling.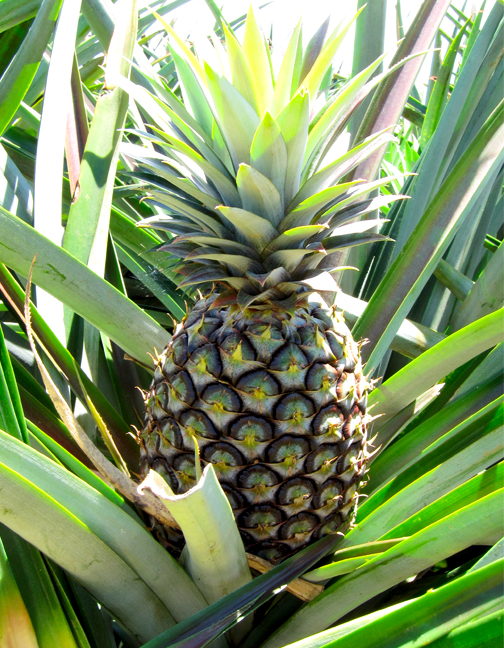 Prickly fruit, nearing harvest.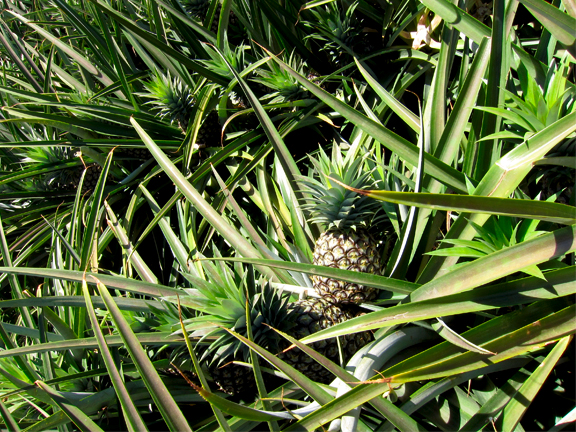 Whatever you do, try not to fall in…
You'll see fields of pineapples in different stages; from tiny hand grenade sized ones to ones weighing about a few kilos each. I understand when harvest season comes around, fruits which do not meet strict quality standards are left on the road and anyone can just pick them up for free; but has to be eaten within premises. Those that do pass get distributed in markets as whole fresh fruits and others juiced or canned into Del Monte's product lines.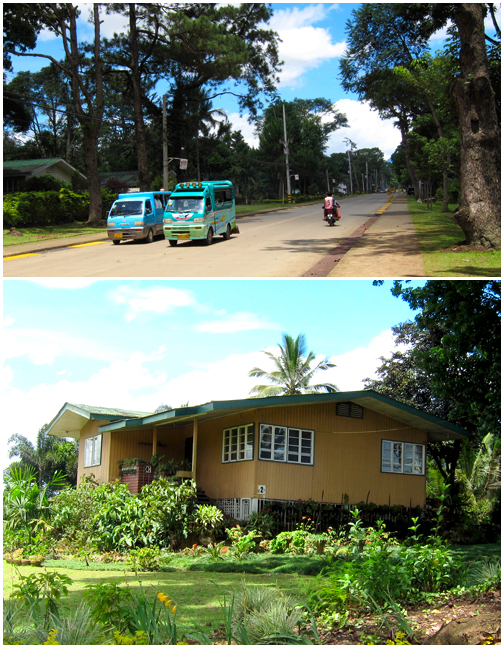 Tropicalized American colonial. Houses like this line the main road. Raised a few meters off ground to create a "silong" for ventilation and storage. Ventilation slats just under the rafters.
The Del Monte plantation has been here since 1926 and Camp Phillips was probably built around that time. It does have that Camp John Hay feel to it. You drive through a tree lined avenue with "Philippine architecture of the American colonial period" style houses (or western looking structures with bahay kubo sensibilities). Of which Del Monte supervisors and managers now reside in these homes. It's a small community with a church and a school complex and a park at the center of "town" with tennis courts and football fields. And of course a golf course nearby within the pineapple fields.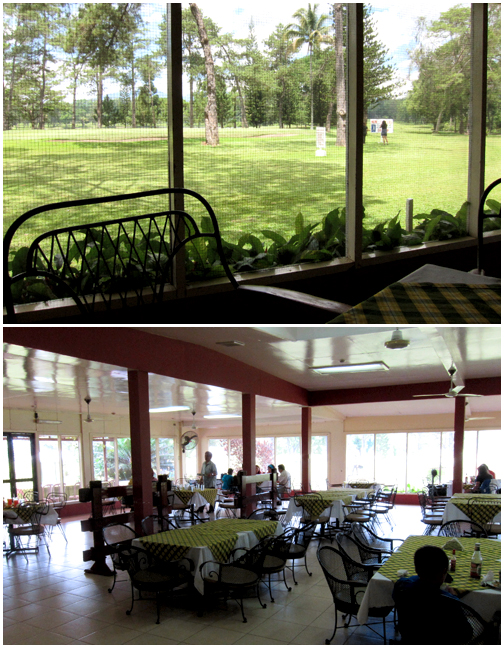 The screened view and the dining area.
We had lunch at the Del Monte Clubhouse (a.k.a. Del Monte Golf Club). It's like this retro veranda that's definitely aged; with still dignified wrought iron chairs that go along with the checkered tablecloth and wire screened windows. You have names of golf tournament winners posted on the walls that date back to the fifties and a framed picture of then President Eisenhower when he visited in 1955. Most of the wait staff look like they've seen it all and still insist on serving food on the left and taking empty plates on the right. It was like we were pleasantly thrown back in time. The club was originally built for Del Monte's expatriates in 1928 but interesting to also picture it being a private playground of wealthy Manilenos thereafter.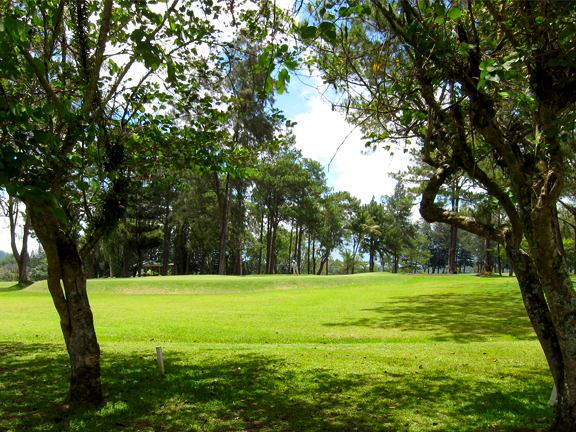 No caddy, no umbrella girl. Just sinking a putt.
The clubhouse is pretty known for their steaks and they were the first things listed on the menu. They seemed reasonably priced. Probably using pineapple-fed Bukidnon cattle, which we were not quite up for at that time. When at a golf clubhouse, I don't know why, but I always like to have a big sandwich. And that they did have. The wife ordered the cheeseburger and I got the roast beef. Also placing orders for fries and, of course, the fresh pineapple shake.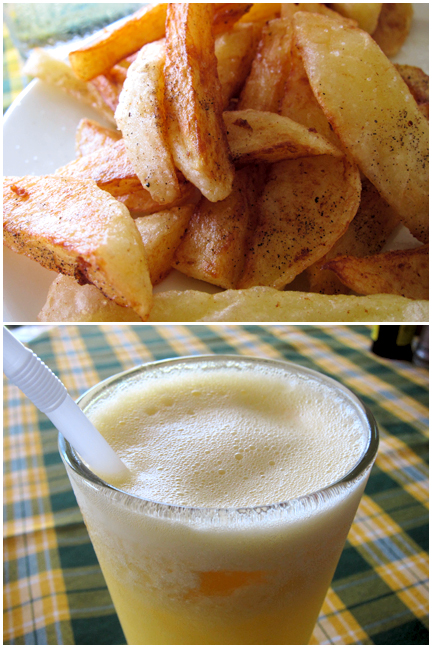 The fries and shakes came first. The potatoes were noticeably hand cut and definitely tasted home made. Nothing fancy but not bad. Of course they had a bottle of Del Monte ketchup on the table, but I'm more of a Heinz person. The pineapple shake was very fresh. Nice and naturally sweet, with that extra musky fragrance. Very refreshing.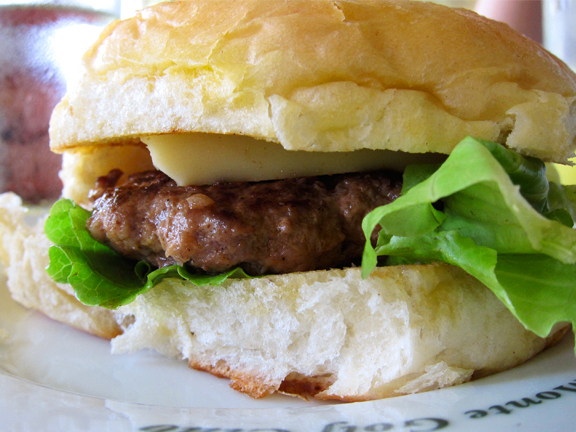 The burger was pretty good as well. Nice and moist beefy patty. Substantial in size with slices of processed cheese. Definitely Pinoy-style country club food. But I was surprised with the roast beef sandwich. It was huge, almost filling up a small dinner plate. The extra thick slices of bread used alone was excellent. Rich, milky, yeasty and pillowy; slightly toasted on top and buttered on the insides. They actually bake it on the premises and sell loaves during weekdays as its quite popular. It was not a complicated sandwich with only thick slabs of roast beef, super fresh greens and a touch of mayonnaise in the middle. You'd think you'd get shreds of beef stuck between your teeth when biting into one but they were so tender that they literally melt in the mouth. This was definitely cooked for several hours as you get that intense concentrated beefy flavor from the juices. It was a tad on the underseasoned side but nothing a few shakes of salt couldn't fix. If I were to make roast beef sandwich for myself, I'd benchmark it on this.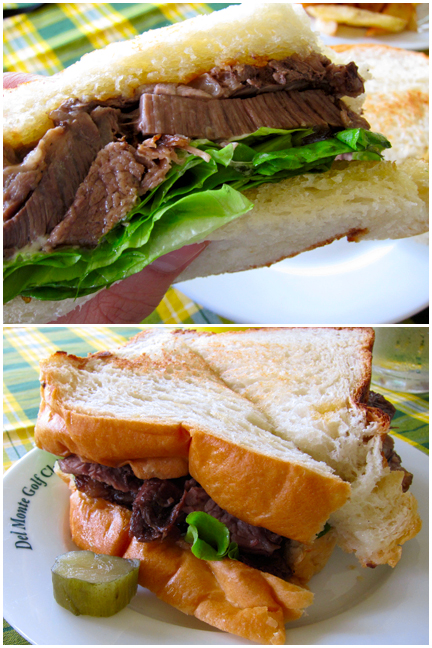 A roast beef manwich.
With a good lunch and still half a day ahead of us, we then headed back to Cagayan de Oro topped up with gas and ready for some more exploration.
LABELS: Anonymous Paul, bukidnon, del monte plantation, pineapples, roast beef sandwich