By admin on 18 June, 2011

KITCHYART'S Chihuahua Wheee!!!
It's been some time since the trio have gotten together for dinner and we all decided to try the new Tex-Mex restaurant called Chihuahua along Makati Avenue.
Since I arrived 5-10 minutes earlier, I picked out the table and took a quick glance at their menu. The menu specializes in burritos but they also offer tacos, chili and nachos. They have a shelf dedicated to several types of hot sauces and a counter with an array of condiments as well.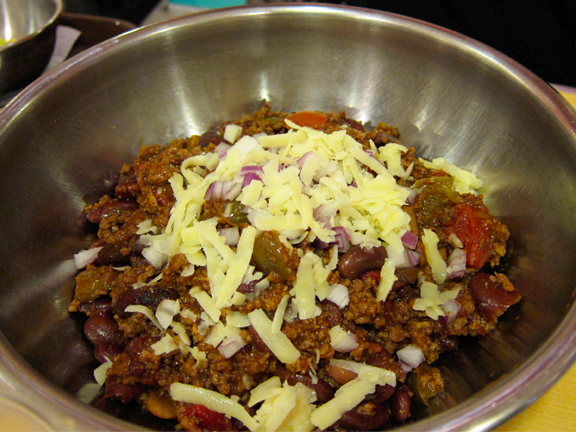 Big bowl of spicy chili. Topped over rice. At first we thought it was just a mound of beef as well.
Although it didn't take long for the others to arrive, I was happily sipping my order of margarita while inspecting the place. The glass was rimmed with salt and chili, it gave the drink a nice kick. Soon after everybody arrived, we almost ordered the entire menu: chili bowl, fully loaded nachos, pork and chicken tacos, chicken burrito, micheladas (Tex Mex bloody mary) and more margaritas.  It was quite unfortunate that the steak burritos were not available that evening, but after all that we've had that night, we were all very satisfied. The chili was very tasty, the nachos were truly loaded til the bottom of the bowl, and the tacos and burritos were equally packed with goodness.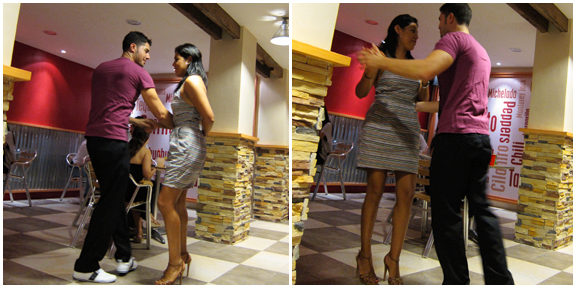 Let loose! It can get raucous. But in all fairness, they had the skills.
Upon finishing our huge dinner, we stayed on for a couple more drinks and the guests were surprised by a couple that started salsa dancing in the restaurant.  I teased the owners if they hired dancers to entice the diners and they said it was all organic. After my second (or third?) margarita, it started to feel more and more festive in Chihuahua. I'd like to think everybody else in the restaurant had the same buzz but overall, it was a delightful experience.
I won't go too into detail at what happened after but the margaritas really did a good job at getting me drunk and happy. My excuse to go back for more margaritas is to try the steak burrito. Any takers?
SANJU'S Chihuahua
Once in a while, a new restaurant comes along and it is immediately evident that there is something special about it. This is how I felt when I first had a chance to visit Chihuahua Mexican Grill. At first I could not put my finger on it until I finally realized what it was: Chihuahua is a labor of love. Owners Ines Cabarrus and Elian Habayeb have poured their hearts and souls into this new venture making it a great place to have Tex-Mex cuisine. Elian has especially taken an active hand having lived in Houston, Texas for many years and thus being familiar with authentic Tex-Mex flavors.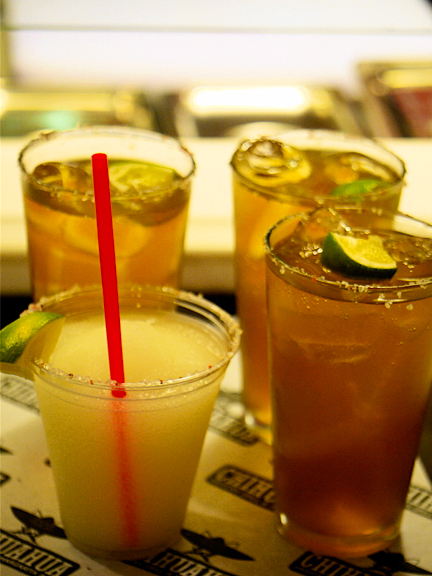 Three micheladas and a margarita.
Chihuahua's concept is similar to the other Mexican places that have sprouted all over Manila. Ordering is done at the counter and everything is prepared fresh. Diners first pick their protein. Chicken, Steak, Pork and Veggies are available. One can then choose to have their proteins as a soft taco, burrito, salad and what they call a burrito bowl. A burrito bowl is basically a burrito without the tortilla wrap. All these choices are at a uniform price of P295. There are also side dishes available like Nacho Grande (P245) and a mean Chips and Queso ( P165). A condiment bar is a nice addition where one can indulge in three types of salsa of varying heat, plus, some pickled Jalapeno peppers, fresh guacamole and Pico de Gallo.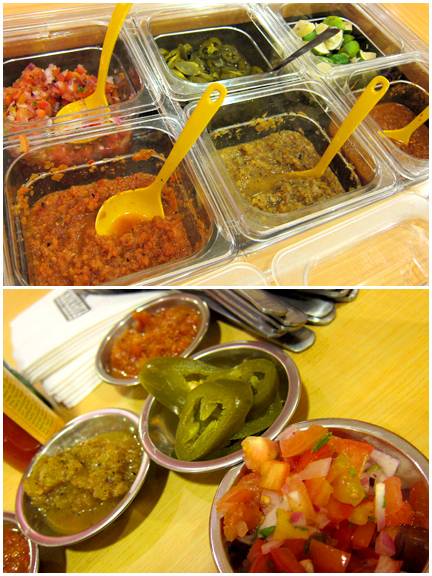 I decided to try the Chicken Soft Taco. An order consists of three chicken tacos. The tacos come with some veggies, sour cream and Pico de Gallo. From the condiment bar I chose to add some Habanero Salsa plus some pickled Jalapeno peppers to the mix. I enjoyed the flavor of the Habanero Salsa as it packed the most heat but was still subtle enough to enhance rather than overpower the perfectly cooked chicken. My only complaint was that the flour tortilla that was used could be a bit thinner.
Chihuahua also serves an excellent Frozen Margarita (P195) and my favorite, the Michelada (P95). The Michelada is simply a glass of beer mixed with a dash of limejuice, and a few drops of Tabasco and Worcestershire sauces. I call it a Beery Mary. I love it so much I will try to recreate it at home and post a recipe if I am at all successful.
I understand that just like all newly opened restaurants, Chihuahua is still a work in progress. That having been said, I do admire the management team for having the place reach an acceptable level of operations in such a short time. One can only imagine how far things can go from here.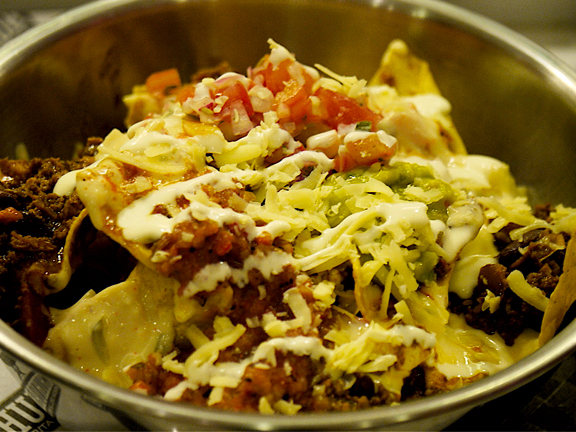 This is what a good bowl of nachos look like.
ANONYMOUS PAUL's Chihuahua:
When I stepped into Chihuahua the first thing that hit me was the smell. It was the undoubted heady aroma from the mix of spices and long simmering meats. That olfactory sensation alone let me know this place had promise.
Ordering is clear cut: you select your meats or veggies from a board above the counter and decide whether you want to have said meats in a soft taco, burrito, salad or burrito bowl. I love soft tacos, as it highlights the meats best, and so I placed an order of that with the pork filling. Placing orders for micheladas as well. I forget what else we got but to combine my order with Sanju's and Kitchyart's I'd say it was a whole pile of food. Which I also think was everything, or most, on the menu. I have to note that even with all that food we ordered, including drinks, we were on our tables eating within 5 minutes. Which is also not so surprising because it is sort of a smart lateral menu in which you have a core of several quality ingredients that you just vary preparations of. Efficiency!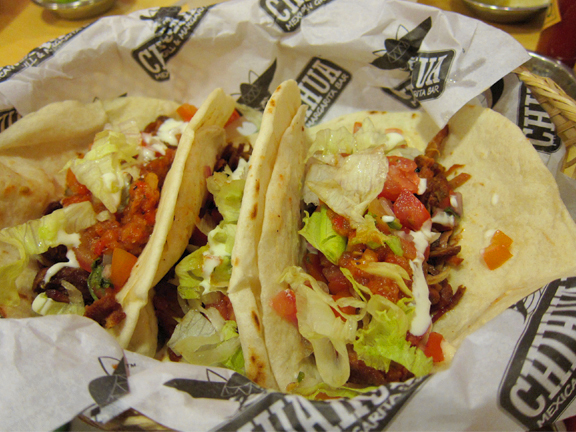 Soft tacos with pork carnitas
But to think this place is a fast food joint is a grave mistake. It's quick service but practices slow cooking. Take for example, the pork in my tacos: cooked carnitas style, in which you take a whole pork shoulder and braise it along with spices for hours on end till the meat literally pulls apart. After which the shredded or chopped meat is cooked for a second time on a roasting pan to brown the outsides; leaving a multi textured end product. All the work put into it was pretty evident upon my fist bite of the taco. The pork was indeed savory; packed with intense flavors only slow cooking can achieve. I had originally opted for the beef, which is cooked fajitas style, but was unavailable as the steak had apparently not yet completed the 24 hour marination process. I was actually glad to have heard that reason for unavailability instead of the usual "awt op stak po".
If I had to critique I'd say my carnitas was a little on the dry side for my taste. Maybe I just got the end bits. Maybe it was roasted a little too long. And the flour tortillas could've been a little more pliable as well. But it was really nothing the salsa and the guacamole couldn't help address in terms of making up for moisture at that time. I usually prefer more traditional leaning Mexican tacos with nothing more than soft corn tortillas, carne asada, onions, cilantro and a squeeze of lime. However I clearly demolished three substantial Chihuahua tacos in a matter of minutes.
I like the spiced salt which they use to rim their micheladas. But I must say I like the margaritas more. Citrusy, frosty and very strong. Not sugary sweet like those served in local bars. Three of these and you're gone. At least Kitchyart was.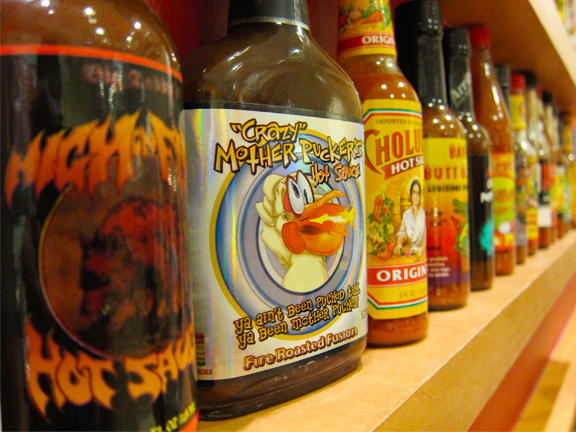 Another thing I loved about the place was the hot sauce library; where you can actually use whatever bottle's open. Being a chili head I got one of those habanero based ones. Only to realize I didn't really need it at all because, number one, the meats already pack some heat and are full flavored. Number two, the home made pico de gallo with habaneros actually taste so much better than the bottled sauces. Elian, the owner, shares how all the food is made with love. How the salsa verde uses green tomatoes, in place of tomatillos, and are first roasted then mixed with other fresh ingredients. The pico de gallo also starts off by roasting ripe tomatoes and then mixing with habaneros or chipotles among other thing. You can identify chunks of avocados in their luscious guacamole. All meats are USDA grade and vegetables used are organic, if possible. The end product is food of superlative quality.
From the get-go Elian clearly states Chihuahua is a Tex-Mex joint. Not traditional Mexican. Not Cal-Mex. And he has a clear distinction of what it is and what it isn't because it was the food he grew up eating; basing flavors from memory and not approximations from cookbooks. He does admit that some people might still not be used to the food yet with the explosive flavors and the spiciness. But he unapologetically says "this is how it is." Unwilling to sacrifice authenticity. I just know this early on this place will make a name for itself not only for all the care and love put in the food but how its run with real Texan pride.
Chihuahua Mexican Grill & Margarita Bar
7838 Makati Ave (across A-Venue),
1209 Makati, Philippines
Tel. (632) 890.3192
Chihuaphone: 09163737308

LABELS: Anonymous Paul, Kitchyart, mexican, Sanju, tex-mex