By Anonymous Paul on 30 May, 2011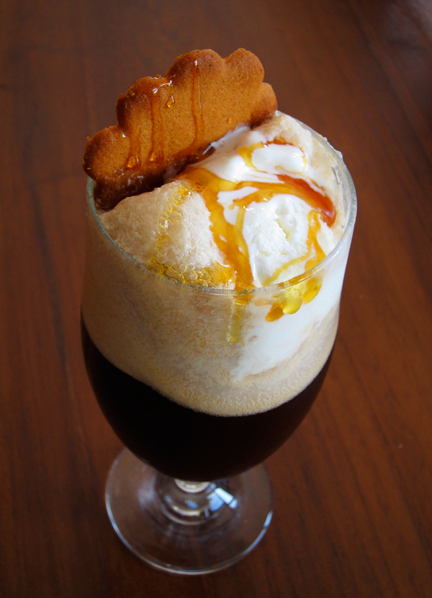 I had gotten wind of the Guinness float through research made on the Hangover Helpers subject a few months back. Apparently based on the "hair of the dog that bit you" theory; or having a bit more alcohol the morning after to temper the headaches. And one of the most popular "remedies" along with the Bloody Mary was the Brown Cow…or a Guinness float.
Then I got to watch Tyler Florence on TV make this not too long after. Coincidence? Maybe. But then I just really wanted to get it out of my system and try it at that point.
Tyler's version consisted of Guinness stout beer floated with vanilla ice cream, drizzled with orange blossom honey and topped with a ginger snap cookie. I was drooling as I was watching him make it.
So my version eventually consisted of a San Miguel Cervesa Negra (hence the carabao) I bought at the grocery, Selecta Vanilla Almond ice cream (which we had in the freezer for a while), wild honey I got from the Sidcor market and a thin ginger cookie I stole from my wife's stash (Anna's Pepparkakor, available at S&R).
I started off by picking a large enough glass then poured about half of the way, with the bottle and glass tilted so as not to get too much head. I then "floated" half a scoop of the ice cream as a platform for the next scoop before pouring again till three-quarters of the way on top. I put a scoop or two more of the ice cream, stuck a cookie in there and drizzled with honey. It just looked so damn pretty.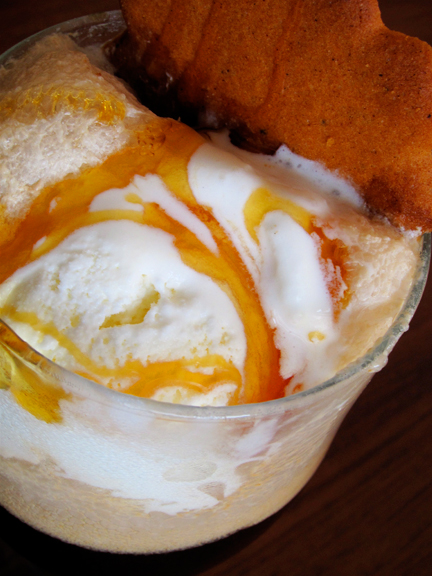 It tasted, well, not so pretty. Not bad, just a bit "acquired". The mixture was creamy but the sweetness of the ice cream sort of heightened the acidity and bitterness of the beer. The honey helped to smooth things out a bit and I could've put more. The cookie's spiciness actually paired well with the stout. But oh, if you're going to try this I suggest you use a plain ice cream with no chunky bits. I think I gagged a few times with the almonds as I sipped through a straw.
I made another version using some Guinness Foreign Extra and plain vanilla ice cream, using the same honey and omitting the cookie. The result was similar… but this time the taste was sort of growing on me. It's not really something easily drank but something leisurely enjoyed.
So I guess the jury's still out on this one. I like the concept but I'm thinking of using a creamy beer with a little less boldness the next time; like a Boddingtons or a Kilkenny. And maybe even using some chocolate or espresso ice cream.
LABELS: Anonymous Paul, Guinness float, ice cream, Table Recipes