By Anonymous Paul on 25 May, 2011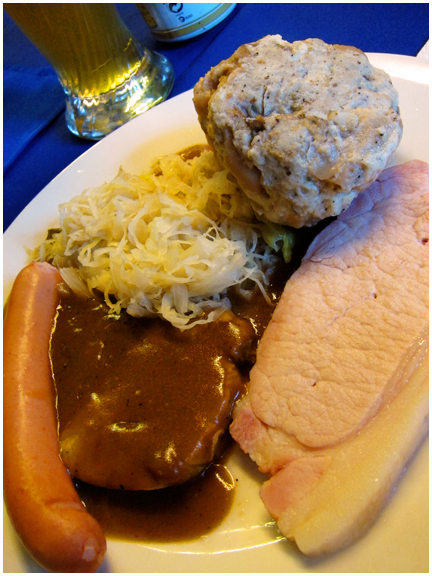 The pork plate. Vegans, please look away.
It was about 2004 when I was trying to look for this pizza place off the corner of Padre Faura and Adriatico. I went there quite a bit in the 90's and was usually one of the places friends and I would go to before hitting the Nakpil area bars. The name of the place I can't seem to remember now and when we did get there circa 2004 it was already some other kind of restaurant. My then girlfriend and I just decided to look for a place to eat in the area as it was lunchtime. And so as we walked and turned into Mabini we saw this old, tired panaflex sign that read "Munchen Grill Pub Restaurant" and decide to check the place out. It was dark and dingy and a complete dive. But that never really stopped us from culinary exploration before. As it turned out we found Munchen to serve some pretty authentic German food. Hot hearty stews. Great cured meats and sausages. Home made sauerkraut. And, of course, beer. A surprisingly great meal. We never really get to go back as often as Malate's quite a difficult place to get to from where we live. But about a month ago we were in the area one Saturday and instantly thought to give Munchen another go.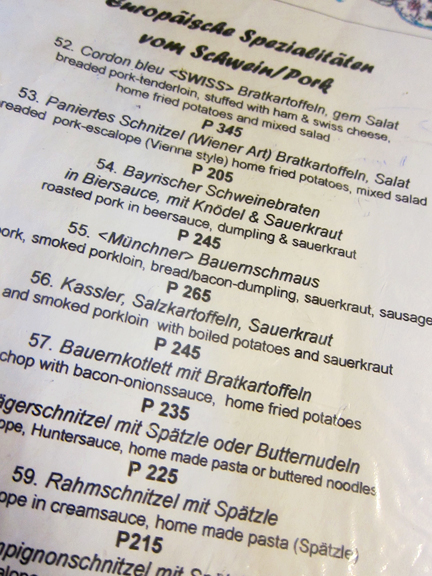 Just one of the pages of the extensive menu.
Their menu comes in this worn clear-book and can be quite overwhelming. But I naturally gravitate to the pork based specialties page and order the Munchner Bauernschmaus; or a plate of roast pork, smoked porkloin, bacon and bread dumpling, sauerkraut and sausage. The roast pork was juicy and was covered in a rich brown oniony gravy. The pink porkloin tasted like a thick slab of bacon. The dumpling was the size of a baseball and worked great to sop up the juices. And the sauerkraut had that perfect acidity to counterpoint the fatty meats. The wife ordered the Rindergulasch or beef goulash. Thick, spicy and very hearty. It's smoothed out with a dollop of sour cream on top and served with two slices of dark rye bread. Not something I'd think of eating on a hot summer day but it was pretty tasty.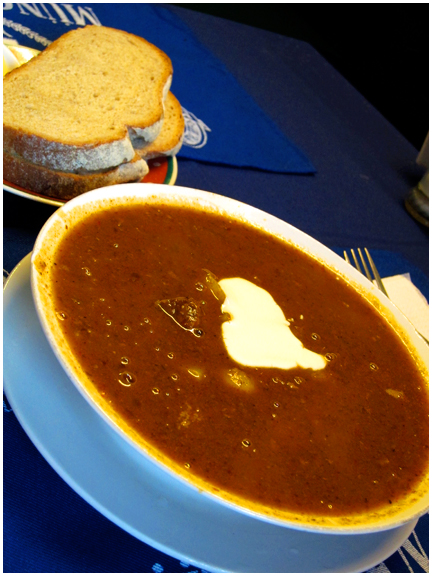 Spicy stew.
I've always ordered Oettinger wheat beers with my meals in Munchen but this time around they had Kaiser Weisse, also made from wheat. Nice golden color and a little less cloudy than the Oettinger but with that comparably nutty, grassy aroma and sweet banana finish. Goes perfect with pork, I think.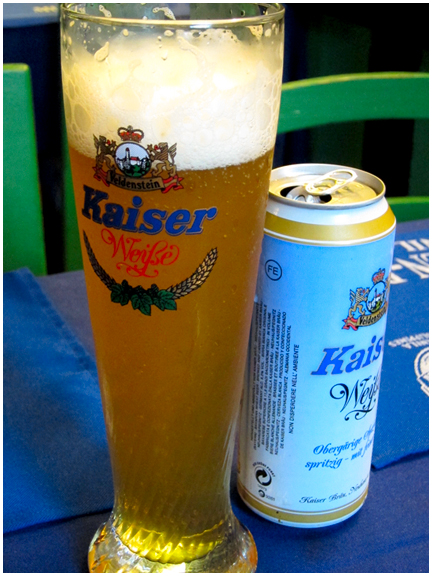 Sweet, sweet wheatbeer.
Muchen has been consistent over a long stretch (we're talking over 20 years) and never fails to deliver honest, homestyle, rough-around-the-edges German meals in Manila. It could be an alternative to the German Club if you have a hankering for the real deal but can't get anyone to invite you over. Or if you want something a little bit more substantial than sausages and deli meats at Mickey's. They serve some cheese and beef fondues as well. And if you really want to milk the Germanic experience, you can come first Mondays of every month, where they have live accordion music.
Munchen Grill Pub Restaurant
1316 A. Mabini St.,
Malate, Manila
(Right across Citystate Tower Hotel)
Tel. (632) 522 3955
LABELS: Anonymous Paul, German Food, Malate, Munchen, wheatbeer