By sanju on 10 May, 2011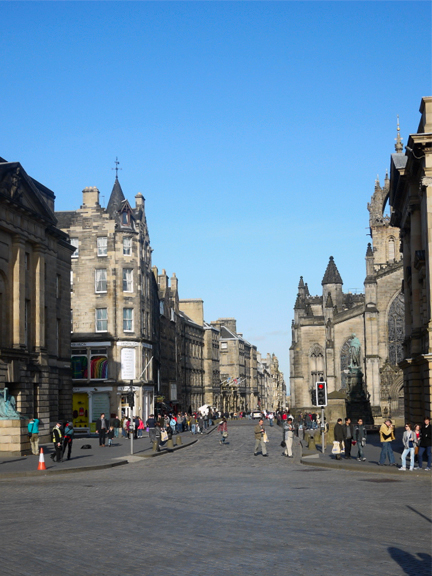 The 'hood.
We spent some time in the United Kingdom recently.  We planned the trip partly because we wanted to go somewhere different for our family vacation.  But the main reason was that it was a graduation gift for our daughter S who just finished elementary.  Part of our itinerary was a visit to Edinburgh, Scotland. The home of Haggis and Single Malt Whisky.  Edinburgh is a very beautiful city and it has so much history behind it.  A large part of it has been declared a World Heritage Site by UNESCO. We enjoyed walking around the old city, visiting castles and palaces, and of course, sampling the local fare.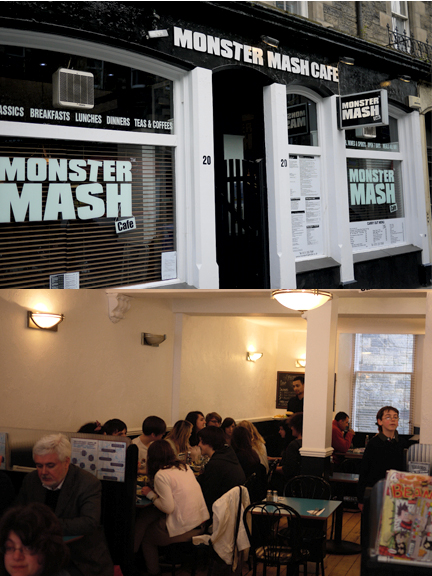 LSS'ing on the resto name.
If there is one thing that all, and I mean all Scottish restaurants and pubs have in common is that they all serve different types of Single Malt Whisky, and all of them serve Haggis.  I would think that it is the unofficial national dish of the Scots.  Historically, Haggis consists of finely chopped portions of the lungs, liver and heart of the sheep mixed with some oats and mild spices for flavor.  This is encased is a sac made with the sheep's stomach lining or intestines.  The whole thing is cooked for a few hours and served with "Neeps" or yellow turnips and "Tatties" or mashed potatoes. Not much has changed through the years except that sometimes, a synthetic casing,(sausage casing)  is used for practical reasons.  Amazingly, most of the places I visited had a veggie version available but as I always say, where's the fun in that.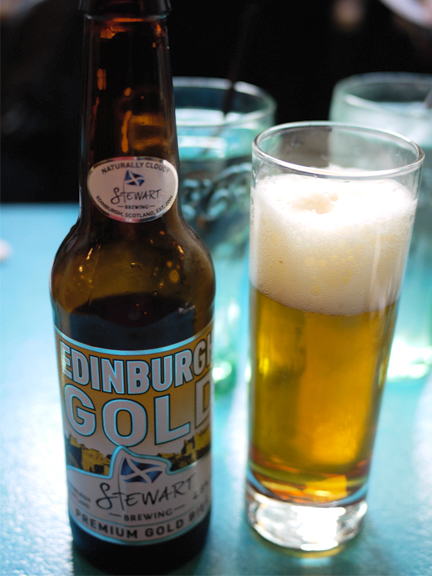 Liquid gold.
One evening, we decided to eat at a Cafe called Monster Mash, situated near our hotel, close to the George IV Bridge. I decided that this was the perfect time to sample Haggis as this cafe specialized in British and Scottish classics.  I chose the  Haggis,Neeps and Mash(£6.95/P485) entree, washed down by a bottle of Edinburgh Gold Unfiltered Beer (£2.95/P200).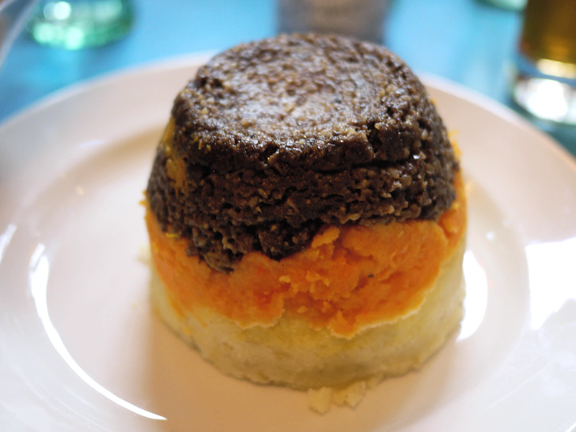 Poshly plated haggis, neeps and tatties.
The Haggis had a very understated flavor with nutty undertones.  I expected a little more of the flavors of the offal to actually come out.  The Neeps were sweetish as this version had some carrot puree mixed in.  It would have been a perfect foil to the Haggis if the Haggis had been a wee bit more flavorful.  The Mashed Potatoes were quite good.  It had perfect texture and consistency and went very well with the gravy that was served on the side.
I enjoyed the meal in general and given the chance, I would definitely order Haggis again.  However, I think that I would stick to having it as an appetizer rather than as a main course. It would also work very well as one of the options of a family-style meal.  I am sure everyone understands how a dish can sometimes get overwhelming if you have too much of it.  Filipinos call it "umay".  And I felt this halfway through the meal. This time, soldiering on was not much of a problem though, as I was quite hungry.  Also, the realization of actually eating Haggis in an Edinburgh cafe with my family, made the meal a celebration in itself.
Monster Mash Cafe
20 Forrest Road, Edinburgh EH1 2QN
TEL: +44 1312257069
LABELS: Edinburgh, Food and Travel, Haggis, Monster Mash Cafe, Sanju