By Anonymous Paul on 5 May, 2011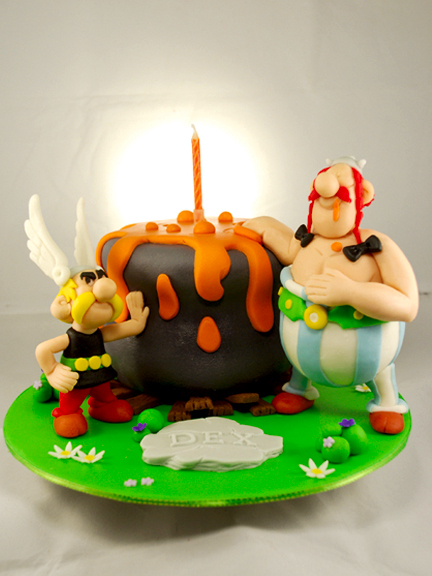 Asterix et Obelix
The Bunny Baker is actually composed of two people: real-life married couple Aila and Kensei. Both coming from families of artists (or artistically inclined families); with the former still rather uncomfortable being called an "artist". Aila, the "Bunny Boss", started baking cupcakes just a couple years ago; basically just making them for her husband and kids till she started getting orders through word of mouth. Eventually design was integrated in the cupcakes, then she moved on to baking larger cakes, and the cakes turned into the sculptures they are now. With no formal culinary training, the couple amazingly learned a lot of things along the way through trial and error and independent research; all fueled by the love of it.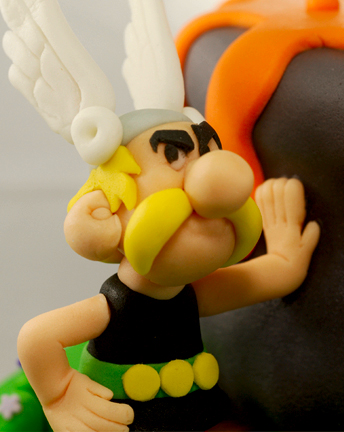 Detail on Asterix; check out the facial hair.
"We don't have time to do anything else!", Kensei says with exasperation. But I suppose it's a good kind of problem to have. Aila takes care of baking the cake bases, icings and mixing of colors. All fondant used is also made from scratch (like "dense marshmallow" as Aila puts it). Kensei masterfully sculpts and assembles (and photographs). They use airbrushes to create super realistic renderings and even invested in a dedicated inkjet printer just to print out background designs on sheets of sugar. But these are just tools per se to create edible pieces of art; it takes a lot more things to craft something incredibly detailed, possessing wit and character.
What's also noticeable is how they love food; how they have an understanding of it. Which definitely shows in these examples here.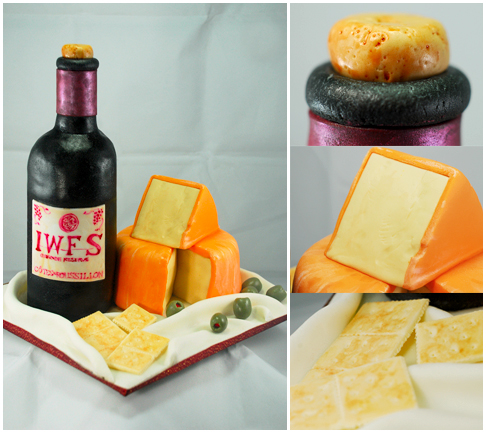 Wine and cheese tray: close up of the cork, cheese and crackers.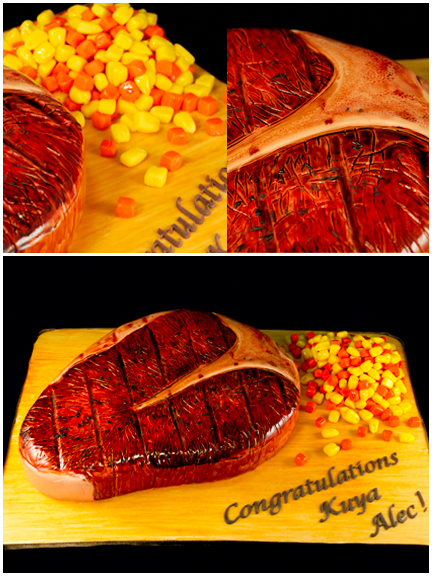 Slab of steak. Airbrushed char on the fat, grain and perforations on the bone. Notice the individually made kernels of corn and carrots.
As for the actual eating part: Aila says that with the nature of stacking designer cakes the bases have to be made a little dense to withstand the physics involved. I ordered a cake for an occasion with a chocolate base and espresso frosting in between the fondant layer and I liked how it was similar to a chocolatey pound cake; not super moist but the flavor was good. The espresso isn't really supposed to come through aggressively but provides for a more complex, nutty chocolate flavor. It makes slicing into one of the cakes a little less difficult to deal with. Such a pity to stick a knife into one, really.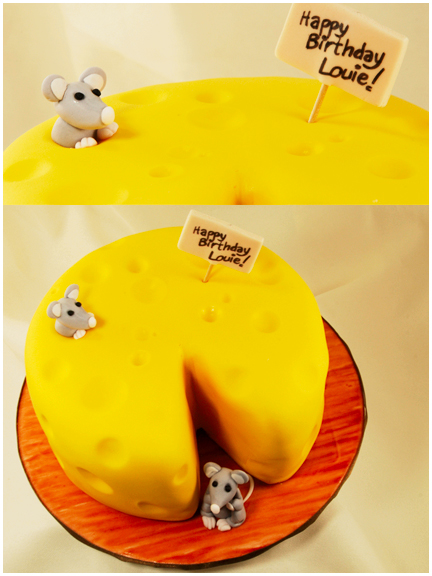 "Cheese cake" with cute mice and all.
Orders now are literally backed up for months so it's advisable to plan way in advance for a specific date. Aila will walk you through with the details via email, clarifying concepts, suggesting cake and icing flavor combinations, etc… The most important ingredient would still be the client's inputs; which is where they'll get inspiration from. After which its best to give them free reign on the execution. It's worth the wait. And produces priceless reactions.
LABELS: Anonymous Paul, Custom Cakes, Dessert, The Bunny Baker