By Anonymous Paul on 16 April, 2011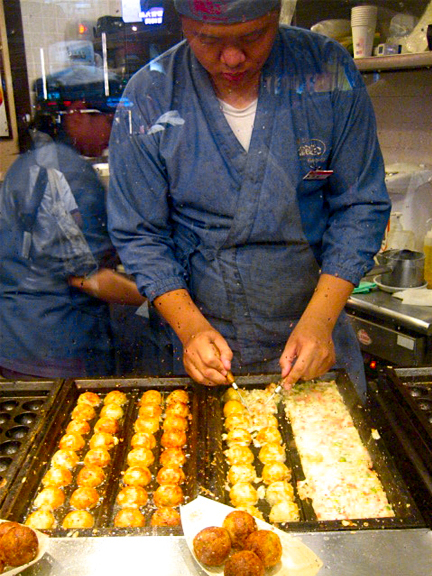 Flipping perfectly golden brown spheres!
The Japanese are known for their perfection, to say the least, with just about anything. Including their takoyaki. I first had a taste of Gindaco's takoyakis several years back walking around the Mongkok night market and was hooked since then. I was hungry, I saw a queue and then lined up myself not really knowing what to expect. But when I got my order of the street treat, from its appearance alone I knew there was a lot of care put into them. First of all they were big. Like oversized pelotas. And the outside was a deep golden brown. They were topped with copious amounts of their signature sweet brown sauce, japanese mayo, seaweed powder and bonito flakes (I'm always tantalized how they sort of sway from the steam emanating from the balls). Carefully biting into one I immediately noticed the crisp outer layer giving way to the soft, moist, smoldering center. And inside each piece was a huge chunk of octopus mixed in with aromatic green onion slivers, pickled ginger, dried shrimp and tenkasu (tempura crumbs). Delicious. Nothing at all like the small, dried out, cakey ones I've had here, even at Little Tokyo.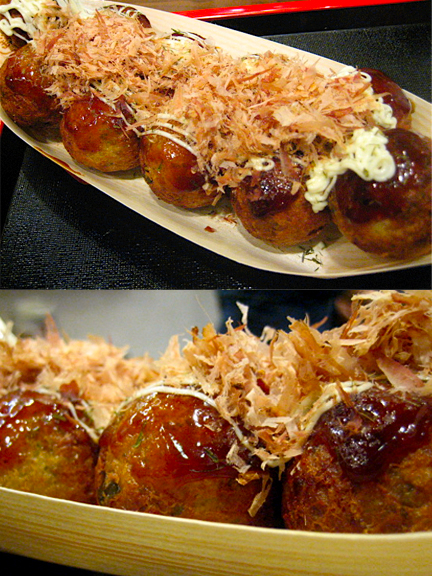 Notice the containers made of pine, designed to absorb excess grease. The takoyaki themselves didn't taste of it. With a glass of cold matcha, this is dinner.
The pictures here were taken in their Ximending branch in Taiwan, and I have to say they're pretty consistent. There's a whole step-by-step process of how they make their takoyakis on their website, with a nonchalant tone that "everybody in Japan does it and probably you can too". Which I'm sure we could. But not this good. It's obvious that a lot of quality control goes into the product as keeping the correct consistency of the batter, the proper heat of the specially shaped griddles, the amount of cooking oil (check out the splatters on the glass), and how they absolutely MUST serve only perfectly round ones. (Imperfect ones are discarded.) No doubt they taste the same  whether in Bangkok, Taiwan, Singapore, Hong Kong or any of their hundreds of branches in Japan alone. The question now is….why hasn't anyone in the Philippines thought of bringing this in yet?
LABELS: Anonymous Paul, Gindaco, Japanese Food, Street Food, taiwan, Takoyaki