By Anonymous Paul on 4 April, 2011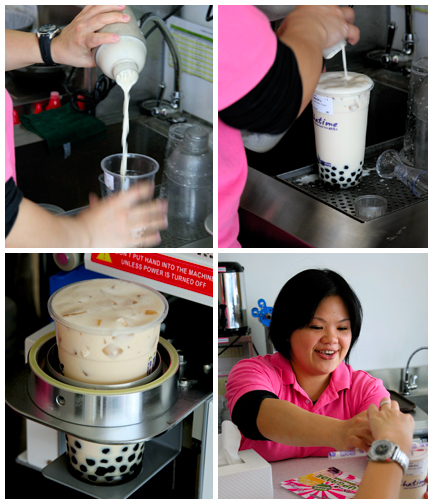 Shaken and poured by hand.
Yes. Another bubble tea place. And the largest Taiwanese chain at that; brought in care of the French Baker group.  We popped in the Pioneer Center branch in what seemed like it's soft opening; with family members and actual owners manning the counter. There were still some Taiwanese trainers from the mother company showing the local staff how to churn out perfect blends of not only milk teas but also health juices, fruit smoothies, special mixes and even coffee. The menu was extensive, which made ordering take some time. But for our first visit, we had the standard Pearl Milk Tea (comparing to mental benchmarks) and a variation called Roasted Milk Tea. Both amazing. Pearls perfectly cooked to a pleasant al dente, milk frothy and creamy and the tea base unmistakably brewed fresh. The Roasted Milk Tea had a more toasty rice powder taste to it which gave it more depth. But I still like my milk tea best plain.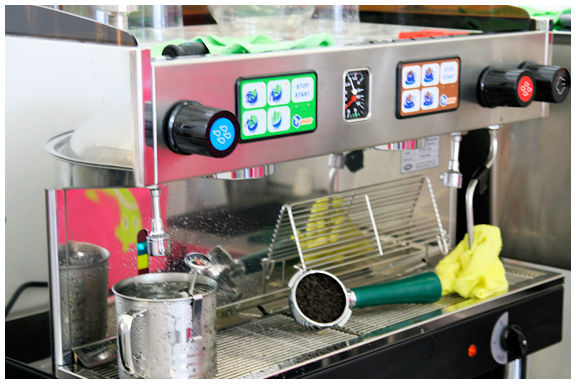 The newfangled brewing machine.
And so on another visit, I wanted to try something different and asked what the Oriental Pop Teas were all about. It was explained that the items falling under this category was more for tea purists. In which specific teas were brewed upon order and per shot in what seemed like an espresso machine. I tried the TieGuanyin Tea Latte (with pearls, of course) and was floored. The tea was so robust in flavor with strong floral/grassy notes and blended so well with the creamy milk. This was apparently their most potent brew and I actually felt a caffeine buzz. Not to the point of palpitating though, which was good. But taste-wise, this rich brew is the best milk tea I've ever had…thus far. I've yet to try the TieGuanyin Tea in Mousse version. Which is topped with thick, frothy whole milk and full cream whizzed in a blender and then floated on top of the tea. Sounds like a strong contender…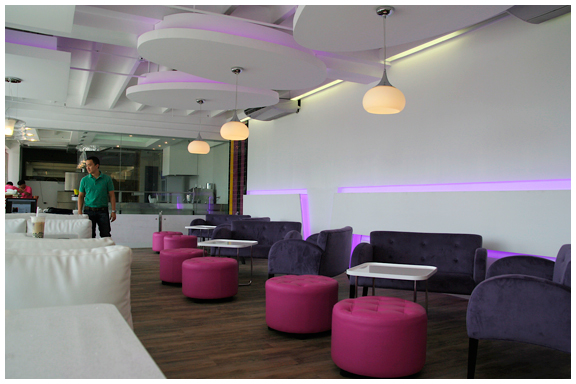 Tea lounge. With the training center for upcoming branches in the works at far end.
The Pioneer Center branch has, on its second floor, an impressive retro/space age inspired lounge that has a bright, youthful feel. Free internet's also a plus so hopefully more Chatime tea lounges like this sprout up. And hopefully this second coming of bubble tea places ingrains itself to create an actual bubble tea culture this time 'round. Which is not hard to imagine once they sample the good things they have at Chatime.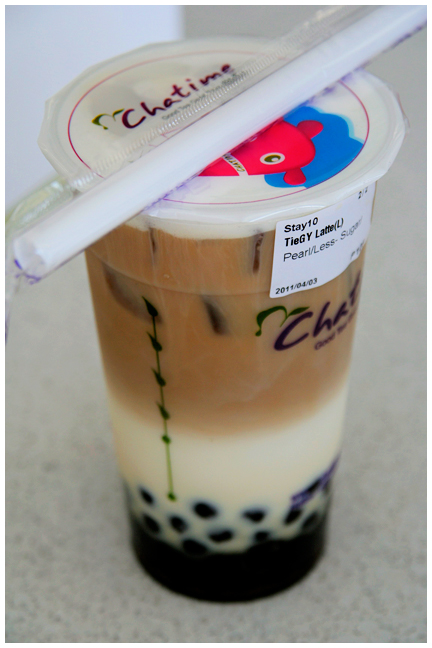 The innocuous looking TieGuanyin Tea Latte. Very good.
Chatime
Pioneer Center
8006 Pioneer St.
cor United St., Pasig City
LABELS: Anonymous Paul, Bubble Tea, Chatime, milk tea