By Anonymous Paul on 6 April, 2011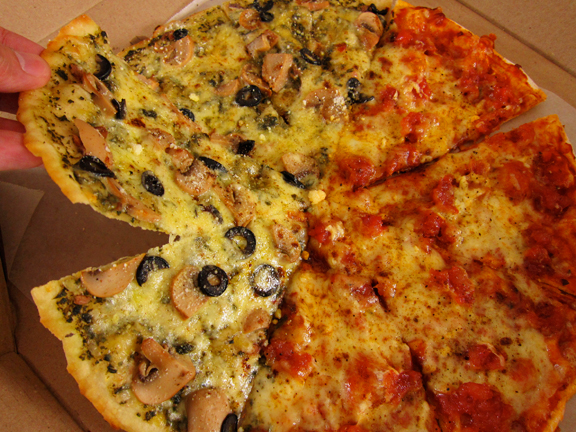 Anchovy Lovey and Pizza Cebuana
I found out about Handuraw Pizza a couple years back from a friend's Facebook status; with her thanking the gods that Handuraw was now in Manila. She had tried it on her frequent trips to Cebu and was apparently hooked. I've only actually been able to try it over the weekend having put off going there for ages. So Saturday we drop by this literal hole in the wall in a private subdivision along Katipunan. The screaming red facade was hard to miss along C. Salvador St in Xavierville. You ordered, transacted and got your pizza through a single white framed window like a sari-sari store. Peering inside one would notice a refrigerator and a squat white gas oven as their only equipment. There was some twenty minutes for the pie to be baked and so there was time for the friendly female staff to volunteer information. Like how they opened about a couple years ago from Cebu. How they transferred to this temporary location from the main Katipunan Road as rent was getting expensive. And how they were about to transfer to their new location right after they baked our pizza. Apparently they were in the process of moving. Had we known they were moving, we would've waited a day instead to order. You had no other option at that location but to bring the pizza home. And even if you wanted to eat it there, I doubt if the faint scent of cat poo and the semi-stagnant creek a stone's throw away would help to entice your appetite. And so it was a test for our EQ's, uncomfortably driving home with the scent of melty cheese and anchovies wafting in the car.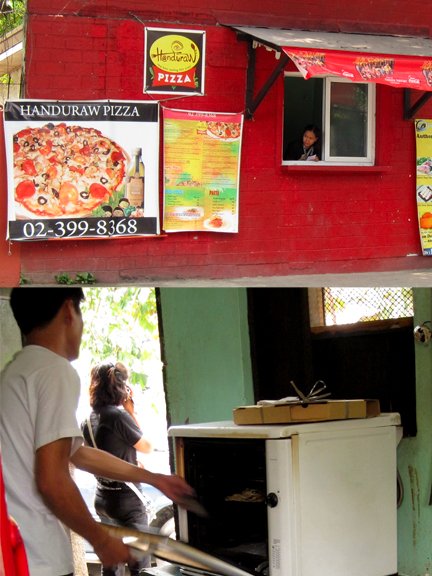 Hole in the wall; Turning the pie.
We had ordered a pie with two different toppings: the Anchovy Lovey (pesto sauce, anchovies, olives, mozzarella) and the Pizza Cebuana (tomato sauce, chorizo de Cebu, kesong puti, mozzarella). What we had noticed when biting into our slices even after the ride home was the noticeably still-crisp thin crust. There was an excellent balance of toppings and flavors in just the right amount; I'm not one for overloaded pizzas. Though I personally liked the Anchovy Lovey marginally better as I found the chorizo de Cebu a tad sweet for my taste.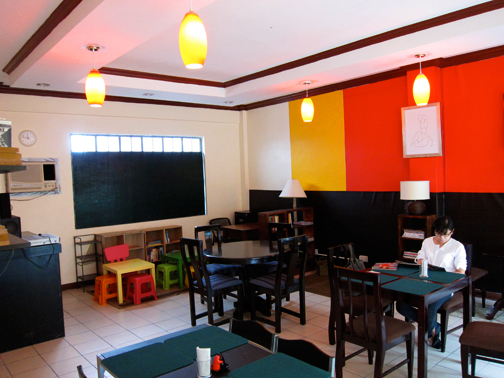 New place.
Wanting to try more of the flavors we decide to visit the newly opened, college hangout-like branch the following day. This time ordering the Pepperoni and Roasted Garlic and Cheese toppings. I swear if you close your eyes you'd think the pepperoni was just like the one's you'd find at Shakey's. Thin crust, oozing red oil, tangy tomato base. But again, even the pepperoni had that extra hint of sweetness. We weren't expecting the Roasted Garlic and Cheese to literally have about two head's worth of rough chopped garlic on it; but there they were. Their bite tempered by the baking process but ironically; the only thing I was expecting to be sweet was not. Maybe I was misled by the name but all in all it wasn't bad. Just probably not my favorite. I would still come back to experiment with the other flavors on the menu.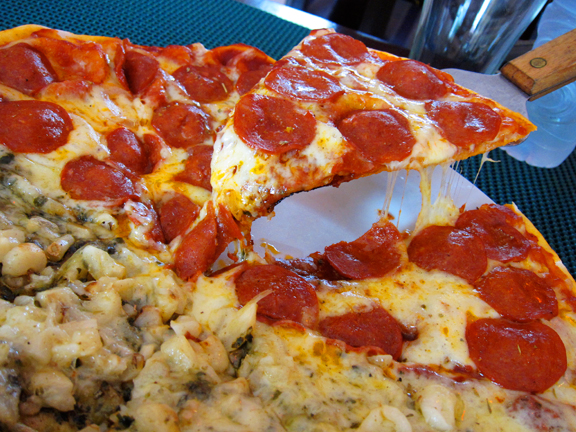 Pepperoni and Roasted Garlic and Cheese. I thought I loved garlic. Till I met this pizza.
I got a glimpse the previous day of how they attained that signature crunch. Obviously you start out with thin rolled dough. But the cook showed some technique; knowledgeable of the cool and hot spots of the gas oven adroitly rotated the pan every few minutes and moved the pie up and down the racks to provide even browning. It was a bit fascinating to watch, though it can't be seen in the new location. But I digress.
I know some people who don't care too much for cracker like pizza crusts altogether. I however share a different view. If, at a certain instance, I wanted to have a more doughy/bready crust, I'd go for a New York or Italian style pizzeria. If I wanted to have a more frou-frou pizza, I'd go somewhere frou-frou. If I wanted to relive childhood memories, I'd probably go to a Greenwich or 3M as Sanju pointed out. But if I felt like a crispy thin crust pie, Handuraw would probably be top three on the speed dial.
Handuraw Pizza
2F Lexington Building
Xavierville Ave, Qc
Tel. 399.8368
With a branch opening soon in Merville, Paranaque.
LABELS: Anonymous Paul, Cebuano Pizza Invasion, Pizza