By sanju on 1 April, 2011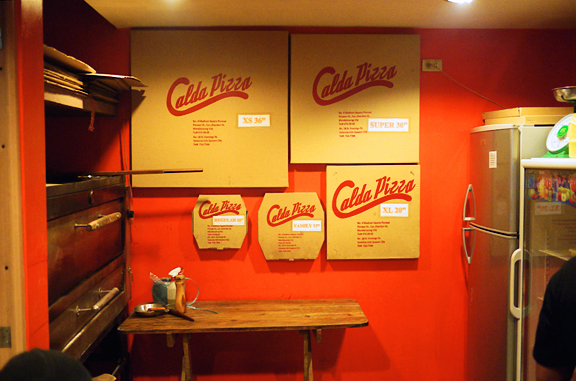 check out the massive 36″ box
One evening I took my family to try out Calda Pizza.  As we walked into their Madison Square outlet, the setting made me wax nostalgic about the days when my parents used to take us swimming at the old Green Valley Country Club in Pasig.  Aside from the actual romp in the pool, my sister and I always looked forward to eating 3M Pizza served from a makeshift poolside booth.  We both loved the sweetish tomato sauce, add to it  the cheap ham and cheese and we were in pizza heaven, especially after spending a couple of hours in the pool.  Till today, give me a 3M ham and cheese pizza and I am a happy camper.
Initially, I have to admit that at first glance, Calda Pizza did emit the same 3M vibe.  But that vibe completely disappeared when I saw their open kitchen.  They had two large industrial ovens that can churn out tasty thin crust pizzas.  Sizes range from the 10 inch Regular to the Super at a whopping 36 inches!  Prices are very reasonable ranging from P140 to P1220.  After looking at their setup, it seems that Calda Pizza concentrates more on their brisk delivery service rather that dine-in customers.  The branch that we went to, located along Pioneer Street in Mandaluyong, only had 2 four seater tables available for diners.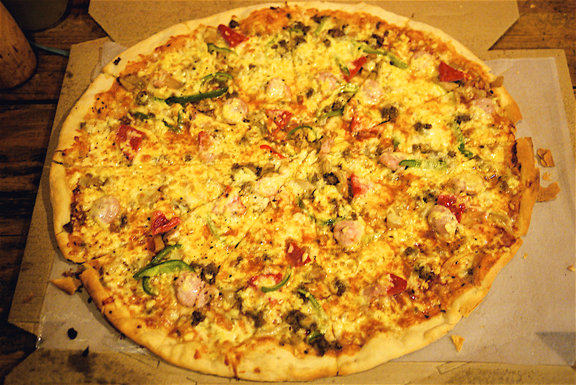 Calda Pizza has about twenty flavors available.  On this occasion we decided to try 2 flavors.  My kids decided on a Regular Margherita (P140).  C and I decided to share the Family Size Roma (15 inches P380).  Margherita had tomato sauce, cheddar and Mozzarella cheeses, while the Roma which is supposed to be one of their best sellers, has tomato sauce, Cheddar and Mozzarella Cheeses, Ground Beef, Italian Sausage, Salami, Mushrooms and Green Pepper.
I asked my kids if they liked their pizza, they said they still liked Shakey's Pizza more, but they would not mind having Calda Pizza again for variety.  C and I liked our Pizza. The crust was a bit on the droopy side but it tasted quite good. We would not be averse to having it again if we come across it again in the future.  However , I would  ask our server to bake the pizza for a couple of minutes more to make it less droopy.
I particularly liked the fact that Calda Pizza is good value for money, and I enjoyed the cheddar  and mozzarella blend.  Yes, I can hear the "tsk tsk" noises being made by some purists but I like having cheddar on my pizza. It makes me remember my younger days where we would  have pizza at Leila's in the old Rizal theater and….I better stop as my true age is showing.
Calda Pizza
Manila Branches at N. Domingo, Katipunan, Pioneer and Manila
Tel. 4702863
For complete listing of branches visit their Facebook page here.
LABELS: Calda Pizza, Cebuano Pizza Invasion, Restaurants, Sanju