By sanju on 12 April, 2011
I unexpectedly found myself in Iloilo for a couple of days on a business trip.  As the decision to take the trip was sudden, I did not actually have time to do my usual research on where to eat.  Fortunately, I remembered to get in touch with blogger Jorry Palada, who's blog Flavours of Iloilo is on my regular reading list.  Since our time was limited, I asked Jorry to recommend some restaurants for us to visit so as to make our trip worthwhile.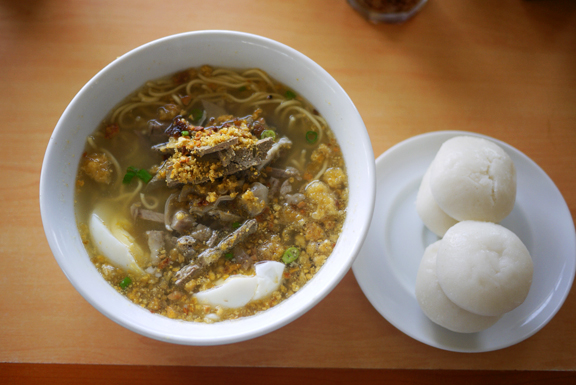 Our first stop was Ted's Oldtimer La Paz Batchoy Restaurant for lunch.  As always I was quite here nor there about trying Batchoy as I am not a fan of soup based dishes.  However one taste of my Extra Super La Paz Batchoy (P64) and I was hooked.  It was as if a whole spectrum of flavors exploded in my mouth.  The excellently seasoned broth was complimented perfectly by some liver, pork rind, beef pieces and firm noodles.  I asked them to add some boiled eggs to my order for that extra protein kick.  Some native puto(P15) served as a perfect foil for this amazingly good dish. I enjoyed my Batchoy so much that my partner Jay kept laughing at me as I tried to capture every last drop from my bowl. Ted's Oldtimer does have some branches in Manila but believe me there is nothing like eating at the original Iloilo branch.
Come dinner time, we met up with Jorry at our hotel and after buying some pasalubong to take home, we drove off to Breakthrough Restaurant.  Breakthrough is a huge restaurant located by the sea side.  It specializes in seafood.  As always, I went crazy as I wanted to try as much as I could.  I had previously read about the Managat fish or Mangrove Snapper.  It is said to be one of Iloilo's prized delicacies known for its delicious and clean tasting meat and its even more delicious belly fat.  Well, Breakthrough did oblige us with a grilled Managat (P495) and it was everything that it was hyped up to be.  Next time you visit Iloilo this is a must try.  I also wanted to try the Large Imbaw (P175) or Clams that are also native to the area.  I asked for the Imbaw to be served steamed so as not to cloud its natural flavors.  The Imbaw were sweet, succulent and very fresh.  I was a little apprehensive about experiencing some toughness because of the size of the shellfish, but my fears were unfounded in this case.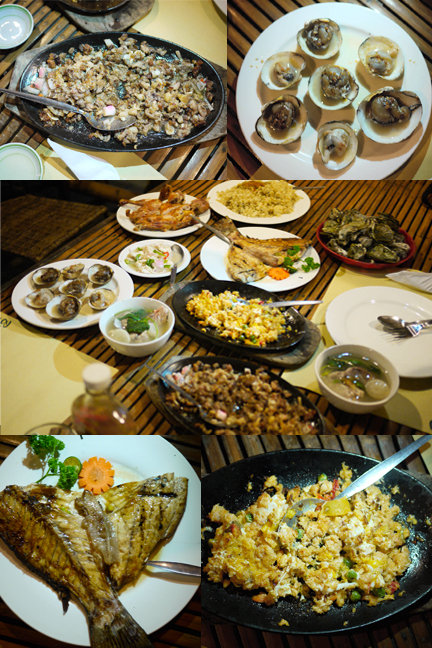 My ordering spree continues with some Shrimp Kilawin or Ceviche (P115), Steamed Oysters (P50), Sizzling Crabmeat with Egg(P145), Two orders of Aligue Rice or Rice cooked with a generous helping of Crab Fat(P40 each).  After ordering all these seafood I asked Jay and Jorry for suggestions regarding some meat dishes to balance out our meal.  Jorry suggested the Lechon Manok or Whole Roasted Chicken (P295).  Jay on the other hand, decided on an order of Pork Sisig (P125).  I have to admit that this choice raised some skepticism on my part.  This specialty dish comprising of marinated then fried parts of the pig's face is known to be a speciality of the Pampanga region. Uh, Jay we were in Iloilo remember?  Again, my skepticism proved unfounded as Breakthrough's version of Sisig is one of the better ones that I have tasted.  Well marinated with just the right amount of sourness and crispiness.  This revelation made Jorry comment that it took two "tourists" to make him aware of Breakthrough's Sisig.
Our food promptly arrived a few minutes later. After pausing to say a short prayer to the cholesterol gods, we dug in. Suffice to say, we did justice to our meal.  Total bill for this dinner  including drinks was P1554.  Amazingly good value don't you think?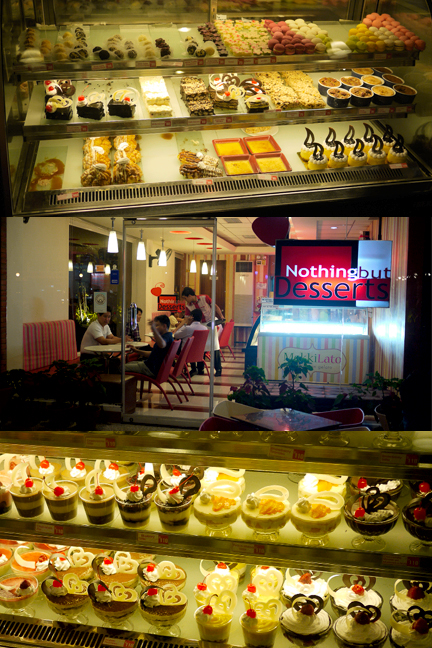 Post dinner, Jorry took us to Nothing but Desserts at the Avenue, Iloilo's version of Serendra.   I absolutely fell in love with this place.  Light, airy interiors, Lavazza Coffee, Gelato, Pastries, Macarons , Panna Cotta and Trifles  that came in various flavors all of which were individually portioned and reasonably priced between P25 to P110.  What's not to like?Sadly, I did not do my order of Chocolate Decadent Trifle (P110) justice as I was just too full to appreciate it. I did take note though that it was delicately made and that the ingredients used were top notch.  I hear rumors of a Manila branch in the future.  If it does come to fruition, then Nothing but Desserts will give the other existing dessert places a run for their money.
I realized that during my short stay, I have barely scratched the surface of Iloilo's rich culinary landscape.  There are many more places to discover and delicacies to try  like Bingka and Baye Baye. Plus, it is always nice to visit a city that still has a semblance of small town/old world charm.  Reason enough to plan another trip soon.
I would like to thank Jorry Palada again who's hospitality made us feel welcome.
Ted's Old Timer Lapaz Batchoy
Multiple Branches
Breakthrough Restaurant
Sto Nino Norte
Arevalo, Iloilo
Tel +63 33 3373027
Nothing but Desserts
The Avenue
Smallville Complex
Aquino Avenue, Iloilo
Tel +63 33 3295815
LABELS: Batchoy, Dessert, Food and Travel, Iloilo, Pinoy Food, Sanju, Seafood, The Travelling Table