By sanju on 2 March, 2011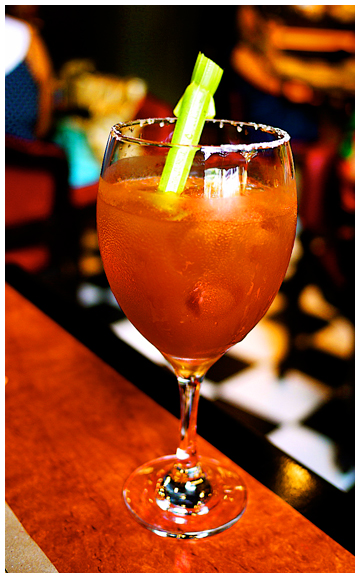 As part of our series on Hangover Helpers, I have asked a couple of my favorite places for their recipes of their take on the Bloody Mary. Also included, is the recipe from the St. Regis Hotel New York Bar. It is said that the Bloody Mary originated at the St. Regis New York during the 1950's.
We hope that you enjoy these recipes. Chin Chin!
St. Regis New York Recipe:
2 ounces vodka
2 ounces tomato juice
1/4 ounce fresh lemon juice
2 to 4 dashes salt
2 dashes fresh black pepper
2 dashes Cayenne pepper
3 dashes Worcestershire sauce
Shake with ice and strain into a short glass.
No. 38 Bloody Mary:
1 shot of Vodka
8 ounces of tomato juice
3 drops of Tabasco
3 dashes of Worcestershire sauce
1 dash of salt
2 dashes of pepper
1/4 ounce of fresh lime juice
1 celery stalk
Using a 12 ounce highball tumbler with a salted rim, mix vodka and tomato juice. Stir. Add Tabasco, Worcestershire sauce, salt, pepper and fresh lime juice. Garnish with celery stalk.
LU's Bloody Mamou: (comments by Chef Luis de Terry)
120 ml tomato juice (We use Dimes from Turkey)
15 ml lemon juice
45 ml vodka (Our house pour is Stoli)
8 drops Tabasco
4 dashes Worcestershire sauce. (This is a big success factor… if you put too little, it turns out bland)
salt and pepper to taste.
Table for Three, Please would like to express our gratitude to Chef Luis de Terry and San San Clemente for sharing their recipes.
LABELS: Bloody Mary, LU, No.38 Sports Lounge and Grill, Sanju, Table Recipes