By Anonymous Paul on 13 February, 2011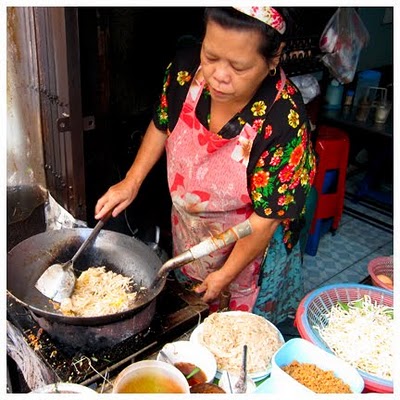 Pad Thai is probably the Thai food portal. It's so simple yet so good that it just piques ones interest and sucks you in to find out about other great Thai dishes. At least that's how it was for me. This dish was born on the streets and I find they do taste best when eaten in its natural habitat. One need not spend upwards of Bht40 to get a great plate. Very rarely will you see Thais order this in proper restaurants with a proper meal along with other viands as, however good, it's still considered a one-dish-meal quickly eaten during hurried lunch breaks. It would be like ordering tapsilog over at a lauriat.
But hey, I've probably eaten this for breakfast, lunch and dinner. Preferably at places like this (which also abounds every Bangkok neighborhood).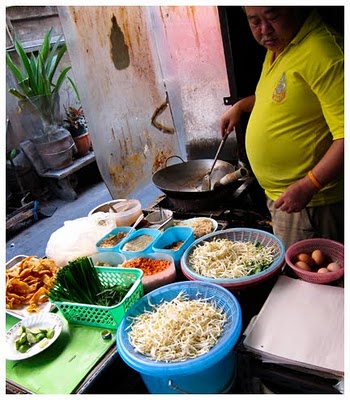 Here is a one dish shop-house wherein this husband and wife combo have been banging out pad thais for definitely more than at least a decade now. An efficient mise en place surrounds whoever's cooking with tamarind water, rice noodles, chili flakes, bean sprouts, tofu, dried shrimp, eggs, crushed peanuts, chives, sugar and manao. Nothing else. (No, there is no ketchup). And everything gets cooked in one wok, one order at a time. Which can be a bummer if you get to the place with more than a handful of people in line. But what you will always get is something very consistent.
They plop in front of you a blue melamine plate of spicy, eggy, al dente noodles with a bit of brininess and pungency you get from the dried fermented shrimp. You then top the plate with even more bean sprouts, garlic chives and a squeeze of manao (lime) to balance fresh and fried flavors.
And then as a final step before eating: tweak with vinegared chilis, chili flakes, patis and sugar. Mix, mix, mix and then be surrounded with the sound of serious eating…silence.

70 Soi Somboon Panya
off Siphraya Rd, Bangrak
Bangkok, Thailand
LABELS: Anonymous Paul, Bangkok, Eating Bangkok, Pass the Pad Thai, The Travelling Table