By sanju on 24 February, 2011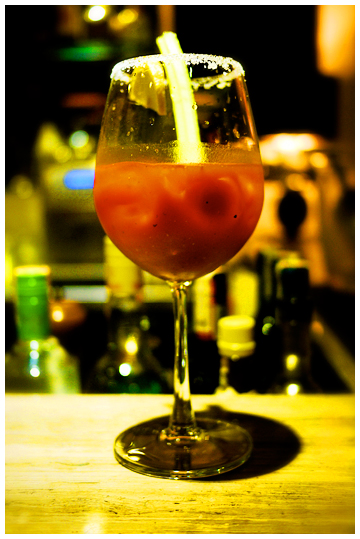 LU's The Bloody Mamou
Cottonmouth, Pounding head, general fatigue and the words "I will never ever f_____g drink again" coursing repeatedly through what little is left of your rational self. Does this sound familiar? Yes you got it, the dreaded hangover. I have gone through it a few times and it is never pretty.
There have been many remedies that have been touted as the best but none has been more popular than the Bloody Mary. Vodka, Tomato juice, Tabasco sauce, a dash of Worcestershire sauce salt and pepper has been the common ingredients of this famous cocktail cum remedy. Its origins have not been too clear-cut. Wikipedia says that the modern version was served in The St. Regis Hotel in New York during the first half of the 20th century. Some say that it was named after Hollywood actress Mary Pickford, a cocktail waitress named Mary or, even Mary Queen of Scots. In the end though, I have to express my gratitude to whoever it is that came up with the Bloody Mary, as it has become one of my all time favorites. I am normally not into cocktails, but I will gladly make an exception for an excellently made Bloody Mary.
I had to ask though does it really work for a hangover? My research has pointed me to the tomato juice as the critical ingredient. It contains fructose and other enzymes that help alleviate some of the symptoms. This leads me to believe that one can probably forego the vodka. But then again, where's the fun in that?
Although favored as a hangover helper, Bloody Marys make excellent pre or post dinner drinks as well. When C and I go for our usual appetizer nights (will talk about this in a future post), I like having a Bloody Mary or two or three with my meal. I have a couple of favorites that I will share with you:
LU has the Bloody Mamou ( P275). The menu says that it was based on the Bloody Mary that is served at Mamou. I have tried both versions on several occasions and in my opinion, this is one of the few times when the student has bested the master. Lu's version is for me the ultimate classic. Its flavors are all on point and well balanced. Chef Luis de Terry has graciously shared his recipe for all of us to try at home. However, I strongly suggest that you head over there and personally give it a try.
Coming a close second is the Bloody Mary (P160) that is served in sports bar No. 38. Their version is spicier, sexier and very in your face. I know it is quite unusual for a sports bar to serve a decent Bloody Mary, but there you go, an unexpected pleasant surprise is always welcome. Bar Manager San San Clemente has also shared No. 38's recipe with us.
I have posted both LU's and No. 38's recipes and the supposed original recipe from the St. Regis New York in a separate post. Please click on this link to view.
LU
G/F Joya South Tower
Rockwell, Makati
Tel. (+632) 403.3991
N0. 38 Sports Lounge and Grill
114-A Jupiter Street
Bel-Air, Makati
Tel. (+632) 519.1806
LABELS: Bloody Mary, Hangover Helpers, LU, No.38 Sports Lounge and Grill, Sanju