By sanju on 3 February, 2011
I am a sucker for all types of "silog" (fried rice and eggs) meals. For me, the basic Filipino breakfast of having garlic fried rice, a couple of runny fried eggs and a serving of tocino or tapa rates way up there in terms of favorites. So, when I heard about a place along Quirino Avenue in Paranaque that supposedly serves the best tapsilog, I had to go and check it out. One evening, I asked my friends J, 2M and E to accompany me to Maty's. You could have imagined the "what weird place is this guy taking us to this time" look on their faces, when I told them that it was a place near the airport. But they gamely put their faith in me and we made the trip down to Quirino, Paranaque for some good old tapsilog.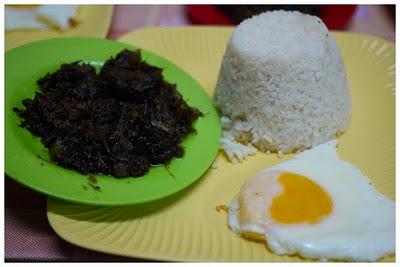 Maty's has been around since the 1960's. Some say that they were one of the first to actually serve tapsilog in Manila. I have so much respect for places that count longevity as one of their assets. It is a testament to the owners' perseverance, the consistently good food and a sense of history. Despite its basic, bare bones setting, Maty's has had countless satisfied customers, covering a cross section of Philippine society. Oh what tales we would be privy to if only those humble walls could talk.
Maty's offers many types of "silog" meals but we all decided to stick to the specialty of the house Tapsilog(P56). While waiting for our food to come, our next order of business was making the sawsawan or dipping sauce. Normally, I like my dipping sauce to be simply a saucer of good quality native vinegar and some chopped siling labuyo or bird's eye chillies. Maty's however encourages you to use their recommended dipping sauce that consists of some vinegar, chopped siling labuyo, a pinch of rock salt and a dash of banana ketchup. I was skeptical at first but I decided to give it a try.
Our orders came shortly after. One serving of tapa consisted of a decent sized portion of tender, shredded beef with just the right amount of fat mixed in. It was gamey, sweetish, oily and delicious. Surprisingly, the dipping sauce worked very well. The sweetness of the ketchup was a perfect counter to the tartness of the vinegar. Being the skeptic that I am, I quickly made my own regular dipping sauce to compare. No contest folks, Maty's version was the clear winner. It complimented the tapa marinade very well. While I was doing all this tasting and mixing, my friends in the meantime had quickly inhaled their orders and were already asking the waiter for seconds. Proof positive that they were enjoying themselves and were not disappointed. Hopefully, the next time I ask them to join me to try out another place, their "what weird place is this guy taking us to this time look" would be replaced by simple acquiescence. I asked them how they would rate the tapa meal they just had, the average rating was 8.5/10. Not a bad rating at all. Here's to many more satisfying years Maty's!
Maty's now has three outlets all situated within walking distance from each other along Quirino Avenue. All branches are opened 24hrs seven days a week. To get there, drive south on Roxas Boulevard towards Coastal Road. Make a left on MIA Road and then a right on Quirino Avenue. You will see the first branch of Maty's on your right after about 500 meters or so.

LABELS: Best Brekkies, Maty's, Sanju, Tapsilog