By Anonymous Paul on 6 February, 2011
For Filipinos, nothing tugs at the heart more than a big breakfast of fried salt-preserved fish called danggit. As I scanned through the metro's breakfast and brunch menus one lazy Saturday morning, I found nothing really convinced me to get out of my boxers and drive out for a morning meal. But I did remember we had been given some danggit (from Cebu's Tabo-an market) that was just in the pantry. It had been sitting there for a month or so and I hadn't touched it as, honestly…it just really stinks up the entire house when you fry it. We don't have a "dirty kitchen" or an outside cooking area as with most Filipino households and so there was no other option but to fry this inside the house. But on that particular Saturday the hunger for a true Pinoy almusal grew to a massive craving that I almost thought I was pregnant.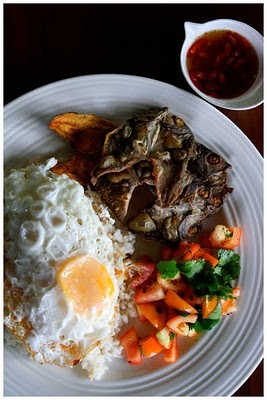 So I fried some day old rice the way I liked it; a little bit moist but still fluffy and with lots of garlic. Some extra large eggs were made in to sunny side ups with still quivering yolks, blistered whites and browned edges. I sliced some tomatoes and cilantro and added a few twists of black pepper and a squeeze of dayap to make a simple relish. I had brought out a precious bottle of some spiced palm vinegar from Quezon and threw in even more slivers of siling labuyo to make the dipping sauce. And for the danggit, I threw them in by batches in about an inch of hot oil. They do a spirited sputtering at first but they calm down after a few seconds. It's at this point where you want to take them out as you know they've been fried through and through; making all parts of the fish crisply edible (head, fins and all).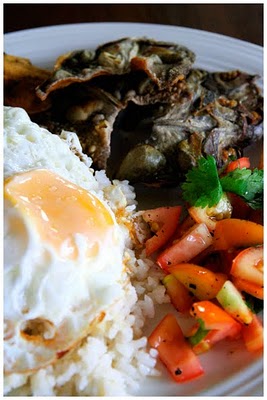 I don't know how you like eating this but I like mashing the egg up in the hot rice. And I like a little bit of everything with each spoonful; rice, egg, tomato, salty fish, vinegar, chili. So good. Which made the fact that it would take a couple or so showers to take out the danggit smell from my hair a little bit more bearable.
LABELS: Anonymous Paul, Best Brekkies, Danggit