By sanju on 12 January, 2011
I spent the last week of 2010 with family in Davao. Amidst the gatherings at home and a trip to the beach, I was able to go to a few restaurants that were unique and totally homegrown.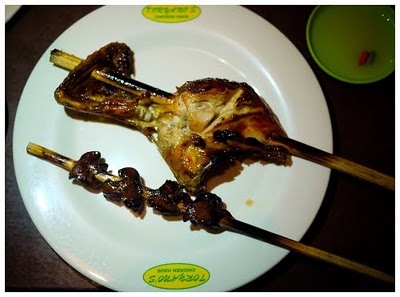 Toryano's Chicken Haus
This place was recommended to me by Chef Gene Gonzalez. I had dinner here one Monday evening and I was surprised to see a large crowd gathered. Toryano's touts itself to be the number one chicken house in Davao. What shines here is their version of native chicken barbecue(P80). Tasty, gamey with a slight sweet glaze that enhances but does not overpower. This is a winner in my book. Those with big appetites should note that native chicken pieces are smaller than regular chicken. So, an order of chicken barbecue may not be enough. Loading up on a couple of orders and availing of Toryano's unlimited Rice offer(P20) may do the trick.
I was pretty hungry so aside from two orders of native chicken barbecue I had a stick of chicken liver barbecue(P20) and a stick of barbecued chicken ass(P20). Aside from the chicken ass, which was a bit tough, everything else was very good. If you are looking for a no frills, good value for money place, Toryano's is it.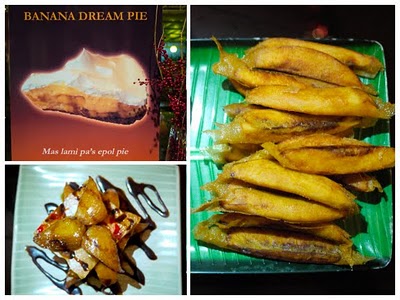 Kasagingan Kapihan
I had dessert here one evening and was quite taken by this charming cafe. The menu as the name implies, revolves around Davao's number one fruit: The banana. I chose a few banana themed desserts to try and I was most happy with the Maruya Supreme(P75). It is a deconstructed turon drizzled with chocolate, strawberry and caramel sauces. The bananas were just how I liked them, not too firm and they had the right amount of ripeness. The natural sweetness of the bananas still shone through amidst all the sauces, making this dessert a definite must try.
The other two desserts that I sampled were a Banana Cobbler(P95) and the Saw-Saw Banana(P110). The crumble was a bit of a disappointment as it was very dry. The Saw-Saw Banana on the other hand, was very good. It consisted of thinly wrapped sliced bananas fried to perfection accompanied by chocolate and creamy custard dipping sauces. Personally, I just like eating the bananas as is without any of the sauces but that's just me.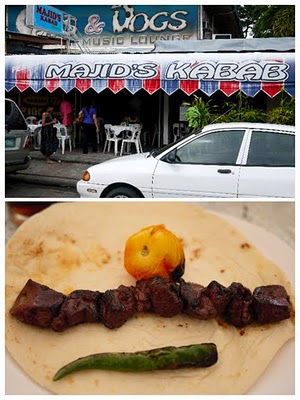 Majid's Kabab
Owned by a former Hollywood stuntman of Iranian descent, this 25 seater restaurant serves great, reasonably priced Middle Eastern food in a simple setting. Most dishes are less than P50 and come with either Pita Bread or rice and a whole grilled tomato. Among my favorites are the Beef Tenderloin Kabab(P43), Goat/Mutton Kabab(P45), Beef Liver Kabab(P30) and Pan-fried Ox Brain(P35). All dishes are grilled or cooked to order and everything was delicious. The servings are adequate at best, but a budget of P200 per person including a drink is more than enough for most to walk out completely satisfied.
As a bonus, spend a few minutes with the amiable Mr. Majid as he regales you with stories of his interesting past. Look through the different pictures of Hollywood personalities posted on the restaurant wall and ask him for some juicy insider tidbits. Who knows, if he likes you enough, he may just oblige.
Legaspi Street, Davao City
F. Torres Street, Davao City
LABELS: Davao, Kasagingan Kapihan, Majid's Kabab, Sanju, The Travelling Table, Toryano's