By Anonymous Paul on 10 January, 2011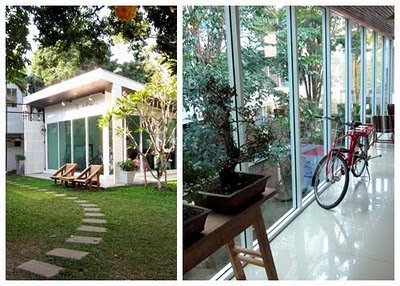 Looking for coffee and Wi-Fi one morning, we saw a sign that read "Mont Blanc Sweet Cafe" pointing towards an alley off Nimmanhemin Road. Mont Blanc is a Chiang Mai born and bred patisserie with only three branches. One in the local airport, one along the main Nimmanhemin Road (which looks a bit tired from all the customer traffic) and this little gem off into the Soi. A very cool place and much more private. I'm assuming their commissary may be in the premises as well given the place's size. The area's more residential than commercial really.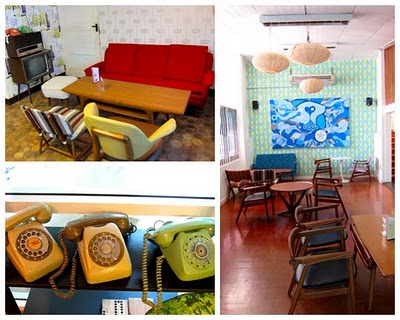 There's a main house and an annex; which both look clean and contemporary from the outside. Inside, I love how they've designed the interiors using retro-modern pieces and reproductions. Psychedelic wallpapers and paintings on the walls, classic tube TV's in a corner, Dutch bikes and Vespas parked along the hall and rotary dial phones on shelves keep your other senses entertained while waiting for your order.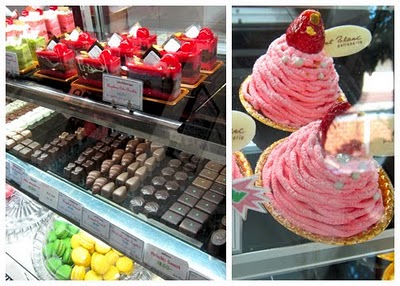 Left: raspberry, pistachio and strawberry cakes, an assortment of chocolates and macarons; Right: strawberry montblancs
The products definitely reflect the packaging as well. You get these perfectly crafted Japanese/Viennese/French inspired cakes and pastries that all look so good it may take a while to order.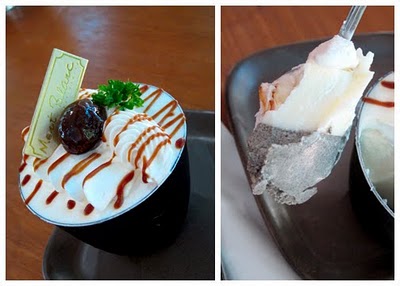 I sampled the Kurogama Mousse; consisting of a bottom layer made with crushed black sesame seeds, a middle layer of milk custard and a top layer of caramel drizzled whipped cream. It was smooth, light and very clean tasting. Yum.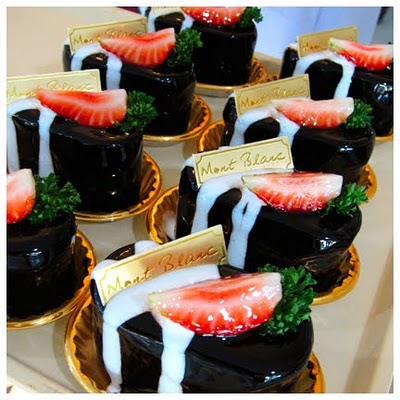 Incredible sheen on all the cakes as on this chocolate covered batch.
They're also popular for their signature Montblanc chestnut cake and ice creams. And oh yeah, they serve some pretty good coffee as well.
Mont Blanc Sweet Cafe
Nimmanhemin Soi 2,
Chiang Mai, Thailand
Tel (053) 210 776
Open daily 8:30am-10pm.
LABELS: Anonymous Paul, Chiang Mai, Dessert, Mont Blanc Sweet Cafe