By Anonymous Paul on 28 January, 2011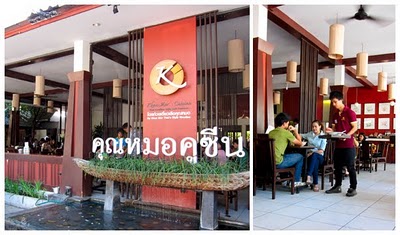 One of the restaurants I liked most in Chiang Mai is this local favorite called Khun Mor's. It's tucked away in a quiet location also within the Nimmanhemin neighborhood. Laid back open air dining with exceptional simple, still inexpensive food despite its growing popularity with the foreigners.
They serve a pretty good Thai-style iced tea (cha yen); whizzed in the blender to produce a thick froth. If you wanted to do this at home, you could easily replicate by just combining brewed tea with condensed milk and Blue Boy syrup. Found in Thai groceries everywhere, the red sugary concentrate sells for less than Bht40 a liter. But you know…when in Rome… just order the darned iced tea.
We sampled a specialty of house; which was a fried egg omelet topped with shrimp over steamed rice. Slightly beaten eggs are literally deep fried in a wok to get this golden brown color and crisp texture. The shrimp were soft and cooked perfectly; just stir fried with some veg for a minute or two. Amazing how a no-frills dish executed properly produces great results.
The sai ua sausage with mixed herbs was also pretty good. But more for tapas I suppose than a viand. The hard, inedible shredded lemongrass and kaffir leaves sort of got in the way of chewing. But no doubt it tasted awesome. All those aromatics with lime rinds, raw onions and galangal made made for some explosive flavors.
They also serve a pretty awesome khao soi. I know, I know I'm still harking about this curry noodle dish; but with a bowl this big and exceptional flavor at the same price you get in the markets (Bht45) I highly recommend you try out Khun Mor's version.
There was a lot more on the menu we had hoped to try out but as least we got to understand why Khun Mor's is so popular. Great place, great food, great quality.
Khun Mor's Cuisine
Nimmanhemin soi 17
Chiang Mai, Thailand
LABELS: Anonymous Paul, Chiang Mai, Khun Mor's Cuisine, The Travelling Table