By Anonymous Paul on 6 January, 2011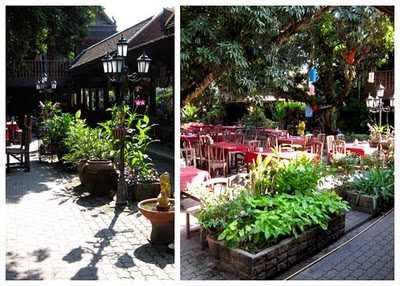 Great to have been in a place I've never been to before over the holidays, i.e. Chiang Mai. Laid back, great weather and excellent food. For our first lunch in Thailand's second largest city, I asked our guide to point us to a place where we could get a sampling of the local food. Referred to as Lanna cuisine, northern Thai dishes are influenced by the cultures surrounding the northern border of the country such as Burma's. Heavy trade with Indians and Chinese have also produced some interesting dishes that have become synonymous with Chiang Mai. Dishes are generally spiced but not as hot as compared to Issan or north-eastern Thai.
In the outskirts of the city, across the canal, over some rough road and into a small dirt alley lies a pretty impressive, open air establishment that not a lot of tourist vans, like ours, get to. Kaeng Ron Ban Suan actually turns into a drinking joint for the locals at night but they also serve some awesome food as well. We had some requisite fare as tom yum and the papaya salads; good, not the best I've had but definitely still better than what we get in Manila. However some pretty outstanding dishes included this perfectly balanced tamarind based curry called gaeng haeng lay. Sweet, salty and spicy with pork so tender; you'll definitely need some rice to sop up the gravy. This was a house specialty, no doubt.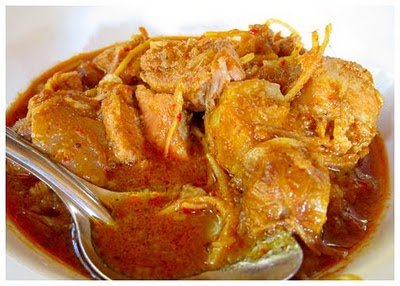 An appetizer plate of boiled vegetables and eggs along with various meats as sai ua (herbed pork sausages), kep muu (chicharon), naem (fermented pork) and fish cakes are served along with nam prik num (finger chili paste) and nam prik ong (tomato based chili paste). The combination of flavors and textures were interesting; the sauces were not as spicy as they looked. And who could go wrong with a variety of pork products? But I have to say, my preferred chicharon condiment would still be cane vinegar; Pinoy style.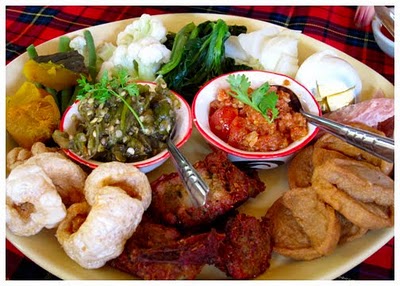 Grilled pork neck (kor moo yang) is more Issan than Lanna though, but since this cut is just so succulent its become part of many restaurants' menus in Chiang Mai. Grilled over hot coals this is served with a sweet chili sauce and lots of fresh coriander. Perfect with some som tam and sticky rice.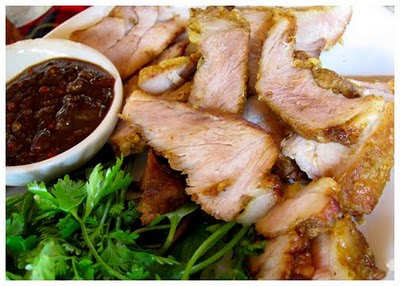 I'm sure you've had some yum pla duk foo (catfish salad) before, but this place serves it with a slight twist. The fish meat is fried to a crisp in larger, chunkier pieces as opposed to being finely shredded. The fish skin is also mixed in. So when you get these small crisp things mixed in with the larger sheets of crisp things mixed in with all these aromatics and manao (lime) you get a super salad. The best catfish salad I've had thus far.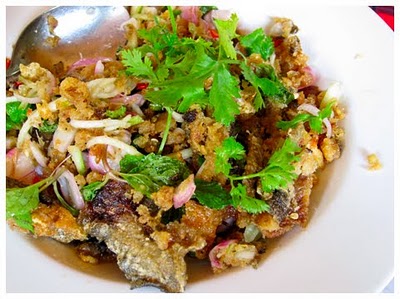 Probably the star dish for me was the yum tua plu (wingbean salad). Its coconut cream dressing was thin as compared to the normally thick (which tends to get sickly). And mixed in with the young and tender wing beans were some roasted skin-on peanuts, fried squid chips (daing na pusit) and cashews. Thai salads are typically very spicy but this, for some reason, was more so. Like a foolish lab rat I still managed a spoonful in between groans from the chili and wiping my sweat drenched scalp. I still wish I were having this right now for lunch.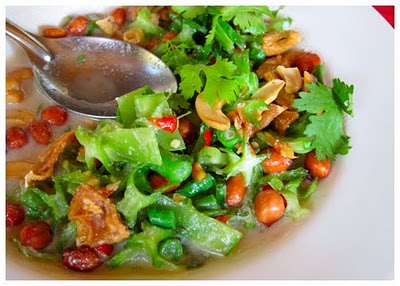 And so the need for dessert. Of which even the restaurant's tabtim krob was superb. Cold and milky with a rose water aroma; the red "rubies" were so pleasantly toothy with crunchy water chestnut centers. The effect of the chilies were miraculously nullified after finishing my bowl.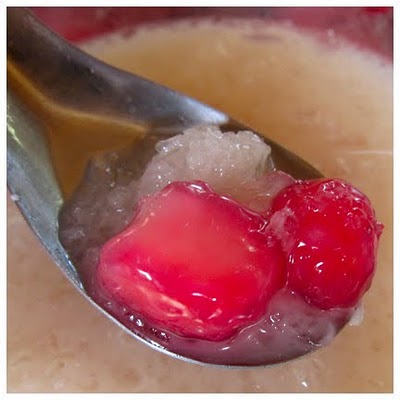 The verdict? You've headed out to as far as Chiang Mai already so heading out another twenty minutes from the city to Kaeng Ron Ban Suan shouldn't be a problem when you want to get a pretty great mix of central and northern Thai food. Another good thing is the price. For a hungry group of twelve the entire bill, including drinks and dessert, came out to about Bht1800 (Php2600). Pretty great value, no?
Kaeng Ron Ban Suan
149/3 Moo 2, Soi Chomdoi
Klangcholprathan Rd.
Chiang Mai, Thailand
Tel. +66 (053) 213.762; +66 (053) 221.378
LABELS: Anonymous Paul, Chiang Mai, Kaeng Ron Ban Suan, Travelling Table