By Anonymous Paul on 21 January, 2011
iBerry started out as a small shop along Sukhumvit 24 (in Bangkok) more than 10 years ago by a couple of siblings who wanted to churn out the best home made ice creams. At present the store count is at 15. Pretty manageable organic growth to keep Thai loyalists coming back for some really great tasting sweets. As Thais love design as well, they've sort of given all the stores/cafes that signature youthful and bright, airy feel. An effort that has associated iBerry with not only fabulous desserts but also being chic dessert destinations.

Probably the most happily designed of all their cafes is located in one of the sois off Nimmanhemin Rd called the iBerry Garden. It's only been open two or three years but has gained status of being a must-see destination for hip travelers to Chiang Mai. We sort of got lost walking around looking for the place as we weren't sure if it was really around the noticeably upscale residential area. But as we walked further in the soi, this huge yellow sculpture emerged amidst the huge branches of this banyan tree. We knew we had arrived.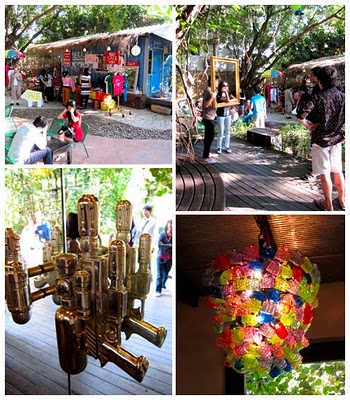 The place is literally a garden. You place your order inside this simple square concrete and corrugated steel roofed shack and, while there is limited seating inside, you just cannot help but be drawn to the eccentric grounds. You get a vast wooden deck with these low, retro lounge furniture sets amidst trees decorated with multi-colored lights. A golden frame hangs from nowhere which make people just go mad with their cameras taking portraits of themselves. Everywhere you look, paintings, sculptures and interactive installation art can be seen; courtesy of business partner/famous Thai comedian called "Nose", who just happens to be a visual artist as well.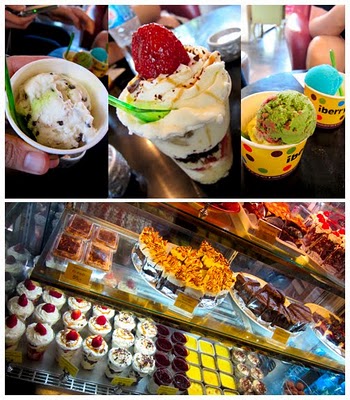 And the food is just as appealing. You can always expect unexpected ice cream flavors in this establishment. We had placed orders for scoops of the feelsgood (lychee, mint sorbet), pumpkin almond, red bean and green tea and chocolate chip. Placing and extra order of the strawberry-banana trifle for good measure. The lychee sorbet was nice and refreshing, the pumpkin and almond was a bit of an acquired taste, the red bean/green tea and chocolate chip were spot on with that signature creamy texture. The trifle I was most happy with as it literally had chunks of fresh fruit within the layers of sponge cake and thick milk custard.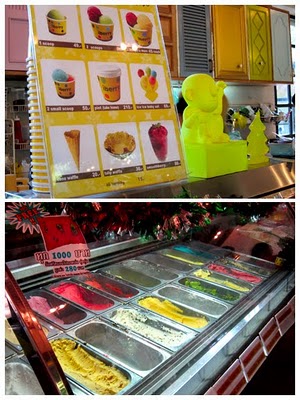 I mentioned this place being the "'happiest" designed iBerry for reasons that we just couldn't stop smiling while we had our ice creams. Was it because of all the trees? The nice cool weather? Or the colorful surroundings? Was there crack in the desserts? Or maybe all that ingested sugar? I have just never been to a place like it.
iBerry Garden
Nimmanhemin Soi 17,
Chiang Mai, Thailand
Open daily 10:30am-10pm.
Tel. (053)-895-181.
LABELS: Anonymous Paul, Chiang Mai, Dessert, Eating Ice Cream, iBerry, ice cream, The Travelling Table