By sanju on 8 December, 2010
If you go through the Internet, there is a plethora of blog posts and articles about the world's cheapest Michelin starred restaurant, Tim Ho Wan. So much so, that I felt that it would be quite predictable for me to join the fray. However, the thought of having cheap but exquisite Dim Sum proved quite irresistible. I just could not stay away.
Aside from serving excellent Dim Sum, Tim Ho Wan is also known for having notoriously long lines due to its popularity. The restaurant is tiny. It only seats about 20 diners at one time. From what I gathered the best time to go is either first thing in the morning or later on the evening, after the dinner rush.
C and I decided to have brunch at Tim Ho Wan the day after we arrived in Hong Kong. This plan would entail us being ready at about 9 AM, take the MTR and arrive at the restaurant 30 minutes later. This would get us there just in time to hopefully catch the tail end of the queue for the first seating when the restaurant opens at 10 AM. After a night of dinner and drinks and more drinks with A and S, our Hong Kong based friends, We arrived at our hotel room way past 2 AM, thus jeopardizing our plans to wake up on time. Surprisingly, we were up and about early enough to get to the restaurant at around 9:50. There were about 30 people ahead of us. We were given a numbered order sheet (available in English) to check what items we would like to order and told to come back after an hour. We spent some time looking around the surrounding markets for about 30 minutes then headed back. Our number was called after around 40 minutes. Not too bad a wait. I would think that we did not have to wait too long since it was easier to seat two people. For bigger groups I would suggest you get to the restaurant at about 9 AM or risk waiting around 2 hours for a table. It is also assumed that diners are willing to share tables.
Once we were seated, we gave our server our order sheet and we were immediately given a printed receipt with a list of all our orders. After a while, our Dim Sum started to arrive. Since it was just the two of us, I decided to stay away from the Pork Shao Mai and the Har Gau so that we could try other items. First up was the Glutinous Rice Dumpling Wrapped in Lotus Leaf (HK$20). A take on our local Machang, albeit a much larger version, this dish was served piping hot with all sorts of goodies inside. I enjoyed eating this dish as I was quite hung over from the night before and it was a great pick-me-up.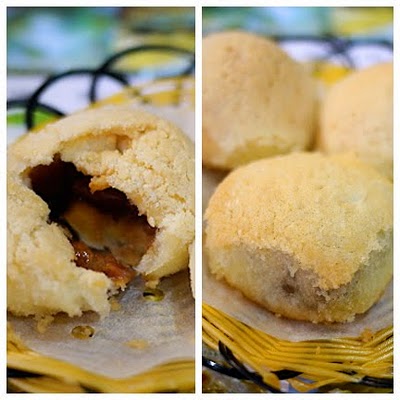 The famous pork buns.
Next we had the house specialty Baked Bun With Barbecue Pork (HK$12/3pcs). This variation of the Cantonese Cha Shiu Bao or our local Siopao had a baked brown crust with a thin layer of crunchy sweetish crumble on top. This dish was impeccable. The pork filling had the right balance of fattiness and flavor. The perfect filling combined with the crunchiness of the bun was a home run in my book. I ate two of the three pieces and, I would have eaten all of it if not for the dirty look C gave me.
An order of Deep Fried Spring Rolls With Salad (HK$12) arrived shortly thereafter. This was the only disappointment of the meal for me. Don't get me wrong; the spring rolls were perfectly cooked. The wrapper was crunchy and was not drenched in oil. What I did not like was the fruit salad-like filling inside. I found it too sweet and devoid of anything substantial aside from a few pieces fruit cocktail. The filling tasted like the Hot Prawn Salad that we normally get at Chinese restaurants here but without the prawn.
I could not resist ordering the Pan-Fried Radish Cake with Pan Fried Turnips (HK$10). Again, this was perfectly cooked. Its consistency was just right: Firm enough without breaking apart. The Cake had pieces of turnip and dried seafood bits (scallops perhaps?), giving it the extra edge it needed.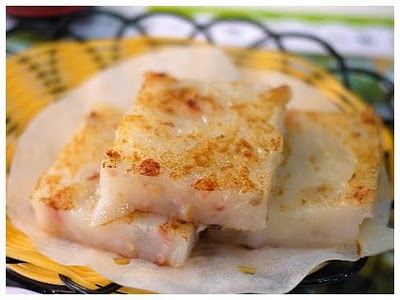 Radish Cake (notice the little yummy bits inside)
The last two dishes we had were requests of C. Being the dutiful husband that I am, I immediately ordered them. Rice Roll Stuffed with Shrimp (HK$17) and Steamed Vegetable and Pork with Mushrooms Bun (HK$12). Both were very good but not extraordinary.
You might guess that we were pretty stuffed after eating all that food. There were other items on the Menu that I would have wanted to try like the Deep Fried Yuba Shrimp Roll and the Steamed Beef Ball with Bean Curd Skin. I however, had to raise the white flag since I could not eat another bite. This gives us another reason to plan a return visit on our next trip to Hong Kong. Our total bill for the whole meal including unlimited servings of hot Oolong tea: HK$87 or about P490! Yes you read it right, P490! Who would have thought that one couple could eat at a restaurant with a Michelin star and only spend that much. Waiting in line for an hour does not seem so bad now does it? Kudos to Chef Mak Pui Gor. He has made such refined and delicious Dim Sum accessible to everyone.
Tim Ho Wan: The Dim Sum Specialists
GF Phase 2, Tsui Yuen Mansion
Closest MTR Station Yau Ma Tei or Mongkok
LABELS: Hong Kong, Sanju, The Travelling Table, Tim Ho Wan