By Anonymous Paul on 18 December, 2010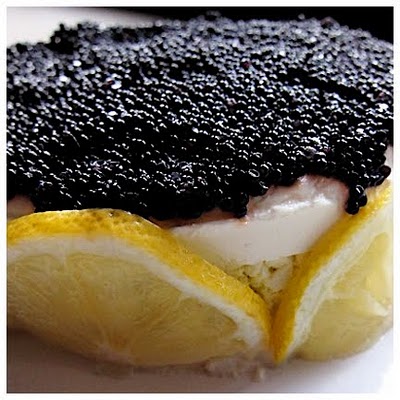 Upon getting home yesterday I was told we were given some sort of cake as a Christmas gift. I checked the refrigerator and saw a nondescript cake box which seemed like it was too big for what it contained inside. I peered through the cover and saw about 5 inches in diameter of glistening black sunshine. On the corner of the lid I saw a tiny golden sticker which just simply read " Caviar Pie" and a telephone number. My goodness, I didn't know somebody loved me this much to send me probably one of my most favorite holiday foods.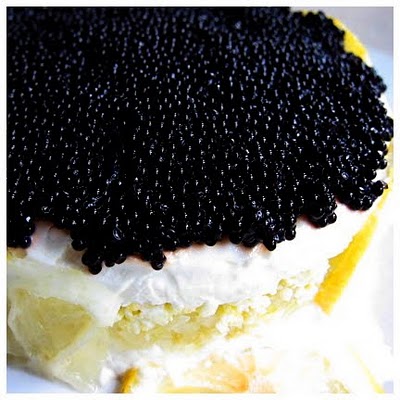 A caviar pie is not exactly a pie but a layered spread made up of cream cheese, chopped onions, hard boiled eggs and sliced lemon rinds. Slathered on top is a copious amount of lumpfish caviar. (Using sturgeon roe is also possible but would definitely be too expensive). This particular pie came along with a bag of toasted pita, but it also goes well with melba toast, crackers and even apple slices. Hell, something like this would taste good with "tasty bread". I love how the rich and creamy base interacts with the slight bitterness of the lemon rind and the tiny briny explosions of the black roe. It's one of those dishes you bring to a potluck to upstage everyone else's dish. The good thing is that it's meant to be shared. But honestly, when nobody's looking, this caviar pie can be good for one.
Caviar Pie
Tel. (632) 722 22 34

For pickup in the Greenhills area.
P1000 for a 5 inch pie.
Available year-round.

LABELS: All I Want for Christmas, Anonymous Paul, Caviar Pie, Table Suggestions