By Anonymous Paul on 2 December, 2010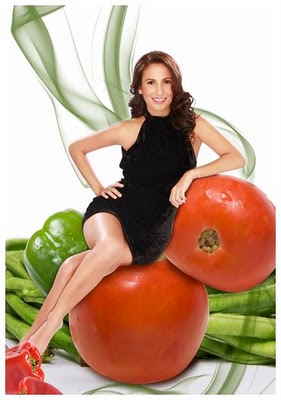 From being a food blogger, cooking instructor and food columnist of the Philippine Star to managing a full-time gourmet catering business, you could say Stephanie Zubiri has indeed immersed herself in the food world. And as if her plate weren't full enough, this dynamic twenty-something now also heads as editor in chief the newly launched Olive Magazine Philippines; a BBC title featuring fast and easy creative cooking, honest restaurant reviews and travel guides for the best eats locally and internationally. If there's something I wouldn't mind doing its eating and traveling for a living…
What was your childhood kitchen environment like?
We had an amazing kitchen with a large marble island. It was rather high up because it was one of those retro homes that was built with the main floor upstairs, so we had an amazing view or an undeveloped Alabang. My mom would make fresh pastas and apple pies. My sister loved to bake. She made the best banana bread and oatmeal chocolate chip cookies. As far as I could remember, the kitchen was one of my favorite places. I had my own mini kitchen tools, even my own set of plates for just my friends and I. I would experiment and make up pasta sauces and pester everyone. I got to eat what everyone else ate and not kiddie food. Never had mango bits to help me chew down my cold untouched food. It was more like "Steph, stop eating!"
Was there any specific moment that made you decide to make food your profession?
It was always my passion; and before leaving for France to do Cordon Bleu I had a stint at Elbert Cuenca's Restaurant 12. Although I enjoyed it I never really thought it would be my profession. After culinary school I finished my degree at the Sorbonne in the University of Paris IV, History and Geography Major with a Masters in Geography and Sustainable Development. I was doing internships with UNEP and the Philippine Delegation at UNESCO. I never really thought I'd go back to food even though I still cooked all the time. When I moved back to the Philippines, I wasn't sure what I was going to do and decided to give cooking classes in my spare time. I had so much fun teaching and sharing my passion. It just came naturally. Plus I got to earn as well. Then I knew, there's nothing better than being able to build a career out of your passion. I had to work in the food industry.
What aspect of food does your writing focus on and why? What drives you to write about food?

My writing is truly about the emotional, cultural, historic and nostalgic attachments we have to food. It's that history and geo major coming out. What makes our dining experiences extra special are the memories and feelings it can extract, conjure or create. A forgotten meal is a blah meal. Even when I cook there's always something I want to transmit. Kind of like the book "Like Water for Chocolate" by Laura Esquivel… Amazing sensory experiences just make me so happy and elated, it can be a really cheap but flavorful hawker laksa, or a delish 14 course meal at Arzak. Awful cuisine, especially when I'm over-charged for it makes me feel angry. I want to share these with people and hope they can share something with me too. I love getting emails and responses for my articles. And the biggest plus about being a food journalist? Meeting people who are just as passionate as I am and learning from them.
Every article you write in your Feast With Me column and your blog seems to be set in a different place, or country. Was there a place where you didn't think you'd enjoy the food and ended up loving it? Could you give examples of dishes and why you liked them?

Well I've been invited more and more to places around the Philippines, which is great! I get to see my country and explore through its different dishes and local flavors. I'm lucky that as I establish myself further in the food journalism industry, I get to travel around and discover. To be honest, there has been no place yet where I didn't think I'd enjoy the food. I never think that way. Whenever I travel I always look for "What can I eat here?" I already have a list of must-tries. I did go to Cuba and find most of the food a little repetitive and oily, I was hoping for more Caribbean, tropical cuisine. But it is so difficult to buy produce. Then some friends of mine invited to their home and cooked the most amazing meal ever! Lobsters he caught just that morning, marinated with coconut and grilled. Fresh corn tamales made by his wife, the corn meal pounded at home. Bonito cooked with pineapples in a pressure cooker, sweet and savory, tenderly delicious. Some fried bananas and my favorite: congri. Congri is rice cooked with black beans and topped with onions and fresh cilantro. Add some sliced fresh avocados in salt and vinegar. Wash it down with REAL mojitos, home made with freshly picked yerba buena (not mint), aged Havana club rum, fresh bright green limes and sticky brown sugar.The sound of Afro-Cuban beats in the background, laughter and friendships being formed in the courtyard of a weathered down colonial home in Trinidad. It was beautiful.
Do you have a food obsession? Like a type of food, dish or ingredient? Please share.

I have several, and more. I have like food obsessions of the month. Like I'll go for one month of just making cauliflower in different ways. Or maybe use Hungarian sausages for different purposes. My recurring favorites? Chorizo, truffle oil, pasta, eggplant, really yummy french fries and egg. My current food obsession of the month? Crispy, deep fried danggit. I love it for breakfast! And Bicolano New Look daing with garlic rice, scrambled egg, ensaladang talong and vinegar.

Where do you find yourself heading out to for after-after-party noshes (or binges) and why?

My fave used to be McDonald's… twister fries are the best! I nearly cried when they took it off the menu wailing at the poor drive-thru speaker. "Why oh why?" But I had to really stop eating after drinking… nothing worse than making your tummy big. In France I used to live beside a Pizza Pino which would stay open till 5am… pizza with fresh mushroom and ham! And another African chicken joint my friends and I discovered: Babylon Bis… open till 8am!
Your favorite restaurant in Manila?
It's got to be Sushi Kappo Kobikicho. Impeccable service, great conversations with Chef Shintaro and oh soooooo amazing food. He always sneaks me some new thing try. I am not nearly wealthy enough to eat there as often as I would like though! I also enjoy Apartment 1b for their veggie lasagna and laid back feel. I love Cyma for healthy and tasty lunch options.
Anything you would not eat or never eat again?

Moldy, illegal, full of maggots disgusting Corsican u casgiu merzu cheese…ugh. It's so pungent your mouth gets hot! Aaaaaack!

For someone who obviously likes eating, how do you keep so annoyingly svelte?

I have a very unhealthy yoyo diet! I put on five pounds… I lose five pounds… Put on, lose it… It's very unhealthy. I'll binge and do no exercise at all then go super healthy and workout insanely. I'm trying to keep a healthier lifestyle. No limitations just portion control. Like I don't have to eat that 350g rib eye steak! I can share it. Also trying to exercise more regularly and eat more veggies. Wish there would be more healthy fast food or easy lunch options in the market!
Photo by Raymund Isaac
LABELS: Anonymous Paul, On The Table, Stephanie Zubiri