By Anonymous Paul on 26 November, 2010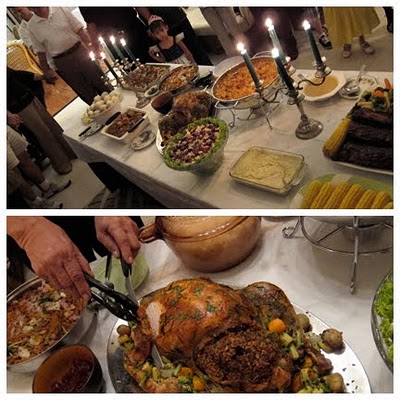 Nowhere in Philippine history did Native Americans saving European pilgrims from starvation by teaching them to sow the land and fish occur. However, one of the earlier Spanish explorers who tried to convert locals to Christianity in 1521 was met by bamboo spears and cutlasses. But I digress.
Thanksgiving dinners are in essence harvest festivals. Which has evolved over the years as a time to reunite with friends and family. Even inviting new acquaintances into ones home and celebrating with copious amounts of holiday food. Turkey being native to America has long been considered as a symbol of prosperity, hence its use. However, it is not actually believed that turkey was served in the first Thanksgiving menu; in fact, venison, lobster, geese and shellfish would have been more accurate. But I digress again.
The concept of giving thanks isn't really a foreign concept for Filipinos. We hear thanks giving masses for every single blessing a family receives. A son or daughter graduating; passing the bar or board exams. Even a promotion or getting a first job entails some bit of thanks giving. But it's the concept of the Thanksgiving dinner itself that's a little bit alien. You see we have a couple of months to do that; basically called the Christmas season, wherein Christmas dinners are celebrated as early as the first week of December till the first few weeks of January to be able to meet up with all of one's friends and family. It gets hectic. And stressful. So celebrating Thanksgiving might seem a bit of overkill for a regular Filipino as it adds another two weeks to the normally already busy holiday season.
But yesterday we were invited to a friend's family's Thanksgiving dinner. Having spent most of their childhood in California they started and kept observing this practice for what it represented. The primary purpose of giving thanks for the blessings during the year and also spending time with family. Of course there was the turkey with all the fixings but everyone pitched in a dish or so ranging from boiled corn and barbecued ribs, some ridiculously good chicken adobo and callos, penoy from Pateros and classic pumpkin pie among others. A "best of" menu of sorts of the clan. Which of course we were quite honored to be sampling that time. We went home a little inebriated and a lot full; even bringing home a little plastic container of that killer adobo as a souvenir. But what we also brought home was the fuzzy feeling of being like a part of the family. Which was the cherry on top of the icing on top of that decadent chocolate cake.
LABELS: Anonymous Paul, Table Conversation, Thanksgiving