By Anonymous Paul on 13 October, 2010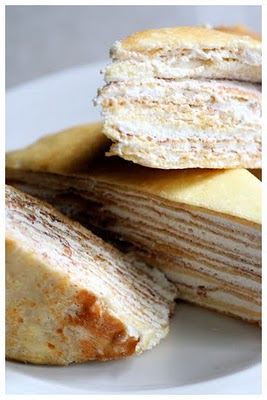 Over a lunch party at a friend's place I overheard someone say they ordered a huge crab cake about a foot across. I incredulously blurted out: "A 12 inch crab cake?! Where can I get this?!". To which I got blank stares. Apparently they were talking about a crepe cake…not crab. Curses.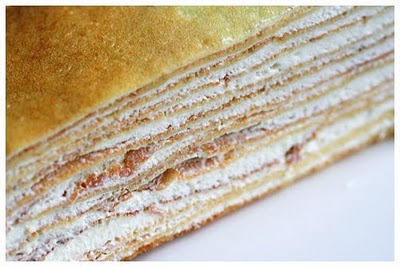 But by some divine providence a box of this very crepe cake was gifted to us just a couple of days after that particular lunch. A big box. I have to say when we took the top lid off the pastry inside seemed to lack something in the aesthetics department. Not too sexy. It literally just looked like a massive 12 inch pancake about 2 inches in height. However you can't really see the love put into it until you've cut the first piece; wherein you see layer upon layer, about twenty, of super thin crepes slathered with sublime vanilla scented cream in between. Pretty laborious to make.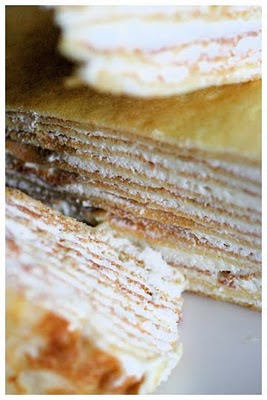 It's a simple concept with great results. The crepes still retained its slightly chewy texture and savory character while partially soaking in the sweet whipped cream. I can imagine this being drizzled over with a fruit syrup or coulis. Or some booze like Gran Marnier. Or maybe incorporated with some slivered nuts or grated chocolate in between and all over. Hell, I think this'll even go perfectly with maple syrup and crisp bacon slices. With all the possible permutations though, I'm not giving up on seeing a flaked crab and herbed creme fraiche version in the future. In not anything less than 12 glorious inches in diameter. But for now, the original version more than satisfies.
Dessert du Jour by Mara de la Rama
+639178116272
LABELS: Anonymous Paul, Dessert, Dessert du Jour, gateau de crepe, Table Suggestions