By sanju on 18 October, 2010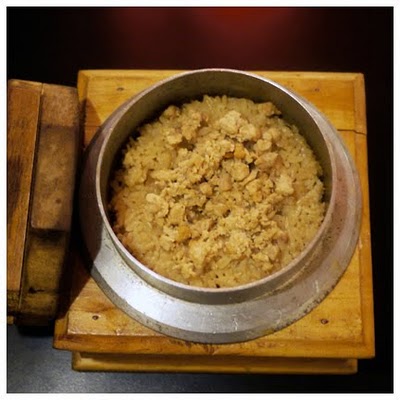 The year was 1981. A friend of my mom tells her about a new Japanese restaurant that serves delicious rice cooked in metal kettles topped with meat. My mom keeps the tip in mind and suggests it for our regular Sunday dinner. Thus began my family's love affair with Kamameshi House and more specifically, Kamameshi Rice.
The original Kamameshi House is still located near the corner of Zobel Roxas Street and South Super Highway. It started simply, in a makeshift driveway with wooden tables and benches similar to what you would find at picnic areas. Air conditioning and a second floor were added later on for comfort and to accommodate bigger groups. I have been eating at this branch for almost 30 years I have seen the restaurant through its ups and downs. It also helps that my office is located close by. This makes Kamameshi House a convenient stop for quick lunches with clients or for some take out.
The Menu of Kamameshi house goes through the whole spectrum of what any other Japanese restaurant found in Manila would serve. Aside from a very good Katsudon (P291.20), the food is generally quite decent. However, the rice totally stands out. My favorite is the Chicken Rice. (P128.80. Price when we started eating at Kamameshi House in 1981: P12!). The rice arrives steaming hot, ensconced in a wooden container with a wooden cover. Lift the cover, and revel in the aroma as it wafts through the room. This experience alone makes this dish a must try! It is good for one very hungry diner or two light eaters. Of course, as with any other type of rice dish cooked in metal pots or kettles, there is always the "tutong" or burnt rice crusts found in the bottom, to look forward to. Kamameshi's chicken rice has been at the top of my all-time favorite comfort food list. Growing up, I would always ask for the rice during bouts with the flu as it would be something that I would never refuse to eat even when I did not have an appetite. Visiting friends and relatives, who have moved abroad, also make it a point to ask to be brought to Kamameshi House as they also miss eating the rice. My own children have grown to love and look forward to eating the chicken rice paired with their Ebi Tempura.
I have tried many other versions of Kamameshi Rice in different restaurants. However, I always find myself drawn back time and again to Kamameshi House as it is only theirs that satisfies me completely.
New Kamameshi House

5787 Zobel Roxas Street.
Palanan, Makati.

Tel: (+632) 5256284.

With branches at the Quezon Memorial Circle, and Westborough, San Francisco, California.
LABELS: Food Nostalgia, Japanese Food, New Kamameshi House, Sanju