By Anonymous Paul on 7 September, 2010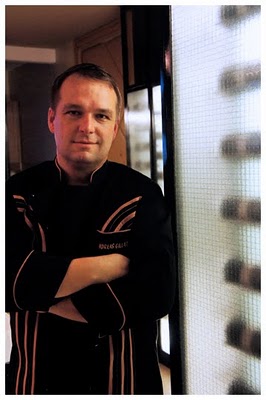 Austrian executive pastry chef Andreas Gillar has been in the exacting pastry business for more than two decades and running. After his studies in Vienna and managing pastry kitchens in major hotel groups all over Asia, including the executive pastry chef post of The Peninsula Manila, he now joins Enderun Colleges' esteemed faculty.
Fresh off a highly successful one-night only 8-course dinner at Restaurant 101, Master Chef Gillar ingeniously showcased an infusion of pastry techniques to savory dishes; churning out exotic fare as foie gras macarons, lobster panna cottas and black olive and cured tomato baklavas. Topping off the dinner was not one, but three decadent dessert courses; including a 68% bitter chocolate mousse I'm still suffering withdrawal from.
Did you grow up with food? Any particular food related memory as a child?
Yes, I grew up with food, also we Austrians love to eat! None in my family or relatives was really into the food business but as a child at the age of 12-14 I helped my mom in baking the Sunday afternoon teacakes.
What made you decide to be a professional cook?
Well, maybe it was by accident. Back in Austria, next to our school was a small cafe house and they had a show kitchen. From the sidewalk you could see the chef decorating cakes and it looked so nice! Probably this can be one reason why I chose pastry. When I started to apprentice, I found out the hard way that it wasn't that easy to make nice pastries because it needed a lot of effort and patience. But I started to love my chosen business. I learned fast and studied hard. At the age of 22 I went to the Master School for Pastry in Vienna to attain the highest level of pastry knowledge.
Any advice you could give to home enthusiasts/home bakers?
Start simple. Be open to learn the basic methods (even I still need to stick to basic methods). When the basics are learned well it's easy to build up on it after.
Stay only with natural ingredients and flavors.
Being a sort-of home baker as well, you have a long list of products to offer clients. I'm sure you have your popular items but what is your favorite among them and why?
Green Tea Opera Cake: its basically a classic cake, but the green tea flavor gives a nice touch to the product??.
Chocolate Raspberry Cake: its a chocolate mousse cake (with a strong chocolate taste) with raspberry jelly. I love the combination of chocolate and the sourness of the raspberries, its goes beautiful together??.
What I basically try in many items is not to bring in different tastes alone. I also focus on different textures…crunchy, creamy, foam, jelly, etc. And even spices I use from time to time like chili with chocolate and pink pepper with berries.
Do you like any Filipino sweets?
There are plenty of nice desserts in the Philippines. Sansrival, ube (like sticky rice) and halo-halo.
You're at home, hungry; what would you have as a midnight snack?
Here in Asia I got used to midnight snacking. Usually it's a homemade ham, egg and cheese sandwich and a beer. With cheddar cheese and sour cream flavor Ruffles- that is the real fat maker!
Anything you would not eat or never eat again?
Durian. Yuck. In Indonesia they made me eat durian. I'd rather have a balut than durian.
If you didn't end up as a chef, what would you be?
A ski teacher. Back in Austria I was a great skier. I even got offered a job once.

LABELS: Chef Andreas Gillar, On The Table