By sanju on 27 August, 2010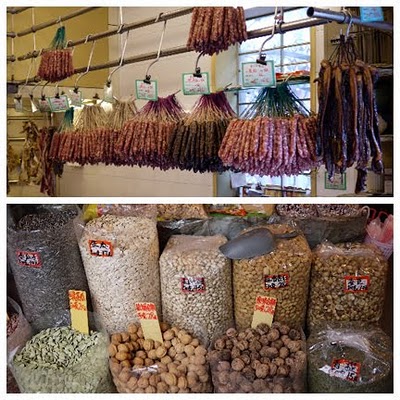 I am absolutely fascinated by visiting food streets. So much so that I make it a point to plan a visit every time I travel. Don't get me wrong, I enjoy eating at good restaurants, but I have always believed that to get a taste of the soul of a particular country's cuisine; eating on the street is a must. At this level, the food you will find is reasonably priced, almost always delicious, and you will definitely be spoilt for choice.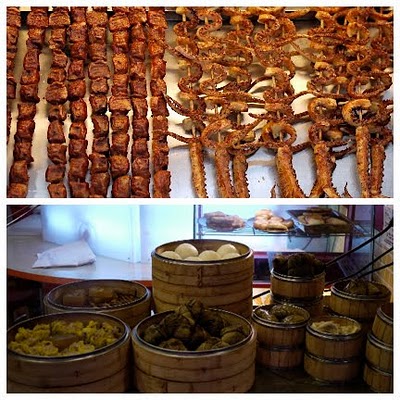 From the top: Lamb & Cuttlefish Skewers Shanghai; Assorted Steamed Dim Sum Guangzhou
The most recent food streets I visited were the Tung Hwa Night Market in Taipei, the Shangxia Jiu Lu/Qi Lou lu Pedestrian Street in Guangzhou and Xizang Nan Lu Food Street in Shanghai.Normally, a food street is closed to vehicular traffic. Vendors and their carts abound in the center area selling mostly snacks or food that could be easily handled. On both sides of the street, there are more permanent establishments like eateries, sweet shops and various merchants selling anything from trinkets to DVDs.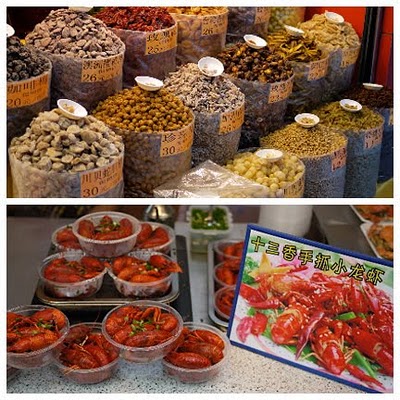 From the top: Various Preserved Fruits Shanghai; Grilled Langoustines Guangzhou
The star of the show of course is the food. Locals who live in the areas close by have their favorites and long lines are not uncommon at these stalls. I would normally as rule of thumb, join these lines to get a feel of what the locals are into. Often, the stalls that have the longest lines have been around for many years. Many are owned and run by families who have passed down their secret recipes to members of the next generation. It can sometimes get a bit overwhelming as there are many things that I want to try but one's stomach, even mine, has a capacity limit.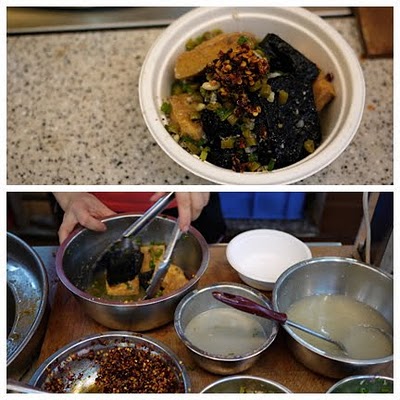 My Kraken: Chou Doufu
During my visit to Tung Hwa Market, Howard my Taiwanese friend, insisted that I try Chou Doufu or Stinky Tofu. Chou Doufu is one of the most recognizable snacks found in countries like Hong Kong, Mainland China and Taiwan. Its aroma is unmistakable and its reach is quite expansive. Walk into any general area where they serve Chou Doufu and you will definitely be welcomed by its distinct smell of fermentation. We were served two types of Chou Doufu: Fried with some chili sauce and radish pickles and the black colored Hunan style in a broth of goose blood. I have always thought that I could eat anything but this time, I think I have found my Kraken. I first ate the fried one and it was tolerable bordering on good. Then I had the black one. Its flavor was overpowering but still edible enough to swallow. The problem was the aftertaste that came after. It was like something died in my mouth and refused to be spit out. Never did I need a breath mint more than at this time. Will I try eating Chou Doufu again? Oh most definitely. Now it has become a challenge, and just like Perseus, I need to slay my Kraken.
LABELS: Food Streets., Guangzhou, Hong Kong, Sanju, Taipei, The Travelling Table