By Anonymous Paul on 3 August, 2010
The wife, having been to Singapore recently, brought home with her a special package. The contents wrapped in paper and sealed in a special plastic bag. No, it wasn't any of those brand name, designer stuff you find along the shopping stretch of Orchard Road but a parcel of Bee Cheng Hiang's gourmet bakkwa. I die.
Bakkwa

is sort of like a Chinese style beef jerky, except usually made of pork. To make it you marinate lean minced pork with sugar, salt and other secret herbs, let it set in a thin layer before its smoked and grilled. The end product is a sweet/salty sheet of

asado

flavored meat. It's good but I'm not really a fan of it as the lean meat mixture usually toughens up in the cooking process.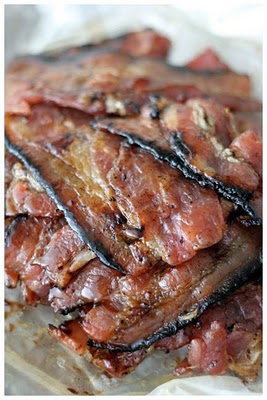 Beautiful pile of pork.
In the early 2000's Bee Cheng Hiang came up with a recipe for "gourmet bakkwa", using rashers of streaky pork belly instead of minced meat. The end result was so successful that they came up with a spicy gourmet bakkwa variety not long after. There's a huge difference from the original recipe in terms of texture in that it remains tender and moist even days after they're grilled. Not that it'll actually last long after taking a pack home.
And so I snip open the sealed plastic bag and immediately its smoky aroma gives my nostrils a wake-up kick. My mouth instantaneously waters. I pry open the oil-soaked paper to unveil the mound of glistening, caramelized strips. I shudder as I sample a morsel; the fat just oozes with every bite and the flesh just melts in the mouth. An intense pork flavor fills my palate with hints of five spice and fish sauce.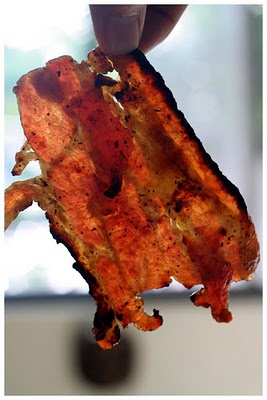 Like stained glass. Lovely streaks of fat and crispy burnt edges.
It's perfect torn into small pieces and chucked in a bowl of hot congee. Or maybe eaten like tocino with garlic fried rice and a sunny side up. I like it in a toasted baguette just as much as in a soft pan de sal; with no other condiment. But on its own, preferably warm, it's greasy goodness to the nth degree.

Bee Cheng Hiang
LABELS: Anonymous Paul, bakkwa, Bee Cheng Hiang, Singapore