By Anonymous Paul on 8 March, 2010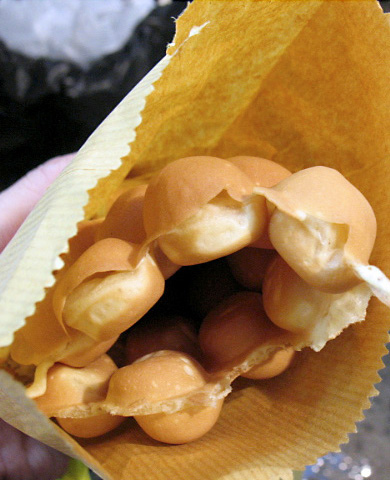 A Warm Bag of Gen Dan Jai
You could literally walk for a few kilometers while doing the rounds of street shopping in Hong Kong. In places like Granville, Mongkok and Lai Chi Kok, some shops close around midnight on a daily basis. Fortunately lots of food stalls can be found everywhere for weary shoppers. From a variety of skewered undiscernible animal parts, fried vegetable fritters, simmered meatballs in funky gravy and tofu – all good, mind you. But nothing will probably keep you going more than the street shopper's power bar, the
Gei Dan Jai
. Basically, it's a waffle. Nothing more, nothing less. Except, I suppose nothing beats a hot, freshly made one.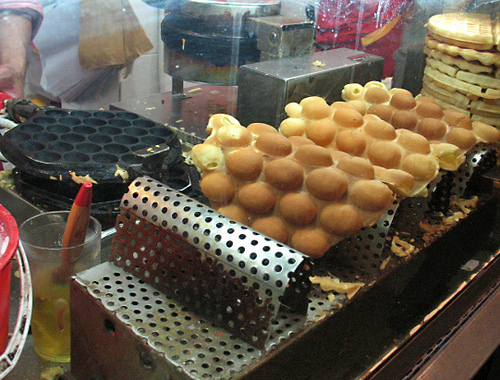 Fresh off the Griddle

Special waffle irons churn out these giant bubble-top shapes. For HK$10, you get these smoldering treats in a thin brown paper bag. You carefully detach a piece (requiring some dexterity so as not to burn one's fingers) and pop in your mouth. As with any properly cooked waffle, you get the soft, chewy middle with bits of those thin crispy crusty edges where the griddles meet. It has this wonderfully eggy, custardy aroma. Fantastic.
Other variations come with fillings such as chocolate and taro paste. A certified old-school street treat.
LABELS: Anonymous Paul, Gen Dai Jai, Hong Kong, The Travelling Table