By franco on 4 March, 2010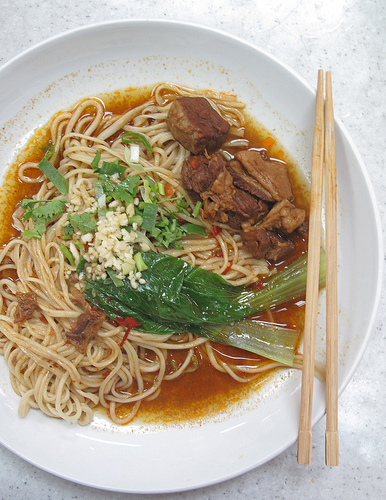 Braised Beef Dry Noodles
There are noodles and then are hand-pulled noodles.
While discuss arrangements for a party,
Chef Him Uy de Baron
enthusiastically told me about this little place in Little Baguio that made amazing Chinese noodles–simple, flavorful, handmade noodles made by a guy who "just got off the boat from China." I'm not sure if the "just got off the boat" part is true but being the consummate lover of noodles and of small dining places, I decided to pay
Beijing Hand-Pulled Noodles
a visit.
Over the past couple of years, J. Abad Santos and its adjacent byways have become an interestingly diverse epicenter of dining. From Mexican tacos to Italian lasagna, from Shanghainese Xiao Long Bao to Taiwanese bubble tea, from cheap-ass steaks and the best (at least, in my humble opinion) Cantonese fast food, the choices seem almost boundless. But tonight I am looking for a nice bowl of noodles.
Ingredients-wise, hand-pulled noodles are not particularly unique. Wheat flour, water, salt are all that is needed to make noodles. But what make these particular noodles into the strands of goodness are the swift and adept hands of a noodle chef. At Beijing Hand-Pulled Noodles, this process happens with every order, on the hour, every hour. Thus, every customer is assured a bowl of freshly made noodles with every visit.
A. asks to split a bowl of Braised Beef Dry Noodles (P130). The servings are generous enough so I heartily agree. Besides, I need to save some space for the other tempting side dishes I spy on the menu. Our bowls are simple: quickly boiled noodles covered in reddish beef broth and garnished with cubes of delicately braised beef, minced garlic, slices of red chilies and stalks of bak choy. With just enough spicy kick to keep interesting, each chopstick-full is warm and comforting. Wanting to try some side dishes, we place an order of Deep-fried Pork Dumplings (P70) and an intriguing plate of Sea Grass (P70).
The fried dumplings truly hit the spot–a crispy, golden brown shell surrounding a savory center of minced Chinese sausage, herby greens, pork meat and fat. Dipped in a tangy dipping sauce, each dumpling is raised to a new mouthwatering level. The sea grass is another story. Being a sucker for the strange and unusual, the name draws me in. But what arrives at the table does not so much resemble grass as it does an oddly sea green pasta. I appreciate its interesting taste which had a distinct flavor of seaweed. That is, of course, if you could get beyond the rubbery mouth feel and the slightly over-powering zing of the black vinegar dressing.
Admittedly, Beijing Hand-Pulled Noodles is not for everybody. I've heard some people complain about the lack of a more extensive menu or even that food is so unadorned that it borders on the boring. I guess it a matter of perspective. For me, the fact that their focus is making great noodles and that they are more concerned with flavor than impressing you with fancy plating, makes this place a true comfort food destination. This is one restaurant I would not mind coming back to again and again.

Beijing Hand-Pulled Noodles

LABELS: Beijing Hand-Pulled Noodles, Manila, Restaurants, Table Suggestions