By franco on 13 March, 2010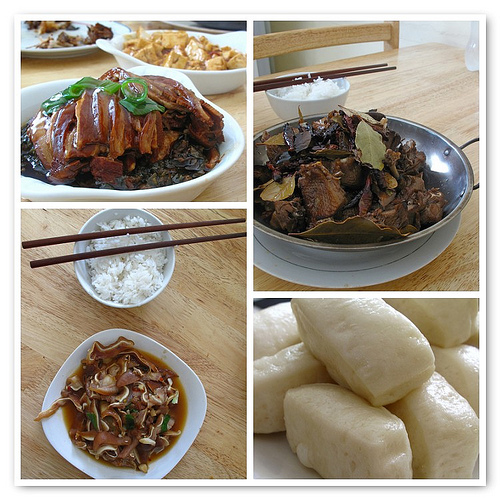 from top left, clockwise

Braised Pork, Hot Pot Duck, Cua Pao and Cold Pig's Ears
I hate eavesdroppers.
While having a dimsum brunch at Jasmine with Stitch and his lovely wife, M, our conversation meanders between work, the kids, mutual friends but eventually settles on our favorite topic — food. Specifically, we are having a semi-heated rant session on why there is a lack of Chinese regional cuisine in Manila nowadays. While the rest of the world is discovering the wildly wondrous tastes and texture of China, it seems that local gastronomes are stuck with the same Cantonese same-old same-old.
"Where is our Sichuan Pepper Pork Belly?!" I demand as I suck on the last of the chicken feet.
From out of nowhere, our server suggests, "If you like spicy food, there is a restaurant near Rockwell you might like…" He continues to refill our empty teacups. At first, I was taken aback. The server continues, "It is a small place. No sign. But the food is very good and very hot. I'll get you the address," he adds as removes the empty bamboo steamers from the table and disappears into the kitchen. There is a pause at the table. But knowing my dining guests, we are all having the same thought bubble: We are so eating there.
A few months later, I find myself strolling down an empty road in a less glitzy area of the neighboring Rockwell. Having eaten at (what is popularly called) Hunan Lutong Bahay, Stitch suggested that we park our cars at the mall because parking can be problem. In fact, there is no parking. "And we have to get there early. It gets packed quickly." he recommends. It's just past 10 am, the summer sun is beating down and I am starving. "Where the heck is this place?" I grumble as Stitch gleefully leads the way.
Hunan Lutong Bahay is not so much a restaurant as a small townhouse with more than the usual dining tables. As mentioned by the intrusive server, there is no sign. A white and beige exterior greets would-be diners, echoing an interior just as plain and unadorned. For me, this is not a minus. Those of you who have been reading this blog will know that I love small, austere eateries that focus on only important thing, the food.
Hunan regional dishes are the specialty of the house. (For more information on Hunan cuisine,
check out this blog
.). Since Stitch and I share a long-standing obsession with all that is pork, it comes as no surprise that we start our meal with plate of
Cold Pig's Ears (P180)
. Thin slices of pig's ears are boiled till tender and served with soy-vinegar sauce and a bit of a chili kick. Stitch excitedly suggests we also order the
Braised Pork Belly (P240)
, slices of slow cooked pork belly served on top of braised bitter greens. What I love about these dishes are the layers of both textures and flavors that each dish brings. From the gelatinous to the crunchy, from butter-like fatness to porky earthiness, each pork dish brings a different experience with every bite.
While I love my pig, I also adore duck in equal measure. I literally could hear the Hot Pot Duck (P400) call my name. Local ducks are rough cut into bite-sized pieces, blended with aromatic mixture of bay leaves and dried red chilis and gradually braised in its own fat. The end result is a duck dish with its caramelized sweetness counterpointed by subtle, slow-building chili heat. Here is a friendly suggestion. While the kitchen provides each guest unlimited bowls of white rice, I would still order a generous plate of Cua Pao(P80). These puffy clouds of steamed goodness are perfect for sopping up the delectable sauces and flavorful braising liquids at the bottom of every plate.
I still dislike eavesdroppers. But eavesdroppers with valuable foodie information, I think I will make an exception.
Much thanks to Stitch for showing me around.
Hunan Lutong Bahay

6404 Camia Street

Makati City

Cel: (0915) 425 2972 or (0927) 787 6999
LABELS: Franco, Hole in the Wall, Hunan Lutong Bahay, Manila, Restaurants