By Anonymous Paul on 31 March, 2010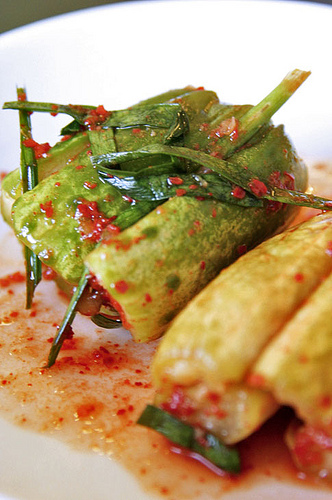 The Philippines has been experiencing a vast influx of Korean immigrants over the past several years. Korean grocery stores, Korean students in local universities, and even Korean call center agents are what you would now call normal. I'm pretty sure you must have at least one Korean restaurant in your neighborhood. They're beginning to be quite a common sight these days. Like a water-filling station, a neighborhood isn't complete without one. This is a good thing because I love Korean food. I make it a point to try out every new joint that opens. They're usually family run independent establishments. A fact that I like because they're not just thinking of making rent but that of carrying out their heirloom dishes as best as they can. Having been to a few Korean restaurants, I've at least learned to sort of make out the ones that are better than others.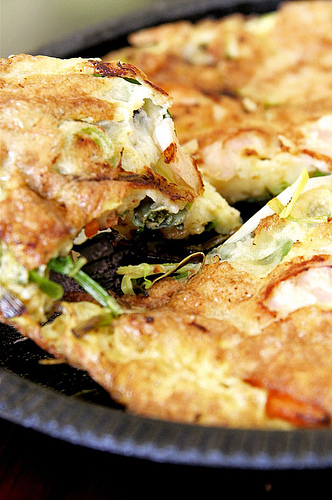 One of the better places I've been to is called
Chung Mi Rae
. Besides being the name of the restaurant, it is also a woman's name. Probably the woman I see in the ragged t-shirt and
pambahay
shorts who chats with the Korean denizens between disappearing into what I assume is the kitchen. I haven't been here in a few months and was surprised to find it had been renovated – looking more like a modern Asian living room than its old, functional self. This place proves that a hole-in-the-wall need not necessarily be a dive. Thank god the food hasn't been adversely affected by the aesthetic upgrade.
The
banchan
or the side dishes arrive first. I particularly like how they do
banchan
here. Freshly made with still-crisp vegetables (whatever in season) and sprouts, tasty fish, bean cakes and
kimchi
without that metallic aftertaste found in bottled
kimchi
. These are meant to go along with every Korean meal. I'm pretty wary of so called "Korean" joints that charge you
per kind
of
banchan
to go with your food.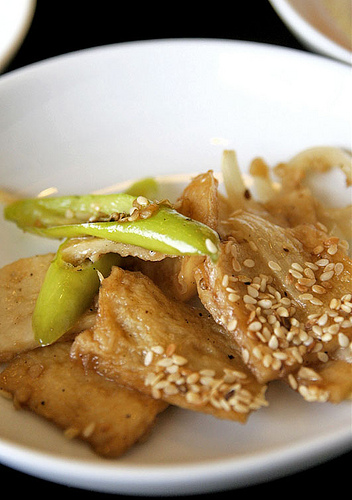 The doengjang chige arrives next. It's a very typical Korean soup made of fermented bean paste, shellfish, tofu and vegetables. So hearty you would think there was beef in there. It's also very spicy. This soup spooned over rice and eaten with banchan is actually enough to make a satisfying meal already. I've tried quite a few of these in different establishments and hands down this is the most flavorful I've had.
We also ordered the
haemul pajeon
, or the seafood pancake. This eggy marvel served on a heavy cast iron plate is crispy at the edges and filled with just the right amount of oysters, squid and scallions. The
kimchi jeon
or
kimchi
pancake is also worth trying out.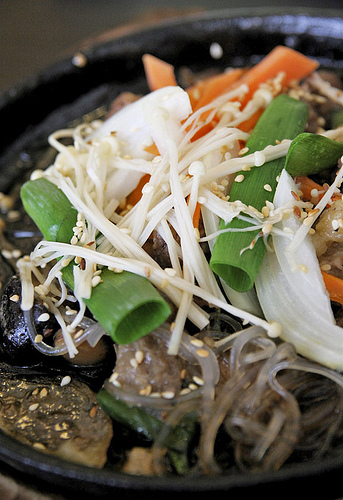 Bulgogi
served in other joints are usually these sorry, brown looking strips of beef on a plate. But here I quite like that they balance out the meat with vegetables. Scallions,
enoki
and s
hiitake
mushrooms, carrots and onions top the grilled marinated fatty beef slices. At the bottom of the grill pan are cellophane noodles that sop up all the sweet-salty sauce. Excellent.
Quite a lot of food for two. We actually also ordered some
kimbap
to start but it came late in the meal and we were already full. Possibly the best way to experience more of the great dishes in Chung Mi Rae, or your friendly neighborhood Korean restaurant, is to bring a handful of friends and just let the
soju
and conversation flow.
I have only one question – what's up with these blasted metal chopsticks?!
Chung Mi Rae
24-K Mansion, Unit 6, Timog Avenue.
(Off the corner of Timog Ave and Scout Tuazon St)
Quezon City
Tel. (+632) 372 7200
LABELS: Chung Mi Rae, Hole in the Wall, Korean Food